Gardens By The Bay
Singapore aspires to be "City in a Garden", then "Gardens by the Bay" will be the Crown jewel. As part of World Orchid conference 2011, we get to preview Gardens and Flower-Dome.
Take a peep, at Singapore's world class garden ! You will see MBS from another angle.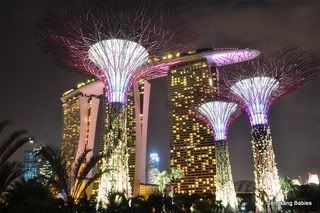 Inside Flower Dome
Orchid Conference. Amazing variety !
Read our Orchid and Gardens experience
-
Night shots @ Gardens
-
Beautiful Orchids
-
Inside Flower Dome
After this Sun, Gardens will officially be opened in 2012.
Last edited by
penglee
on Tue Nov 22, 2011 12:56 am, edited 1 time in total.
BlueBelt

Posts: 422
Joined: Fri Jul 24, 2009 11:14 am
Total Likes: 0


---
It is indeed an awesome place to visit.
I like the plants there and the flower dome is very big.
Can't wait for it to be fully open.
BlueBelt

Posts: 418
Joined: Fri Oct 14, 2011 11:25 pm
Total Likes: 1


---
Bay South is only 10% opened during Orchid weekend, we have to wait till 2012Jun.
Bay East is now partially opened, walked across from Marina Barrage.
Bay Central wip
BlueBelt

Posts: 422
Joined: Fri Jul 24, 2009 11:14 am
Total Likes: 0


---
---
Return to Social, Outings, and Games