5 Strategies to Help Your Child Overcome Weakness
5 Strategies to Help Your Child Overcome Weakness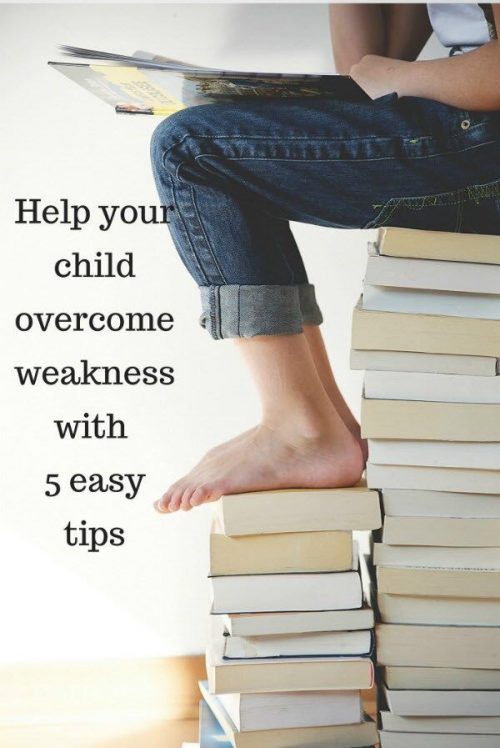 I've been reading Mind in the Making by Ellen Galinsky and thinking about my kids' strengths and weaknesses. It's also mid-year exams period, so we've been working hard with Vera on her Chinese, which I guess along with 70-80% of Singaporean kids, is an area of weakness and struggle.
It's easy for kids to get discouraged by a subject that seems more difficult than the rest, so I've been also trying to be careful with what I say. (It's hard, sometimes the frustration sets in, and I can get a bit critical or even harsh.)
Here are 5 tips I drew from the book that will come in handy if you're working with your child on their weak areas too.
1) Dealing with weakness? Start from strengths
"If we dwell on what the child can't do – the child's inadequacies – those inadequacies will likely proliferate. If we focus on what the child can do – the child's strengths – these will likely be fortified."
As parents, we tend to focus on our flaws and feel like we'll never be good enough. We also tend to zoom in on our kids' flaws and weaknesses, forgetting and sometime downplaying their strengths.
But strengths provide a strong foundation from which we can leap forward, especially as we start to address their weaknesses.
Even in my therapy work with children with special needs, I'm acutely aware of their weaknesses, but I make sure to tap on their areas of strength to help them overcome.
There are actually some simple ways to "start from strengths." For instance, your child is struggling in the area of Chinese, but is a real foodie. Use his interests to build on his foundation in Chinese. Run simple cooking classes in Chinese every week with easy kid-friendly recipes, or watch Youtube cooking videos in Chinese.
Or if your child finds math impossible, but loves drawing and art…Engage his love for doodling by asking him to draw out the math problem visually and in fun ways (not limited to using models.) Whatever helps him to engage his senses in the task, let him go about it and experiment and have fun. It could even change the way he feels about the subject.
More on using strengths to overcome weaknesses here.
2) Spell out expectations, use levels 1-4 to make them clear and gentle
In her book, Galinsky cites an example of the Harlem Children's Zone (HCZ), a non-profit organisation committed to ending generational poverty in Harlem.
The children are being taught how to apply writing techniques to their own essays, and they use a rating system ranked 1-4, where Level 1 simple means an "oops" area that needs more work, as opposed to a D or a fail grade.
Galinsky describes HCZ's philosophy:
"We give children the freedom to make mistakes. We teach our kids that failure is not a way of labeling who you are – it's just a way of identifying what you don't know and what you need to put effort into. When kids understand that, they're not hesitant about trying something, because if they fail, it's not a reflection on them. That just tells them: "This is an area we need to work on." "
In the same way, give your child more motivation to succeed by saying something like, "You may be at level 1 right now, but with specific help and practice on the difficult or tricky areas, you can progress to level 2 and 3 pretty soon. Let's go through the test papers to identify the areas you need to focus on most."
(Here is more information on learning scales.)
3) Emphasize personal best instead of comparing with others
We sometimes subconsciously compare our children to the best examples out there, but imagine what this does to their self-esteem when we actually overtly express it. How does it make them feel if we constantly compare them with an over-achieving cousin or sibling?
Galinsky writes:
"Often motivation is defined as besting others rather than besting ourselves. If we're driven by the desire to do our personal best, practice becomes part of that motivation."
By all means, challenge your child to do better than what he did yesterday. Just focus on him and his past achievements as a benchmark, not other people's achievements.
4) Help children learn to plan and set goals
When children take responsibility for their own learning, ie., become more goal-directed, they automatically become the active engaged learners that nature created them to be.
Guide them in setting SMART goals: Specific, Measurable, Attainable, Realistic, Time-based.
"We can help children build on their emerging ability to plan to reach goals by articulating their goals when they're small, such as saying, 'You can trying so hard to stand up.' When they're preschool age and older, we can help them form and achieve goals by asking them to make plans, stick to them, and then evaluate how the plans have worked…"
5) Get her to teach and explain to you concepts she's learnt
Another useful tip from the book is to get your child to teach you something she's learnt about the subject. When you teach something, it brings your understanding to a different level.
Galinsky quoted some theories about why this might be the case:
"Explaining something helps make their implicit understanding more explicit; leads children to focus on the principles behind what they're learning and not just the facts…and makes [them] feel more motivated and focused."
Overall, Mind in the Making has been a helpful read (although I must say I sometimes get lost within a chapter as there are so many anecdotes and stories in each one.) There are some important gems in there, and is an essential read if you want to find out more about these 7 essential skills for kids:
focus and self-control
perspective taking
communicating
making connections
critical thinking
taking on challenges
self-directed learning
Contributed by MamaWearPapaShirt.
Find Tuition/Enrichment Centres