7 Myths About SOTA, Debunked
7 Myths About SOTA, Debunked
Parents: don't let misinformation prevent your child from studying at the School of the Arts.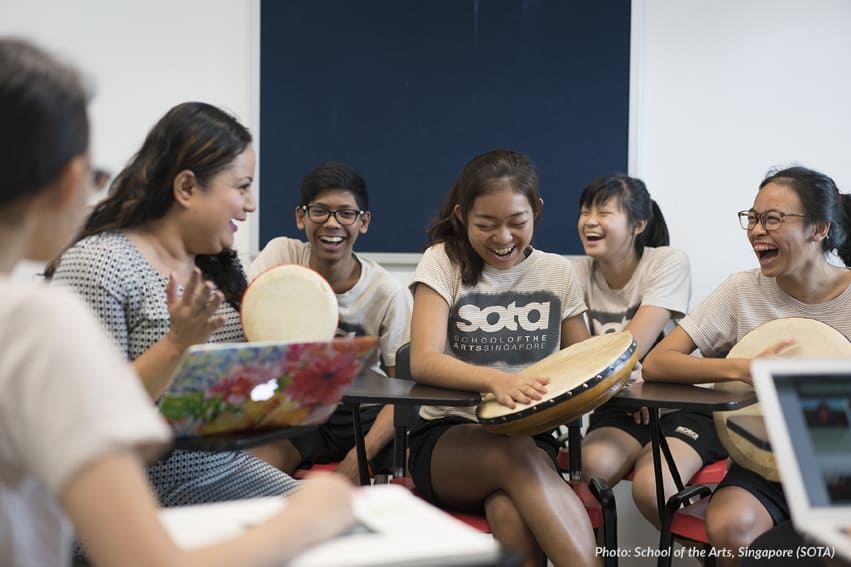 How much do you know about Singapore's School of the Arts, or SOTA? Here's a fact: parents have been hesitant about letting their children enrol in SOTA. Some are worried that their children haven't had formal arts training, while others fear high costs or a limited career pathway for their children. 
At the same time, many students aren't sure what to make of SOTA — "Do you just do arts 24/7?" is a question that SOTA students often hear.
If your children are interested in the arts, it's worthwhile to separate fact from fiction. Below are seven misconceptions about SOTA that you'll want to clear up.
Myth 1: "I need formal training — or expensive prep classes — to get into SOTA."
This has been the No.1 concern for students interested in pursuing a pre-tertiary education at SOTA, especially if they hope to apply to SOTA through music and dance. Have you heard that you need an ABRSM Grade 8 qualification to study music at SOTA? Or that you can only enter SOTA's dance programme if you have at least a Grade 6 Royal Academy of Dance (RAD) certification? Here's some great news: this is not true.
For music, many of SOTA's students haven't had formal training. Instead, they picked up their instrument — or in some cases, vocal proficiency — through Co-Curricular Activities (CCAs) in primary schools, such as the school band, the chinese music ensemble, and the school choir. 
The same holds for students who are interested in studying dance and other art forms at SOTA. According to SOTA, there are even students who have made it through the auditions "based on their personal learning from watching YouTube videos." 
As long as a student has had prior exposure and experience, SOTA welcomes him or her to send an application to be considered for the school's Talent Academy. The Talent Academy is SOTA's Direct School Admissions (DSA) platform, where shortlisted applicants are assessed through the following activities:
Individual auditions or portfolio presentations
Group sessions
Panel interviews
Online questionnaires
Entrance tests (only for shortlisted candidates not studying in a local MOE mainstream school)
Through the Talent Academy, SOTA is able to identify authentic potential, and sieve out those who are well-rehearsed, but do not have the natural flair and talent that will help them to succeed at SOTA.
Myth 2: "I can't afford to study at SOTA."
All students who are offered a place at SOTA will be able to study there, regardless of their financial background. The school has a range of scholarships and financial assistance schemes to help make arts education accessible. Students can benefit from school- and miscellaneous-fee subsidies — ranging from 33% to 100% coverage — as well as other forms of financial assistance. 
Myth 3: "SOTA students only draw and paint."
At SOTA, a student can certainly do more than drawing and painting. In fact, the school offers six different art forms, namely:
Dance 
Literary Arts
Music 
Theatre 
Visual Arts
Film 
Drawing and painting are part of the school's Visual Arts curriculum. However, this curriculum covers a range of mediums, forms, and expressions, so students will also get a chance to work on ceramics, sculptures, and much more.
Note: SOTA's Dance, Literary Arts, Music, Theatre, and Visual Arts programmes are offered from Year 1, while its Film programme is for Year 5 and 6 students only.
Myth 4: "SOTA students only learn about the arts, and nothing else."
At SOTA, students enrol in a six-year integrated arts and academic curriculum from the age of 13, which will either culminate in the International Baccalaureate Diploma Programme (IBDP) or the International Baccalaureate Career-related Programme (IBCP). Students can also apply to enter SOTA in Year 5.
Whichever path they choose, students at SOTA will receive a holistic education — this means that they will not only study the arts, but are required to take academic subjects.
In the diploma programme or IBDP, students offer three core subjects:
Theory of Knowledge (an interdisciplinary course where students learn to question knowledge, and develop the ability to analyse evidence)
Extended Essay (a research paper of up to 4,000 words)
A range of personal growth activities known as Creativity, Activity, Service (CAS)
They will also need to take the following academic subjects:
Literature in English
Humanities and Social Sciences
Mathematics
Sciences
Mother Tongue Language
Arts
In the career-related programme or IBCP, students take subjects that will prepare them for their eventual transition into an arts-related higher education institution. 
For those who think that studying at SOTA is "easy," be prepared for a reality check: students will have to work hard to adjust to the rigorous curriculum. SOTA has an established support system in place for all its students, and this includes Year Mentors, Class Mentors, Academic Mentors, Arts Mentors and school counsellors.
Myth 5: "SOTA is similar to LASALLE and NAFA."
Some students are confused about the difference between SOTA, LASALLE College of the Arts, and the Nanyang Academy of Fine Arts (NAFA). 
To be clear, SOTA is not a vocational school — it does not offer an education that prepares students to work in specific jobs upon graduation. Instead, it provides a holistic arts education in a learning environment where both the artistic and academic potential of a student can be best realised.
Unlike LASALLE and NAFA, SOTA is a pre-tertiary school, which means that it accepts students from the age of 13. Graduates from SOTA can use their IB diploma qualifications to apply for entry into tertiary arts institutions such as LASALLE and NAFA. (However, SOTA graduates are not limited to an arts education; see Myth 6 below.)
Myth 6: "After graduating, SOTA students can only study or work in arts-related fields."
This is definitely not true. SOTA alumni have gone on to pursue courses in diverse fields, from fine arts to law and political science. 
One such graduate is 18-year-old Farrah Adystyaning, who developed an interest in chemistry — and science in general — during her time in SOTA. "I started thinking about how I could combine music and science, and since then I've been looking into music therapy," she told the Straits Times. She plans to study medicine through the Yale-NUS and Duke-NUS liberal arts and medicine pathway.
Ultimately, SOTA's aim is to nurture artistic talent and develop leaders in all fields, who will draw on their creativity to enrich society.
Myth 7: "SOTA students don't play sports, or participate in community-building activities."
While SOTA does not have a Physical Education programme, it has an Experiential Education programme, which is compulsory for its students from Year 1 to Year 6, and part of the structured curriculum time. Through this modular programme, students will participate in the following: 
sports and games (e.g. badminton and tchoukball) 
outdoor activities (e.g. kayaking and rock climbing)
physical health and fitness programmes (e.g. nutrition and personal safety classes)
For community building, SOTA has a Community Service programme where students make use of their artistic talents to contribute to local and overseas communities. The programme is introduced in Year 3 with small-scale service and experiential learning projects, and continues in Year 4 with an expanded scope. This ties in with the service projects that all SOTA students are required to undertake as part of their IB education in Years 5 and 6. 
What sorts of projects can SOTA students work on? Something close to one's heart would be a good place to begin. For instance, SOTA graduate Ashley Ho was inspired by her father's battle with Parkinson's disease to kick off a project that she christened "Parkinson's Grooves," where she and her teammates conducted regular movement therapy sessions at the Parkinson's Society. 
To find out more about studying at SOTA, check out their website at https://www.sota.edu.sg.
Find Tuition/Enrichment Centres