#BACKGROUNDHOMES: SPCA turns virtual backgrounds into virtual homes for shelter animals
#BACKGROUNDHOMES: SPCA turns virtual backgrounds into virtual homes for shelter animals
21 May 2020, Singapore – The uncertainty of the crisis that the world is facing currently has affected almost every organisation in one form or another. The Society for the Prevention of Cruelty to Animals (SPCA) has not been spared as well. With Singapore on lockdown, adoption drives and fundraising events are suspended. But what if we could bring back visibility to our furry friends who need us the most?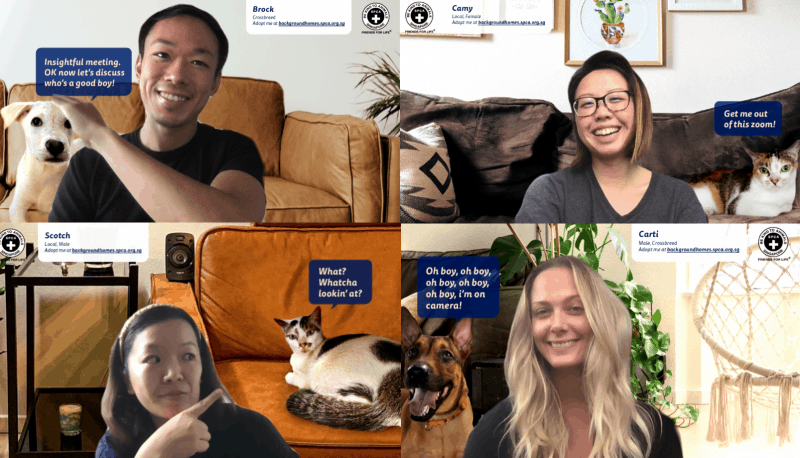 The "Background Homes" initiative hijacks the most prominent media space of our time – the virtual backgrounds, and places animals that are up for adoption into them! Complete with adorable quips and snazzy home settings, viewers are able to 'imagine' what these animals might look like in their homes. By switching out their backgrounds, users will automatically become advocates for the animals, driving awareness to both the animals and the website http://backgroundhomes.spca.org.sg/. Members of the public can then discover more virtual homes here, learn more about adoption and fostering, or make a contribution to the cause.
"Now more than ever, our shelter animals need all the help they can get. And if people can't see them face to face, we thought; why not have them in everyone's home, virtually? The "Background Home" initiative does that in the hope that some of them will end up in people's houses, for real." Said Dr Jaipal Singh Gill, Executive Director at SPCA Singapore.
Download your own Background Home at http://backgroundhomes.spca.org.sg/, and help spread the word with #BackgroundHomes. Potential adopters can sign up for first-hand  updates when the circuit breaker is lifted and adoptions resume. SPCA will conduct thorough interviews with potential owners to make sure we find the right match for our animals.
Find Tuition/Enrichment Centres