Balance Bikes 101: What You Need To Know When Buying Your Child'S First Bicycle
Balance Bikes 101: What You Need To Know When Buying Your Child'S First Bicycle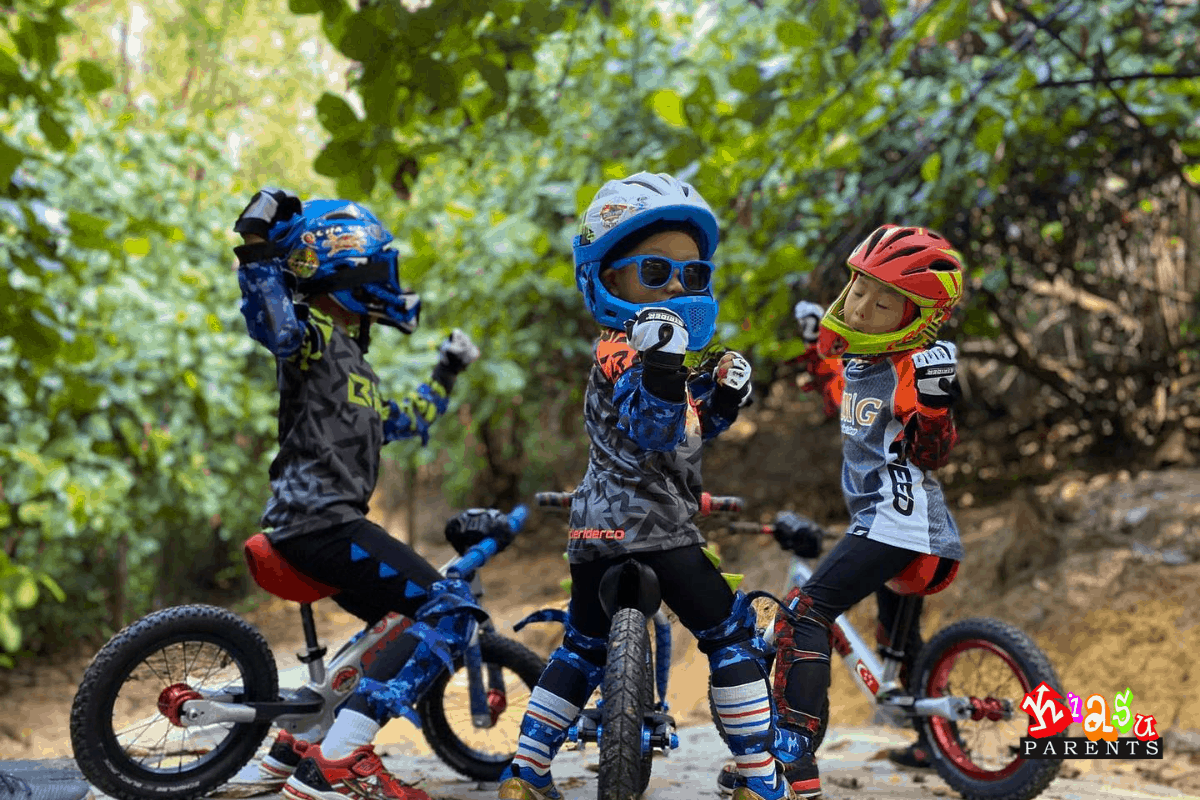 Two wheels good, four wheels better, right? As it turns out, this isn't the case when it comes to buying your child's first bicycle.
Why choose a balance bike?
Unlike tricycles, which typically have two additional training wheels, a balance bike has no pedals and just two wheels. We know what you're thinking: how will my child balance without extra wheels? Most of us, after all, grew up riding tricycles and it's hard to imagine any other option. But two wheels (and not four) are exactly why balance bikes are a great first bicycle for your child – they teach children balance, which is so important in children's development.
"People around us didn't really believe that our kids could ride without training wheels," says Yun Yun, who bought a Strider balance bike for her son to encourage his independence. "Children can become overly dependent on adults when they are on a tricycle, especially when we start pushing them around," she adds.
Children learn to balance on their balance bikes by feeling their bike lean from side to side, thus learning how to keep their bike from tipping over completely. Tricycles, which always remain upright, don't help children to learn this essential skill.
Andrew, another parent who also bought a Strider bike for his son, says he prefers balance bikes to tricycles as he finds the latter don't enable the correct posture to teach proper balance. Balance bikes are also so natural to use that children can practically teach themselves to cycle, he says. "My son learned how to ride a pedal bike at two-and-a-half years old," adds Andrew. "I didn't really have to teach or guide him. He just picked up the bicycle and learned how to do it himself."
Hands off the bike!
Many of us can remember our parents huffing and puffing alongside us, gripping our bike handles as we took our first, unsteady bicycle ride. Balance bikes offer a very different experience, as children can use their feet to steady themselves at any time. If your child needs assurance, don't try to hold the bike – simply walk alongside or support their underarms to help them feel safe.
When can my child start using a balance bike?
Even kids under one can use a balance bike. Children as young as six months old can use specifically designed bikes such as the Strider 2-in-1 Rocking Bike, which converts to a standard balance bike later on. Alternatively, kids aged from 18 months to five years can start with a 12-inch Strider Bike, which is lightweight and easy for small children to maneuver.
Go with your child's pace, not yours
"It's important to remember that every child learns at their own pace," says Julian Loh, co-founder of Strider Singapore (www.strider.sg), which sells Singapore's top-selling balance bike for toddlers.
Some children may start striding immediately while others may not even sit on the seat at first – which is completely normal. Always cheer on your child whenever they interact positively with their bike – whether they push it, pick it up, play with it or ride it.
How to get started
Loh suggests first holding a dowel (pretending it's a bicycle handlebar) and getting your child to practice "steering" by gripping it while walking. Once your child is comfortable "steering and making turns", let her try it on her bike.
Lay the bike on the ground, then ask your child to step over it, then lift it between their legs by grabbing the handlebar and pulling it upward.
Children learn quickly by watching someone demonstrate how to use a balance bike. Use your bicycle and show them how you would stride forward on it using your feet.
And safety first! Children aged 12 months and above should always wear a helmet when cycling.
How to adjust your balance bike
Set the seat (or saddle) height so your child's feet are flat on the ground and both his knees are slightly bent when seated. A good starting point is 2.5cm less than your child's inseam or crotch level. (Hint: If your child is on tiptoes, it means the seat is too high and should be lowered. Footwear can also influence seat height.) Then set the handlebar to match the seat height (for example, if the seat is at the lowest setting, the handlebar should be too). Kids grow quickly, so remember to adjust the bike every few months.
Buy a bike, get access to a community
Just as it takes a village to raise a child, an enthusiastic community of like-minded parents and children can provide invaluable support to new riders. Strider Singapore organises safe, welcoming cycling activities and racing events such as the Strider Cup race series, which allows children aged 2-5 years old to experience the thrill of racing on their Strider bikes. Many parents in the Strider community also organise regular outings so that their children can ride their bikes together.
"Strider helped my son develop his social skills," says Aina. "He has made so many friends through their activities and now that he's also older, he understands that sports can really help bind people together, regardless of size, age, race and religion."
"When we got the Strider bike, we soon realised that we weren't just buying a bike but getting the whole package – fun and adventure, new friendships and bonding with a new community who share the same interests," she adds.
Which balance bike is right for your child?
Children from the age of six months can start with a 2-in-1 Rocking Bike, which starts as a baby rocker and then detaches and transforms into a balance bike when your child is ready.
For children aged 18 months to five years of age, the lightweight 12-inch Strider Bike is ideal, as it teaches children to cycle in a natural, intuitive way.
Finally, the 14-inch Balance Bike is best for both new and experienced bikers aged three to seven years old to learn more advanced skills on a bigger bike. Happily, every purchase of this bike here at Strider Singapore comes with a conversion kit that transforms it into a pedal bike for instant riding success.
Here's a chance to win a STRIDER Bike for your kid!
1 lucky winner will walk away with a STRIDER PRO! All you need to do is to Like and Follow both Kiasuparents Facebook and Instagram account @kiasuparents
Remember to provide your Facebook/ Instagram ID in the comment section so we know who you are. Campaign ends on 15 January 2021!
Find Tuition/Enrichment Centres