Can A Child Survive Primary 1 Without Knowing How To Read?
Can A Child Survive Primary 1 Without Knowing How To Read?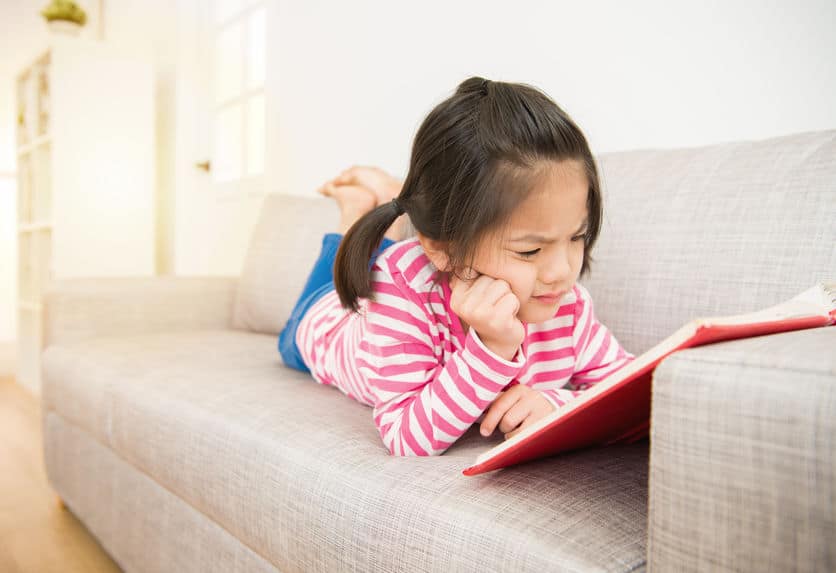 Many parents would agree that getting a child to read before entering Primary 1 is almost a guarantee of school success, or at the very least, a breezier school life. 
In fact, some primary schools recommend that children entering Primary 1 should not only know all their letters (and letter sounds), but also be able to read and spell simple words, and even construct basic sentences. 
There are also those who feel that not teaching a child to read before Primary 1 is doing him or her a great disservice. One viral post by an educator asserted that reading is a "basic necessity," and that not teaching children to read is tantamount to depriving them of a better future. 
However, there are parents who — by choice — let their children enter school without having learned how to read. For instance, former journalist Sherwin Loh shared on Schoolbag.sg that his daughter was a long way from being able to read independently in her K2 year:
"[Ten] months before she started primary school, she still could not read any sentence in its entirety. Menu items were incomprehensible, and YouTube was a content channel she did not know how to navigate, as the Search function was an unknown entity to her."
Yet, Loh decided not to send his daughter for reading or phonics classes, but instead, tried to cultivate her love for reading with a daily bedtime storytelling routine. He recalls that his daughter did have problems understanding her assignments in the first few months of school, but as time went along, he noticed small improvements in her reading abilities, and eventually, she picked up a book to read on her own.
Parents should also be aware that all primary schools have a Learning Support Programme (LSP) for Primary 1 students who need help with English and Maths. Weaker students will be identified through a screening test, which is held upon school entry. Thereafter, those who require help will attend sessions in small groups of eight to 10 students, conducted by trained teachers. 
Schools may differ in their practices, but LSP sessions will usually take place during curriculum time. Students who continue to face literacy issues after intervention will be screened for dyslexia. Recent figures are not available, but past estimates have indicated that about 12 to 14 percent of Primary 1 children require additional support each year. 
In short, schools will not leave any child in the lurch, so don't be unduly worried if your child is entering Primary 1 and not reading independently. It would be ideal if you could help the process along, and here are three simple tips for encouraging emerging or struggling readers to press on.
1. Read and listen at the same time.
Not all parents have the time or energy to read aloud to children every day. However, with audiobooks for popular children's stories freely available at the local library, or online via the OverDrive and Libby apps, you can easily borrow both the print and audio editions of a book for your child to enjoy. This is especially useful if your child feels that a particular book is too "long" or "wordy" — having the book read aloud by an animated narrator could bring the story alive, and give your child a new appreciation of the written word, as well as a sense of accomplishment for having completed a book, albeit with a little assistance.
If your child prefers watching Netflix or YouTube videos to reading, turn on the subtitles or captions so that they can hone their word recognition skills without even realising it.
2. Let your children pick their own books.
Some parents would never dream of letting their children read anything less than what they consider quality literature. "I frown when I see children reading the locally written Mr. Midnight, a collection of horror stories written for children, or Captain Underpants, which may be downright funny, but which does horrible things for children's written and spoken vocabulary," writes a homeschooling mother who has raised a family of bookworms.
Yet, some of these frowned-upon books have helped reluctant readers to find joy in reading. 
"My daughter was reading chapter books by P1, and she had no issues with me selecting all her reading material," says a KSP member. "My son on the other hand skipped kindergarten and entered P1 still struggling to read. He gained confidence through Scholastic readers like Fly Guy and the Branches series. But he only started to love reading when he got his hands on books like Dog Man and Captain Underpants. Apart from the toilet humour, these books contain a lot of intentional misspellings, which can also be grating for parents. But I appreciate the books for turning my son into a reader. In fact, he's now proficient enough to point out spelling errors and typos when he spots them."  
3. Don't discount picture books.
Many parents are of the opinion that primary schoolers should have outgrown picture books, but this doesn't have to be the case. The fact is that many picture books are beautifully written and illustrated, and they are works of art in their own right. The better picture books — such as the Caldecott Medal winners — often have a meaningful message to convey to readers, which can be appreciated even by adults. Picture books are a great way to expose children to creative wordplay in small doses, and even if your child reads just one good picture book a day, he or she will still be gaining from the experience. 
Need more advice on helping children to read? Try our 10 mom-tested reading tips or check out these 10 links for great book recommendations! 
Find Tuition/Enrichment Centres