Four real benefits of art education for your child
Four real benefits of art education for your child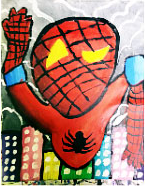 We've all heard of it. Art is exceptionally beneficial to young children, specifically fine motor skills, spatial awareness, creativity building and social skills building. Art can also improve short attention spans and spur the development of the left brain.
Art it seems, is that omnipotent pill for every child. But the science behind the benefits of art is too lengthy and confusing to most of us.
Evidences are usually anecdotal, or originate from "distant relatives" and ex-colleagues. And the likes of Piccaso, Van Gogh, and Da Vinci, we don't make many of them these days, do we? Even if art is that power pill, how should we assess the benefits of art? Debates about art is the most subjective, least agreed upon, and most confusing!
Every week, hundreds of students come by Artary for the best art experience. I have the front row seat in interacting, educating, growing and building relationships with students from widely different backgrounds, ages and countries, each engaged in art for reasons of their own.
Over these years, I'm fortunate to have discovered the REAL benefits of a well-designed and delivered art education.
1. Art helps children learn to be more discipline at work.
Children are natural artists… they first pick up a crayon, and the rest as they say… gets dirty. Drawing is every child's first experience with art. A parent recently shared with me this anecdote about his son, "This mean drawing machine appetite is insatiable! He just blazies through immense amounts of paper everyday… I got to keep buying and buying.. " He held a breath and frowned, "But he doesn't really finish his work… it's all doodles!"
"Please, have him finish his artworks. He needs to get used to completing what he started!" I pleaded.
Parents need to know this: Children need to get used to completing their drawings! Encourage your child to complete their doodles, scribbles, and stick figures. Build their discipline of completing every artwork, and make it a habit. Start having them used to completing their art work. After all, it's much easier than academic subjects!
Children will learn that work must be completed. No matter how much more time it takes, every student is expected to complete their artwork. It is not uncommon to see my students extending their sessions beyond the time. If you start it, make sure you finish it!
If he cannot complete his artwork, chances are that he will NOT complete his mathematics homework too!
2. Art allows children to learn, explore and understand the world around them.
Children benefit most only if the art education is holistic. A holistic art education must be well supported by components in drawing, colouring, sculpturing, creativity building and communication. In most cases, it is during art classes in the early years that children first come to contact with materials (e.g. paints, clays, paper varieties, adhesives, cloth, etc.) and tools (e.g. scissors, carving knives, moulds etc.).
Art allows children to experience these materials and tools through their fingers, and explore their properties through different methods of application and usage. First-hand experience, in a safe and controlled environment!
Children also observe manifestations and properties when the same materials are used in different artworks. They witness how tools can adapted to be used in different artworks. Problem solving 101!
White glue is used an adhesive in a lion collage mask, and as a stiffener in a paper marche pinata. See how two specially designed artworks can be used to perfectly demonstrate the unique properties and creative use of white glue? Brilliant!
Artary is proud to be provide the first experience for every child. We are committed to providing quality, child-safe materials and tools, used in new, interesting and creative ways!
3. Children become more expressive and accepting of differences
Children who engage in art, seemingly, are more expressive.
They talk about their day in school, the lunch at granny's place, how they missed the trip to Gardens By the Bay because they couldn't complete homework on time etc. They also talk about their favourite colours, the cartoons they really adore, and the insects that make them squirm.
Personalisation is the foremost requirement in every artwork. Students talk about how they think and feel: people and events, colours and shapes, food and smells. We make sure that every artwork be laced with personality details! Every work must be intimate and uniquely personal. Allowing a child's personality to shine in their artwork is a magnificent confidence booster, and heightens their willingness to participate!
Parents may be surprised at how expressive their kids can be. Children do build elaborate story lines to accompany their artwork, and that imaginative energy that happens between children in a class is often highly creative, magical and totally unexpected!
Through art, children learn to expect that their "superhero" may not be the only hero around. (Source & copyright http://artary.sg/at/pow-bam-wham-superheroes-picasso-style/)
These interactions and observations of each others artworks helps children learn to accept possibilities, alternatives and differences. Children will learn to value their personality, yet respecting the differences in others.
4. Art makes children genuinely happy.
One common misconception that parents have is that art is all about creativity, relaxing, and fun. But do you know that art classes also involves components of skill training, learning concepts and art discipline? It can be physically demanding and mentally challenging!
So why do I say that art makes children genuinely happy?
What is our secret sauce?
It's hard not to love art! Almost everything is accepted, and there's hardly any "correct answer". Most importantly, no homework, no pressure! Children know that art is one of the few things where they can truly do "their thing", and are genuinely happy at that!
The icing on the cake is to provide a truly good art experience, one that immerses the child into the artwork, soothing accompanying music, the highest quality of materials and tools, and the most supportive and caring mentors.
If you want a happy child, let them do art!
Sincerely,
Vanessa
Vanessa blogs about the interesting world of children's art on KiasuParents.com, and on Artary's "Ask Vanessa" children's art column. Feel free to ask me any questions you meet about children's art!
Find Tuition/Enrichment Centres