Fun Chinese Learning For Kids: Durian Dad [儿童华文乐学: 榴莲爸爸]
Fun Chinese Learning For Kids: Durian Dad [儿童华文乐学: 榴莲爸爸]
致 所 有 ,拥 有 严 厉 外 表 和 柔 软 内 心 的 老 爸
To all the strict fathers who actually have a soft heart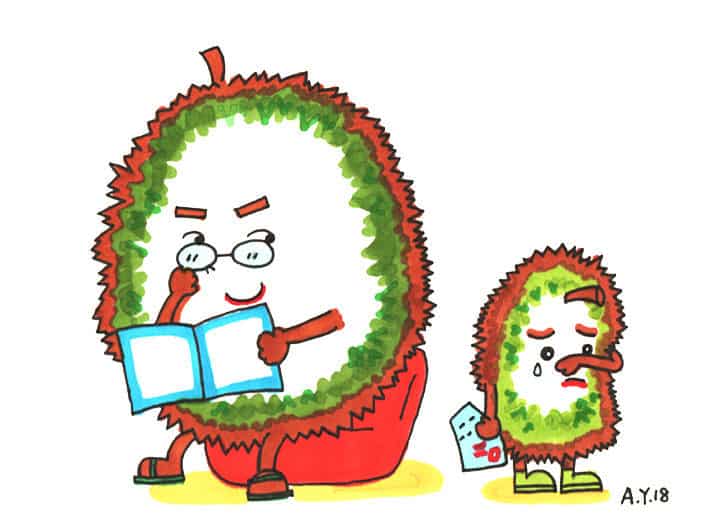 小的时候 ,我非常害怕我的爸爸 。虽然他既不打我 ,也不会大声责骂 ,但是我面对他的时候总是小 心 翼 翼 。
When I was young, I was very scared of my dad. Although he had never disciplined me through beating or scolding, I tended to be very careful when talking to him.
爸爸的脸那么严肃 ,很少露出笑容 ,让我不敢像在妈妈身旁一样对他撒 娇 。
His face always looked so strict and he rarely gave a smile. I didn't dare to act coquettishly to him, unlike how I am with mommy.
还记得有一次我考试成绩不理想 ,更糟的是 ,老师要请家长签字 。我拿着试卷忐 忑 不 安 ,但最后没有办法 ,还是硬 着 头 皮把试卷交给了爸爸 。还没有开口我就哭了 , 泪 水 像 断 了 线 的 珠 子 一 样 往 下 落 。我真的很害怕让爸爸失望 !
There was one time that I scored badly in an exam. Even worse, the teacher asked our parents to acknowledge on the paper. My heart jumped up and down but eventually, I went to dad and presented him the paper. I was so afraid of letting him down that I burst into tears even before saying a word.
没想到 ,爸爸摸摸我的头 ,笑了 :"爸爸像你这么大的时候 ,考了零分还自己偷偷模仿爷爷签字 ,被他发现以后暴打了一顿 。你有勇气诚实面对自己的分数 ,比爸爸那时做的要好 !"
It came out of my expectation that dad touched my head and smiled, "when I was at your age, I scored zero in an exam. I imitated the signature of your grandpa and was soon caught by him and given a good beat. You are doing much better than the young me by being a brave and honest boy!"
原来呀 ,我的爸爸是一只榴莲 。在他严厉的外表下 ,有那样一颗柔软而有趣的灵魂 。
I think my dad is really like a durian, who simply hides his softness and humor underneath a serious-looking face.
词语解释
小心翼翼 :形容举动十分谨慎 ,丝毫不敢疏忽 。
撒娇 :仗着自己受到宠爱而故意作态 。
忐忑不安 :心情起伏不定的样子 。
硬着头皮 :勉强去做非常难做的事 。
泪水像断了线的珠子一样往下落 :眼泪不断落下 ,好像滚落的珍珠一样 。形容哭得十分伤心 。
Contributed by Alice Yu
Also in this series: Fun Chinese Learning for Kids: Coconut Mum 【儿童华文乐学:椰子妈妈】
Find Tuition/Enrichment Centres