Fun Chinese Learning For Kids: Childhood Holiday [儿童华文乐学: 童年假期]
Fun Chinese Learning For Kids: Childhood Holiday [儿童华文乐学: 童年假期]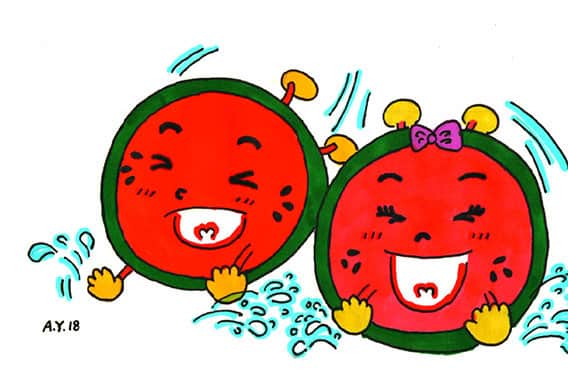 最让你印象深刻的童年记忆是什么 ?
What is your most memorable childhood experience?
六月假期又到来了 ,你会怎么度过这个暑假 ?是和爸爸妈妈一起出国游玩 ,还是参加各种兴趣班 、活动营 ?就让我来和你分享我小时候的假期记忆吧 。
It's the June Holiday again! How are you going to spend this mid-year break? Will you be going for an overseas trip with your parents or participating in different interest groups and activity camps? Now, let me share with you, memories of my own childhood holidays.
上小学的时候 ,我们一家住在一幢六层的楼房里 。要知道 ,那时候还不是每户家庭都能承担得起空调 。每当到了夏天 ,屋子里总是十分炎热 ,像是个火炉!
When I was in primary school, my family lived at an apartment block with 6 storeys. You should know that during that time, not every household was able to afford air conditioners. So whenever summer came, our house was always as hot as an oven!
还好妈妈灵机一动, 想出了一个解暑的好点子 :她用大盆打了满满一盆凉水 ,然后泼到了客厅的大理石地面上 。哇 ,我们的客厅变成了一个迷你 游泳池 !
My mom came up with a great idea to help us cool down by filling a basin with water and spilling the water onto the marble surface of our dining room. Suddenly, we had a mini swimming pool!
我和弟弟呢 ?二话不说 地滚到地上 ,像两只青蛙一样肚子着地 ,用脚一蹬身后的墙面 ,身体就飞快地向前滑去 。就这样 ,我们可以又疯又闹地玩上一个下午 !现在想想 ,妈妈可是在家里帮我们打造了一个水上乐园呀 !
My younger brother and I immediately flopped onto our bellies, used our legs to push ourselves from the wall behind and slid fast forward like two frogs. This fun game kept us occupied the whole afternoon. Thinking back now, mom had actually created our very own home-made water park!
童年的回忆总是最珍贵的 。小朋友 ,你要不要也和我们分享你最难忘的经历呢 ?
Childhood memories are precious. Little ones, do you have an unforgettable experience to share with us?
词语解释 Vocabulary definitions
像是个火炉 :形容十分闷热 ,好像在炉里一样 。
灵机一动 :一下子想出了办法 。形容灵敏机智 。
迷你 :通常形容小巧可爱的物品 。
二话不说 :不说任何别的话 ,立即行动 。
Contributed by Alice Yu
Find Tuition/Enrichment Centres