How To Create A Visual Arts Portfolio: Don't Miss These Expert Tips
How To Create A Visual Arts Portfolio: Don't Miss These Expert Tips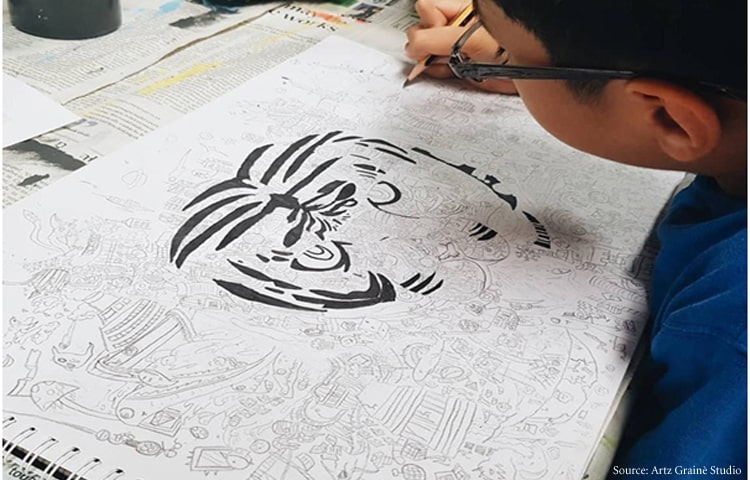 If your Primary 4 child has an inclination towards the arts and has the intention, however tentative, to join the School of the Arts (SOTA) after the PSLE, now's the time to do the groundwork.
Currently, to gain admission to SOTA, Primary 6 candidates must go through a rigorous selection process that includes a portfolio review, an audition, and an interview. Those applying to SOTA's Visual Arts programme, for instance, need to submit a portfolio of eight to 10 artworks completed within the last three years, as well as five to eight sketchbook pages. (This information is based on last year's submission requirements.)
According to The Straits Times, SOTA's enrolment is capped at 200 places a year, and one's chances of getting accepted can range from 20 to 25%. Latest enrolment figures are not available, but it was recently reported that the school's student population had grown from under 1,000 in 2012 to 1,120 in 2016. Despite the increased intake, competition for entry remains stiff, which has led parents to sign their children up for preparatory classes, such as those that focus on portfolio creation.
SOTA has said that it is trying to level the playing field by conducting portfolio workshops through the primary schools. It has admitted students who have gained exposure from aesthetics lessons and co-curricular activity involvement in their primary schools, or even from home-based activities such as watching YouTube videos.
One SOTA student interviewed by The Straits Times said he had not attended any preparatory classes. In fact, he had only put together his portfolio a month before the application date, unlike others who could have spent up to two years preparing one.
To find out more about creating a visual arts portfolio, KSP spoke to two art educators and an art student for their perspectives:
Jace Ng, Founder, Artz Grainè Studio of Kreative Artz
Children can start building their foundation in art as young as age five. Do keep some of their artworks from this stage, as this is a good way to show how the child has developed from his or her initial art making. If a child is interested in developing a visual arts portfolio for SOTA entry, he or she should preferably start working on it by Primary 4, as good art pieces take time to build.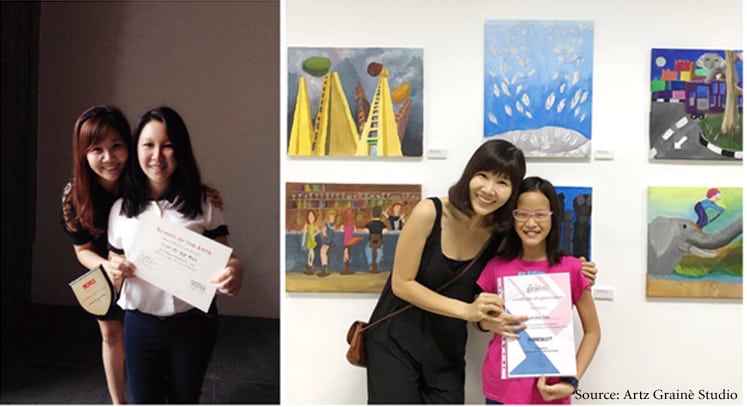 To begin, a child can try emulating the work of his or her favourite artist. Parents can put together basic art materials such as HB and 2B pencils for sketches, as well as watercolour pencils, paints, and brushes. For the size of the artwork, A3 would be appropriate. Before your child creates something, ask him or her, "Why have you decided to create this artwork?"
Something for parents to note: the important skill to demonstrate in visual arts portfolios is how your child went about composing the artworks. A child can write down some thoughts during the process — in particular, note the challenges that occurred, and what improvements he or she would like to make. If your child is not taking art enrichment classes, he or she can show these artworks to the art teacher in school and seek feedback.
In general, any theme can be explored, so let your child's interests and abilities be the guide. Let's say your child chooses to develop artworks based on animals. He or she can start with sketches, and take the time to improve on these sketches.
I have had students who were only interested in certain themes, and they have had no issues in applying for the Direct School Admission (DSA) to secondary schools through the visual arts route. More importantly, a child must be able to demonstrate competence in a variety of art mediums.
However, if a child is only interested in a certain style of painting or drawing, such as drawing anime characters, I wouldn't encourage building an entire portfolio based on that, unless the child is able to produce strong and impressive illustrations.
Artz Grainè is holding a free DSA clinic on 8 June 2019 (Saturday), to help parents and children learn more about creating a visual arts portfolio. The session is most suitable for parents with children aged nine to 11, and children are encouraged to attend as well. Registration is required; please click here for details.
Erika Rusli, Year 5 Student, SOTA
I started working on my art portfolio in Primary 5. My art enrichment teacher Jace (see above) saw that I had the potential, and she guided me to craft my portfolio for admission to SOTA. I chose what to cover based on my personal interests, such as nature, and what I felt I could do with a particular medium.
For example, I felt that charcoal would be interesting to work with due to the grainy effect — one application would be for shadows in still-life drawings.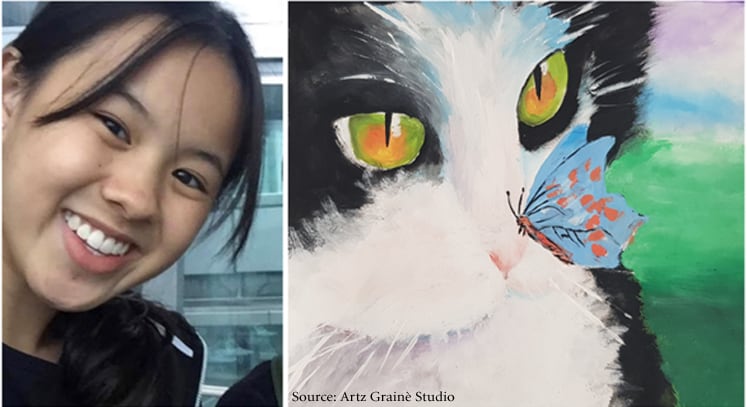 My favourite piece from my portfolio is a close-up painting of a cat. I like it because the colour scheme works, and it showcases various textures, like the details of the cat's fur. The painting also includes a butterfly — there is a pop of colour on the smooth butterfly wings, which creates a focal point and contrast to the white cat fur.
Each of my portfolio pieces took about one to two months to complete. When I was working on the portfolio, I did have the fear of pieces not turning out well, but that's part of the process. To improve, we can always do the piece again, and we should always have trials before we begin on each piece. If I was out of new ideas for the portfolio, I would start by experimenting with a medium to understand the effects produced.
If I could work on my portfolio again, I would explore my environment for more inspiration, and experiment with unconventional mediums. I was fortunate to have worked with my art enrichment teacher, but for those who are not attending enrichment classes, you can look up artists online and learn techniques from online sources such as YouTube. This can give you exposure to things that may not be normally done in a studio as well.
Toh Menghua, Founder, Artgrain
Some may feel that there's no "good" or "bad" in art, which is not true. "Good" art is art that is thoughtful, and art that has gone through a process of creative interpretation. "Not-so-good" art happens when a student doesn't put sufficient thought or effort into the creative process.
In our classes, we get students thinking about their portfolios at Primary 4. The way to approach the portfolio is to realise that it will involve many rounds of revisions. This teaches students to respect the work that goes into producing a single art piece.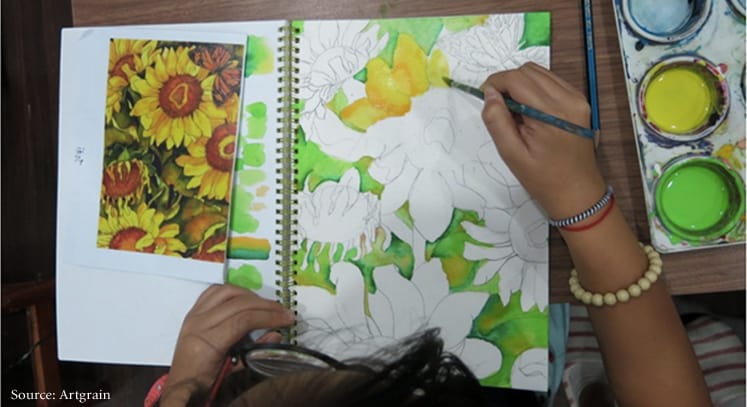 Let's say a child wants to work on a piece about the environment. She must ask herself, "What am I passionate about when it comes to the environment?" And subsequently, she should do some research, whether it is about the theme itself, or about how other artists have interpreted the theme.
Art is labour intensive. Art takes time. In Singapore, parents will not be angry when children do a lot of math, but they will be angry when they see their children spending "too much time" on art. Yet, in order to produce a good portfolio, a child needs to be constantly doing art — drawing, crafting, creating — and parents need to understand and respect this process.
Furthermore, art involves experimentation, in order to have an artwork align with your vision. Be open to a child cutting, tearing, and experimenting in various ways.
To inspire your child, buy or borrow books about art. These can be how-to books, books about a particular artist, or books about the creative process. Such books are key to learning, as they help a child to appreciate art on a deeper level. Join age-appropriate art talks, and visit museums. Use a good camera, and photograph references. Encourage your child to keep an art journal, where he or she draws in it, pastes photos, and writes reflections.
What pieces should children include in their portfolios? Not everything has to be a masterpiece. The best works are the works that a child feels most invested in.
Don't tell your child to copy something that you see online, or to copy the portfolio of someone else who has been successful in the DSA exercise. Developing a portfolio should be an organic process of creation. It's not backward engineering — your child must own the process.
Look beyond using the art portfolio merely to gain admission to a school. Instead, it is a chance for your child to develop ideas, and engage in art making and art appreciation.
While children are making art, they are also learning to view their work critically. It will enhance their sensitivity to forms, colours, and textures. Whether or not they plan to become artists, they can enjoy this process.
Find Tuition/Enrichment Centres