LEARN ONLY FROM THE BEST! FREE Trial English Lesson for All Primary Levels (P1-P6)
LEARN ONLY FROM THE BEST! FREE Trial English Lesson for All Primary Levels (P1-P6)
Give your child the skills, concepts, techniques and knowledge on how to ace in their English. English is a lifetime skill. Mastered well, your child is set to excel in English and other subjects. You can help them to be prepared academically and emotionally to face challenges ahead. This is what we do best with our team of highly qualified academic staff. They were formally Principals of Mee Toh School, St' Nicholas Girls School, Dunman Secondary School, Woodgrove Primary School and etc. What's next?! Simply register your first FREE TRIAL Lesson in our Intensive programmes or join us in our upcoming English Camp in March!

INTENSIVE ENGLISH
A Message from the Principal
Our focus is on individual's personal strengths and weaknesses. We raised their self-awareness and help them change their fear and perception of English tests into confidence.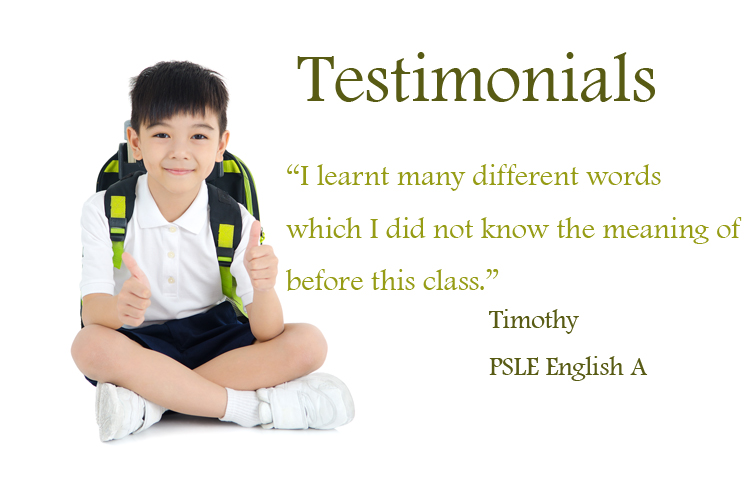 The weekly classes facilitate their growth in learning and inevitably at each session, we deal with the multiple concepts of grammar, vocabulary, synthesising, etc.  The students actively engage in activities customized for them and participate in vibrant discussions to help them build their skills and knowledge.


Register for a FREE TRIAL
LESSON today for a taste of our teaching expertise! 

ENGLISH CAMP (MARCH)
PERFECT choice for all P6 students! Our English Camp looks to brush up all P6 students on their language skills and enhance their abilities to handle the upcoming PSLE English papers. The camp focuses on activity-based learning to widen their writing skills, synthesizing, comprehension and build an extensive vocabulary word bank. With these skills, the students will be shown how to apply their knowledge into the various components of the test papers effectively to score on their papers. Join us if you are set to helping your child to score an A for English! Seats are limited!

ABOUT GOLDEN COMPASS SCHOOL
Golden Compass School (GCS) is a private education institution which is enhanced-registered (ERF) with the Council for Private Education (CPE) in Singapore. GCS was established with the objectives to provide quality education and supports to students during their academic years. 
We offer a wide range of courses from diploma programmes, certificate programs to series of short-term courses such as PSLE English enrichment programs, Teachers' training, Financial management, and etc. 
Our GCS Academic & Examination Board and lecturers consists of lecturers holding Doctorate and Masters, who have more than 40 years of teaching experience and holding senior positions in the academic fields. Every lecturer is registered with the Council for Private Education (CPE) in Singapore.
More about Golden Compass School here.
CONNECT WITH US

Address: 20A Temple Street Singapore 058565
Website: www.goldencompass.edu.sg
Contact: 9336 1660 / 6238 5981 / 6323 2321
 
TERMS & CONDITIONS
Each Child is entitled to one trial lesson.
For the Free Trial lesson, it is up to GCS to allocate the child to a class at their level.
Find Tuition/Enrichment Centres