Let the experts from Scholar's Inc. tell you about lateral thinking and experiential learning
Let the experts from Scholar's Inc. tell you about lateral thinking and experiential learning
What is lateral thinking?
Let us look at this math question below:
There are 5 cows and chickens on a farm and they have a total of 14 legs. How many of these animals are cows?
Lateral thinking is key here. Having the ability to use creative imagination to look at a problem in a fresh way and come up with a solution to crack it places your child on a track that transcends mere routine regurgitation. Lateral thinking skills will challenge your child to think innovatively, find a creative solution and tackle the challenges of non-routine questions head-on.
Want to find out about all the possible ways of solving this question?
Come to our open house to find out


Quote "Kiasu" in our gift code to receive Popular Bookstore Vouchers. Limited to the first 50 parents who registered for our open house.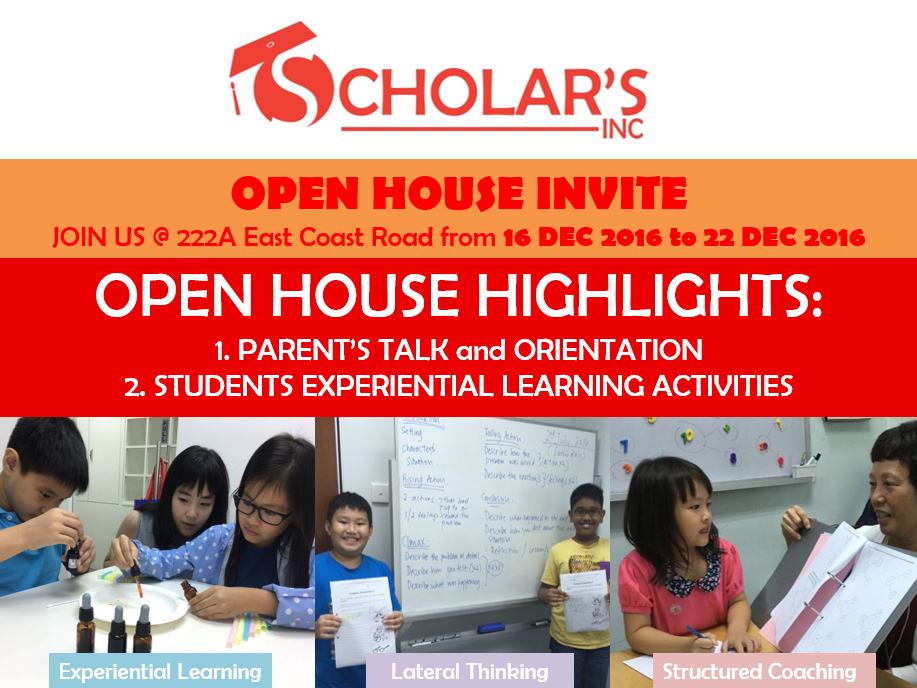 What is Experiential Learning?
Experiential learning motivates the child to take on a more active role through activities that engage their five senses and prompt their reflection on the process.
Let us take a look at how English is taught through experiential learning:

The set of visuals above accompanies the title "A heroic act". Your child is invited to step up, close their eyes, wear the hero medal and hear the background audio clip. With experiential learning, Scholar's Inc immerses your child in the experience so that they can write  by "showing" these emotions rather than mere "telling" the narrative.
Let us take a look at how Science is taught through experiential learning:
What is so special about the way Scholar's Inc teaches?
Scholar's Inc. teaches from the heart. We have made it our business to know what the needs of your child are and we have tailored a series of progressive programmes that cater to each stage of your child's education. Lateral thinking and experiential learning is the base of how we teach English, Mathematics and Science. We couple that with a syllabus that includes general abilities, a range of reasoning questions that teaches your child about the importance of instructions, reliance on contextual clues, and adaptability in all situations to piece together a structured and rational answer.
Solve the question below and come to the open house with your answers to collect an exciting prize.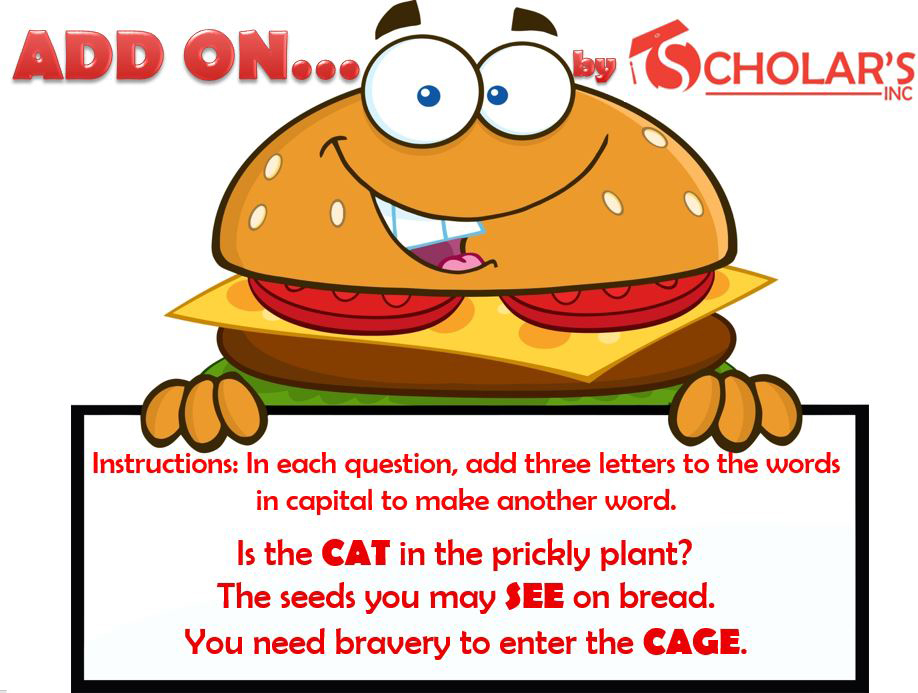 Open House 2016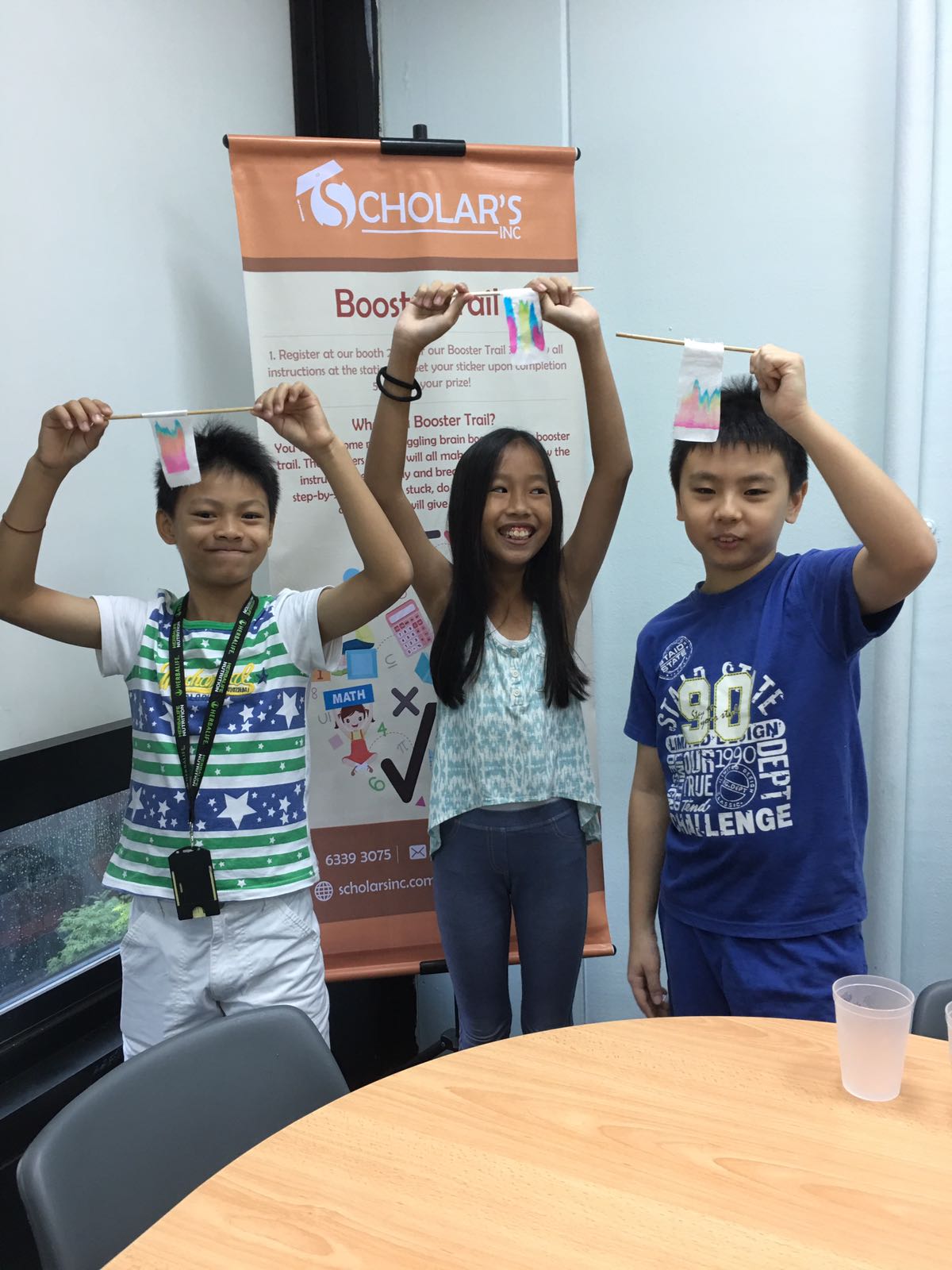 We have available timeslots from 16 Dec 2016 to 22 Dec 2016 for parents to attend our Parent's Talk and Orientation while children concurrently attend their experiential learning activity.
Weekdays from 6 pm to 8.30 pm
Weekends from 12 pm to 1 pm, 2 pm to 3 pm, 4 pm to 5 pm
Available Classes for 2017:
Young Achievers Programme (Kindergarten 1 to 2)
Get the fundamentals right from the start with our once a week kindergarten programme that includes the basics of English, Math and Science.
Lower Primary Headstart (Primary 1 to 2)
Structured coaching gives your child the headstart into the primary education programme. The approach to learning is a holistic one that emphasizes on application of what is taught to the world at large. 
Mid Primary Lateral Thinking Strategies – Gifted Programme (Primary 2 to 3)
This is the best age to expose your child to lateral thinking and stretching their minds for achieving their potential. Through a series of general ability questions, your child is prompted to think out of the box.
Upper Primary Structured Building Blocks for PSLE (Open to Primary 4 to 6)
This programme sets the tone for what is required for content acquisition, skill application, and tackling English/Math/Science with experiential learning techniques.
Contact us at 63393075 or admin@scholarsinc.com.sg to come down and meet our teachers, view our resources and look into our programme details
Find Tuition/Enrichment Centres