Life In Secondary One: Getting Over PSLE Disappointment
Life In Secondary One: Getting Over PSLE Disappointment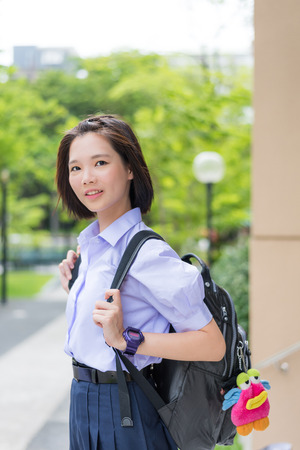 Not qualifying for one's first-choice schools can be a major setback for primary school leavers in Singapore. Moreover, students who have narrowly made it into the Express stream may view it as a mixed blessing, because their school choices can be limited.
We spoke with PC, a mother whose daughter sat for the PSLE (Primary School Leaving Examination) last year. She tells us about her daughter's post-results journey, which involved a change of plans as well as a change of perspective.

Your daughter experienced some disappointment after the PSLE last year. Could you tell us more about that?
My daughter did well to make it to the Express stream. But the moment she saw her results, she knew it was an immediate "bye-bye" to her desired schools. Those schools had higher cut-off points (COPs) for their Express streams.
Sadly for my daughter, her dream schools also had lower COPs for their Normal (Academic) courses, and it dawned on her that she shouldn't have worked so hard. In her mind, if she had worked less and gotten a lower T-score, she could've exercised the option to take up the N(A) stream in one of her desired schools. To her, the result was secondary, as getting in her dream school had been the priority.
How did you help her to get her spirits up and see things in a positive light?
Her morale was greatly affected. And it was hard to focus on school selection after that. I brought her along with me to a school selection workshop during the S1 Option Phase. She was quite reluctant to attend at first but after sitting through the workshop, she was enlightened on what to expect next. She also realised that she could still have the chance to go to her dream school, if she works hard. She's at the age where advice from external parties can make more sense to her than advice coming from her mum.
What were the factors you considered when choosing your daughter's secondary school? Was it a difficult decision?
The factors: proximity from our home and the general environment of the school, from personal observations. I also asked around for insights from friends, and those well-versed in school information, such as experienced parents and schoolteachers, were of great help in giving me input. In addition, CCA (co-curricular activity) offerings proved to be another deciding factor, and in our case, our girl has fixed her mind on badminton.
I would say it wasn't a difficult decision with the above considerations, and given my daughter's T-score, we had fewer than six choices for our S1 Option Form.
How did you and your husband prepare her for her new journey?
I think she was too fixated on what she had left behind to focus on looking forward to secondary school life. She took some time to deal with her sentiments about parting from her teachers and friends, and leaving the familiar grounds of her beloved primary school.
When we had the chance to talk about it, my husband would share experiences from his youth. He would tell her what was good about new beginnings, and recount how he had been posted to a new secondary school without his friends, hoping that his personal experiences would give her a positive perspective to enter this new stage of life.
More tangibly, we allowed her to meet with her friends for movies, badminton, and what not during the school holidays, to assure her that she would still be able to keep in touch with her friends despite being in different schools.
Academically, our Maths and English tutors offered her a few weeks of head-start lessons during the school holidays, and it helped to prepare her for the new curriculum.
Has she experienced any challenges in this first month in secondary school?
She has had to start making friends all over again, as well as deal with brand new subjects like Geography, where she has had to crack her head not just to figure out "what is geography?" but also to consider issues such as water scarcity from a global perspective.
She was also preoccupied with CCA selection during the first weeks of school. Once she was selected for the badminton CCA, she was required to undergo training and join the school team for inter-school competitions. She became very busy and tired in those initial weeks, and sometimes had to stay up late in order to finish her homework.
Have there been any positive moments that you would like to share?
She laughed about her first badminton match (in an inter-school competition) where she lost 3-21 to her opponent. But she displayed newfound resilience and the defeat geared her up to request more badminton practice time during the weekends, with us. She has never wanted to play with us before that! And this is despite her experiencing muscle aches after twice weekly training sessions in school.
Are you tapping into the parent network for support?
I didn't join any groups when my daughter was in primary school, so I don't intend to join one now. I think I should trust my daughter and let her handle her school life independently. We often remind her to come to us for assistance or advice if necessary.
With more subjects to deal with, what is your daughter's study strategy for this year?
She wanted to form a study group with her primary school classmates. But as she is tied up with her badminton training and competitions, simply completing her homework every day is probably her daily goal right now.
Is she currently being tutored, and in which subjects? Do you think she will require more tuition in secondary school?
Yes, she is being tutored in Maths and English, and she will continue with her tuition centre from Primary Six. It was a convenient decision to continue with the tuition since she is comfortable with the centre's coaching methods and its tutors.
We will be getting her a science tutor next, as she claims her teacher isn't inspiring her. Since science is her weakest subject and it appears there is a lot of ground to cover, we thought we should start looking for help. That's all I hope she will need.
Find Tuition/Enrichment Centres