No Shortcuts To Learning Coding – How A Strong Foundation In Text-Based Coding Will Benefit Your Child
No Shortcuts To Learning Coding – How A Strong Foundation In Text-Based Coding Will Benefit Your Child
There is no escaping the digital revolution that is upon us, and coding is the literacy that will help our children make sense of the technologies around them. Whether it leads to a career in the high growth areas of software development, data analytics, cybersecurity, or robotics, coding is invaluable in developing computational thinking skills that children can apply to any subject in school as well as in life.
:: Interested in a trial coding workshop for the Dec 2017 holidays by Duino Kids? Read on to the end of the article to get the exclusive promotion for KiasuParents readers.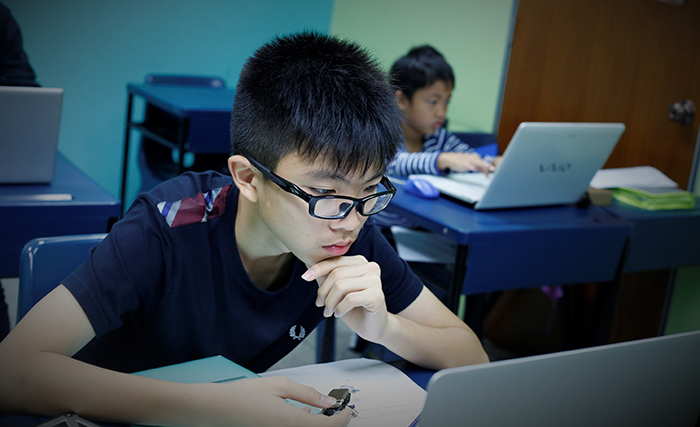 Block-Based vs Text-Based Coding
Before enrolling your child in a coding course, it is important to distinguish between block-based and text-based coding. Block-based coding which is graphics-based, involves using pre-set blocks of instructions that a child can drag and drop into a code editor. It is used by schools and most enrichment centres to introduce young children to coding. On the other hand, text-based coding involves typing actual text with a keyboard, which is how coding was originally done and is still being practised by professional programmers today.
Here at Duino Kids, we train our students in the C programming language, one of the oldest and most commonly used text-based coding languages. C programming and its offshoots are still widely used in the world today – Microsoft and Apple use C++ and Objective-C respectively. Using C programming, students are taught to code within the Arduino Integrated Development Environment (IDE) which consists of a text editor and other essential functions to upload their programmes.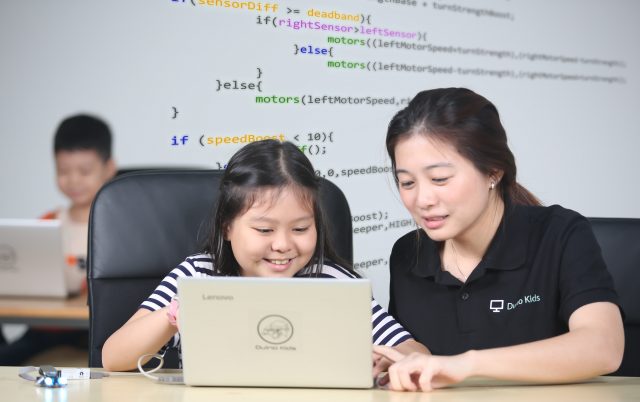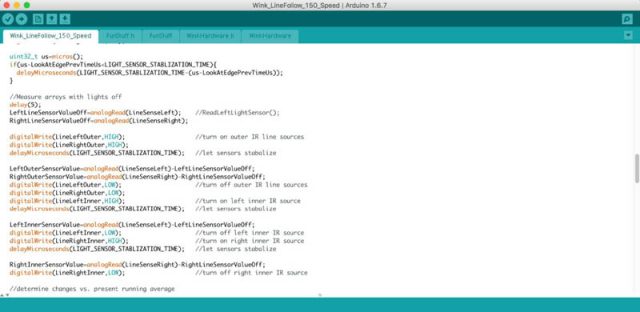 What It Really Means To Start From Scratch
Compared to text-based coding, block-based coding is a relatively recent development that allows learners to dispense with writing a single line of code. As seen in the popular Scratch platform, students can bypass the need to learn the basics of a formal programming language. However, the name of the platform – Scratch – is a misnomer because for students to truly start from scratch, they must understand the fundamental principles of programming. If the foundation is absent, children will not be able to grasp the essential concepts and come up with innovative codes to creatively solve problems.
Although block-based coding may generally be the preferred approach to kickstart learners' interest in coding, it may hold true only for very young children. Once they advance in their years, they will feel they are not really doing 'real' coding and will be limited in terms of expressing their creativity. Here at Duino Kids, our programmes are meant for children aged nine and above. Studies have shown that this is the ideal age for understanding the concepts of coding. There is also research done to suggest that users of block-based coding when switching to text-based coding, do not recognise the importance of precise syntax and may as a result become demoralised when their codes repeatedly contain errors and become unusable.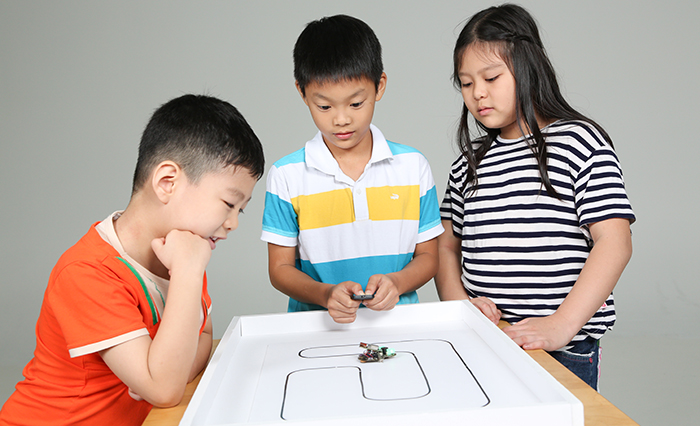 The Lasting Benefits Of Text-Based Coding
By not taking shortcuts to learning coding, children will acquire the strong foundation of being able to think through how to arrive at a desired outcome and the discipline to spot errors in spelling, correct letter casing and formatting. In addition, they will gain six computational skills that will put them in good stead when solving complex problems in their school subjects as well as in daily life:
Logical Thinking – the rules of logic and cause and effect, when assimilated, will allow for more accurate results and conclusions
Algorithmic Thinking – the ability to arrive at a solution through clearly defined steps
Scientific Thinking – applying the scientific method of experimentation to form testable hypotheses, question ideas and determine if something is true
Conceptual Thinking – thinking at an abstract level and applying insights to any given situation which is an essential leadership skill
Solution-Based Thinking – involves evaluating a current problem or situation and determining reasonable, practical solutions for it
Innovation Thinking – coming up with new methods, ideas, or products
Four of these computational thinking skills; Logical, Algorithmic, Conceptual and Solution-Based Thinking, will directly aid your child in Mathematics, while all six of them will enable your child to avoid making careless mistakes, and apply their creativity to solve complex problems in all their school subjects. When your child grows up, these thinking skills can be applied throughout many occupations, e.g., engineering, finance, legal, marketing, corporate services, scientific research, and many others.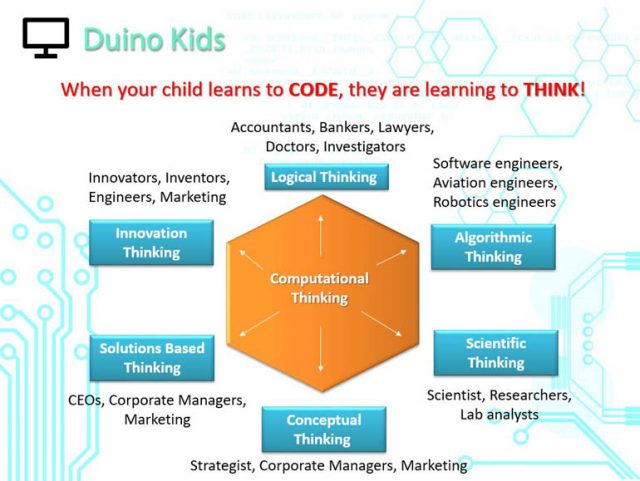 Engaging & Fun Workshops For Your Child
Here at Duino Kids, our low trainer-to-student ratio of 1:4 ensures that your child will benefit from the individual attention of our expert and patient trainers. Students will be taught how to programme and download codes into the Wink – a 5cm by 5cm micro robot – which will be theirs to keep after the course. The Wink is a mini vehicle – unlike the micro:bit which is a small circuit board – and is highly manoeuvrable via differential steering using two tiny motor shafts.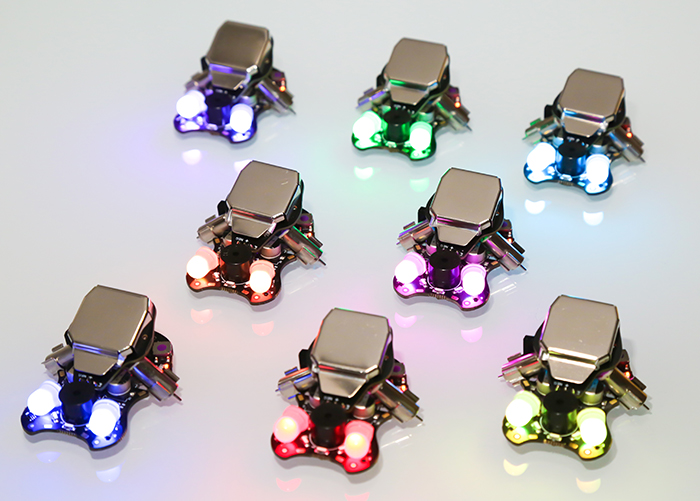 Seeing the Wink perform tasks in response to their codes is a great thrill for every child! There are many engaging games and activities that your child can programme the Wink for, such as the Zombie Apocalypse Game where an 'infected' Wink goes around infecting others (see video below), and the Police Car Siren Game where it can be programmed to sense moving lights (e.g., from a torchlight) and chase them with sirens wailing!
With all these engaging activities at hand, you can be assured of your child's active involvement and their subsequent sense of fulfilment in accomplishing the various projects. 
School Holiday Workshop Promotion
For our upcoming school holiday workshops, we will be offering a special rate of $49.90 (U.P. $129.90) for the Duino Kids holiday trial workshop, use promo code "DKKSP1017".
To reserve a place for your child, please SMS "DKKSP1017<space>Name<space>Mobile No." to 9633 1842 or visit www.duinokids.com / call 6528 8359 to quote.
Special rate at $49.90 valid till 31 Oct 2017.