Raising Children of the COVID Generation
Raising Children of the COVID Generation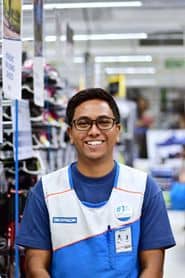 The writer is Muqsit Ghazali, a store leader of Decathlon.
Introducing age-appropriate sports to the little ones
Sports play such an important role in our children's physical and cognitive development and so I am very passionate about introducing my children to age-appropriate sports from a young age. In addition to improving cardiovascular health, studies have shown that exercise improves memory, spatial reasoning and other cognitive performances.
As a parent of two young boys aged 2-years-old and 4-years-old, my priority would be to create opportunities which allow them to explore their interests through age appropriate physical activities. This is the best way to inculcate a healthy and active lifestyle in our children.
Toddlers
At the age of 2, my toddler's muscles are still developing so I encourage him to participate in play-based learning instead of focusing on a specific sport. I think playgrounds are the perfect place for our toddlers as it allows them the space to have fun while developing their physical abilities.
Pre-schoolers
My 4 year old has learned a lot of basic movements but is still too young for any kind of organised sport. So, I prefer to expose him to unstructured play such as climbing, running, jumping, and swimming to keep them active while still allowing them to explore what types of sport they enjoy. I spend every weekend with my sons at the field in front of our house involving them in playful activities from kite flying and kicking balls to chasing each other around and taking a ride on the scooter.
Primary school-going children
When my boys get older, I know that they would have improved physical strength, agility and coordination so then I would hope to introduce them to more complex-skilled sports.
However, until then, exposing them to different activities now helps me build a good foundation for them to get accustomed to using their muscles and practising their coordination and balance so that in the future, they can learn proper techniques and more advanced sports skills, while minimising injuries.
Tips to encourage an active lifestyle in kids despite the pandemic
With the ongoing pandemic, I have learned to be creative in playing various sports and games with my sons. I decided to play modified versions of games with my kids so that they can keep practising and playing sports at home even when there was a steep increase in COVID-19 cases which made it challenging to play sports outdoors.
Some modified games that I like to play with my sons include shooting basketball hoops by attaching a basketball backboard to a door in our house, jumping on the trampoline as we attempt to shoot, and a velcro dartboard to improve the boys' hand-and-eye coordination. Simple and easy to implement, these modifications have allowed us to continue improving on our skills in basketball without compromising on our health and safety as we can practice at home.
The role parents play in encouraging active lifestyle in children
Parents are powerful role models for children. From a young age, children learn what is normal and acceptable by observing the behaviour of the adults around them. And so, inculcating a healthy and active lifestyle in our children actually starts with us.
Sedentary lifestyles, especially in this modern age where people spend a lot of time sitting in front of screens, have been proven to contribute to an endless list of chronic health risks – from obesity and cardiovascular diseases, to diabetes and depression. Unfortunately, our "new normal" in this pandemic has further reduced our physical activity because we spend more time at home. Hence, as parents, it is good for us to put in the mindful effort to plan for indoor exercises, or even playtime with the kids.
Passionate about sports myself, I have always loved spending time with my children and playing different games with them. I have always made it a point to encourage some sort of physical activity to be done as a family on a daily basis – and this also allows us to bond and spend more quality time together. It heartens me to see that my children look forward to such activities, and they have built a preference for playtimes with us over watching the television or playing on the iPad. As parents, we play a critical role in setting an example for our children on what a healthy lifestyle looks like.
Free sporting activities to engage children in
I do my best to incorporate physical activities into my sons' lives any chance I get – and my favourite way to do so is by making the most of the spaces available around me. Whether it's the public playgrounds and parks, a swimming pool or to the beach, I find ways to get my sons to move and play.
As my older son recently turned 4, I have been on the lookout for more sporting classes for him to engage in that are age-appropriate and cost-friendly. I also take into consideration that my son is still at the exploratory stage of trying new sports and finding out what he likes. As a parent of young children who are beginning to dabble in sports, I would recommend the classes offered by Decathlon Activities. Categorised by sports, age, and level of competence, Decathlon Activities offers free sessions and tryouts for our children to give the sport a go and decide if that is something they like – at no cost!
With coaches available in each session, my son gets to learn the proper techniques while improving on his social skills, sportsmanship, and independence. These are things that I may not be able to teach them myself at home. Avenues for free sporting activities as such are great as it gives our children the opportunity to explore what they truly enjoy, and hopefully the fun experience will translate to a lifetime of healthy habits as they grow older.