Teach your kids the importance of money management with their own debit card & bag them $5 free credit at the same time!
Teach your kids the importance of money management with their own debit card & bag them $5 free credit at the same time!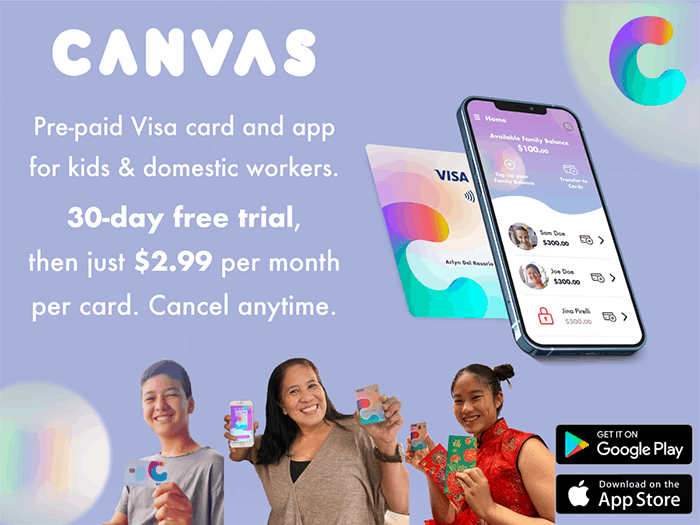 Singapore is fast becoming a cashless society, with more and more retailers choosing to only accept card or digital payments.  The spread of the Covid pandemic has also meant that many prefer not to handle cash at all, opting for a more hygienic cashless solution, especially when it comes to our children.
Therefore educating your children on the importance of managing money while becoming familiar with financial technologies from a young age is now up there with teaching them to ride a bike or tie their shoelaces!
But where to start?
Firstly, giving them a weekly/monthly allowance is a good place to start. Do you give pocket money? How do you decide how much is the right amount of pocket money to give? We have created a handy pocket money calculator – which takes into account the age of your child and their daily needs – to give you a guide in this tricky area.
https://yourcanvas.co/parents-and-kids#take-our-quiz
Secondly using a cashless digital platform, like Canvas, to pay and track their spend is a great solution.
The Canvas prepaid debit card and app for your kids and foreign domestic worker, just like Kiasu parents, was created by parents for parents – we recognised the need for a cashless solution for kids (pocket money and daily expenses like bus fares, school lunches, books, f&b etc) and for maids ( to get the groceries, run errands,  taking the kids to school, getting to enrichment classes on transport etc).  We were forever making  trips to the ATM  and needed a solution that was convenient, safe and hygienic but also trackable.
Canvas allows you as a parent/employer to get a prepaid Visa card for each child as well as your maid, each has their own card with their own name on. They can use the card wherever Visa is accepted in stores, transport and online etc.  The app is the control centre for you – where you can top up the family balance using PayNow, credit/debit card, bank transfer and soon Apple Pay, then you can transfer the relevant amount to each card.  No need to have a bank account, no need to have the card with you.  You can track all the spend in real-time via the app as well as lock the card in case of loss/theft.
The Canvas Card and App is available for download from the Google Play and Apple App store.
Enjoy a 30-day free trial of the Canvas Prepaid Visa Card upon registration on the App.
Thereafter, the Canvas Card is available for subscription at S$2.99 per month for each card.
For the month of May/June 2021, Canvas is offering a S$5 sign up bonus credited to each Visa card for children.
For more information, please visit https://yourcanvas.co/
Written by Georgina Bullworthy, Mum of 2 and managing director of Canvas.