The Smart Way to Avoid an Inkmergency At Home
The Smart Way to Avoid an Inkmergency At Home
HP's new Instant Ink subscription makes running out of printer ink a thing of the past!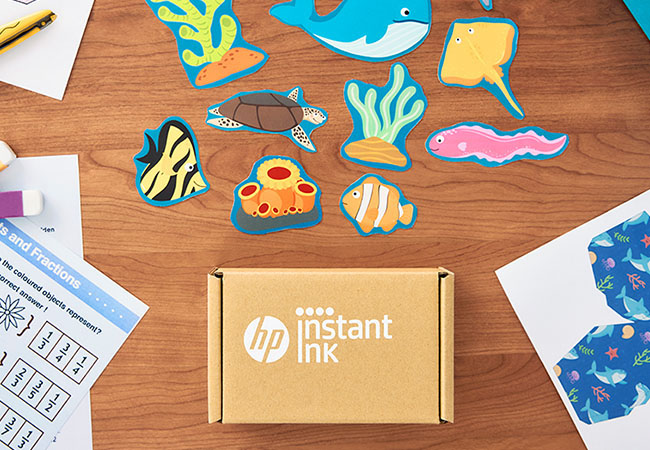 It's 7pm and your child is finishing up her school craft project to meet tomorrow's deadline. All that's left is to print out some images, cut and glue them to the project and she'll be done before bedtime… or so you think. Wait till you realise that your home printer has run out of ink and you've forgotten to get replacement cartridges!
We're sure many of you would have encountered similar situations whereby your printer fails you at the most crucial time. Though it may not be the end of the world, it still causes a lot of frustration and inconvenience.
Kathrine remembers struggling to print out paper patterns to sew cloth masks with her young son during Singapore's Circuit Breaker period in 2020. Her child had eagerly chosen the fabric for a new kid-sized mask but the craft project was unexpectedly hindered by a printer that was low on ink. With all non-essential retail shops shut at that time, she was unable to get new ink supplies and had to make do with a faintly printed pattern produced by those last few drops of printer ink.
As hybrid home-based learning becomes a mainstay, home-use printers are almost indispensable for families with school-going children.
CT Lim, a father with three kids aged eight to 15 years old, shares that his home printer is used almost every alternate day to churn out children's reading materials, practice test papers, home-based learning or tuition worksheets, school forms that require parents' signatures and more.
Though her kids' schools provide most of their required printed materials, another parent Sharon notes that her kids still need to use their home printer at least twice a week, usually for their Upper Primary or Secondary school projects and last-minute online tuition worksheets. One of Sharon's teenage daughters also likes scrapbooking, which involves printing out coloured designs for DIY photo albums or customised birthday cards.
But colour ink cartridges are costlier than black ink cartridges and sometimes, just a handful of full-colour printouts can exhaust an entire set of ink cartridges. Ink cartridges at Sharon's home need to be replaced every two months. For CT Lim, printing is limited to mono-colour so as to stretch his ink cartridges' life span over five to six months. But if colour ink was cheaper, he'd be able to use his printer more freely for projects that require colour printouts.
Being a busy working parent with lots on his plate, CT Lim admits that he'd sometimes forget to stock up on new ink cartridges in time. There was once when he had to print out more than usual practice test papers during his kids' exam revision period and he didn't realise his ink supply was running low. As a result, he had no choice but to run down to a neighbourhood store to get a new cartridge, all in the midst of a pending print job. And the cartridge cost him more than if he had ordered – and waited a few days – from his usual online supplier.
Never run out of ink!
Life is already stressful enough. The last thing you need is the frustration of being caught off-guard by a printing device that has run out of juice!
HP Instant Ink is a subscription service that never lets you run out of ink supplies. It works with nearly all HP printers five years old or less (check compatibility here) and that have a Wi-Fi connection.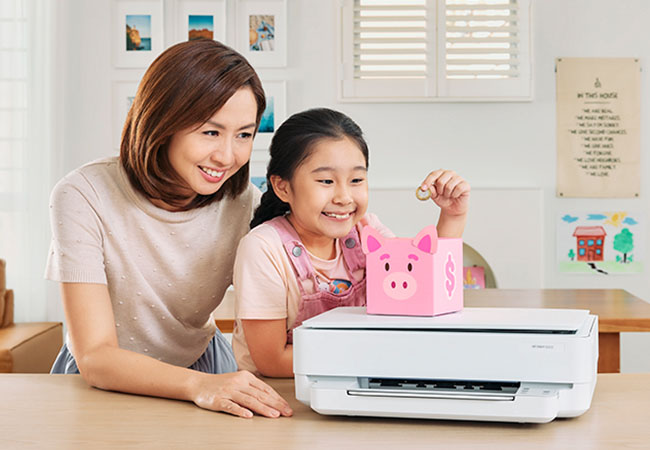 Save money! Look forward to savings of up to 50% on ink! Starting at $1.90/month, HP Instant Ink subscription plans are priced according to the number of pages you print, not how much ink you use. Unlike using traditional ink cartridges, the cost per page is the same regardless whether you're printing a colour presentation or a black-and-white document. Unused pages get rolled over to the following month and you can also change your plan any time you wish at no extra cost.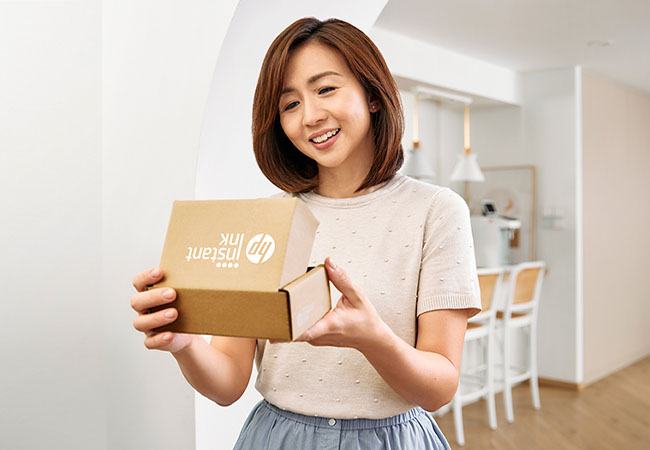 Save the hassle! Keep track of your usage via a personalised app dashboard. There is no need to worry about where or when to order because new ink cartridges will be automatically delivered to your doorstep when your printer runs low. So no more getting caught off guard when your child needs to use the printer for his next school project!
Save the earth! HP Instant Ink cartridges hold more ink and use less packaging. This not only brings the cost down but also reduces material wastage. You can also support HP's sustainability goals by returning used cartridges in the prepaid envelopes provided.  The e-waste will be subsequently recycled, such as to produce new HP products. According to this report, more than 85% of HP original ink cartridges contain 4-75% post-consumer recycled content.
To find out more about HP Instant Ink or enrol today, click here. Don't miss the FREE 3-months trial when you complete the HP Instant ink signup upon setting up of your new Instant Ink-eligible HP printer. Terms & conditions apply.
Find Tuition/Enrichment Centres