Tis' the Season for Fun-learning at the KINEX Santa's Holiday Academy
Tis' the Season for Fun-learning at the KINEX Santa's Holiday Academy
Mr Santa Claus may not be flying across the Atlantic with Rudolph and gang this year, but ho, ho, ho…kids will still get to participate in Santa's Holiday Academy at KINEX Shopping Mall!
It's that special time of the year again when year-end examinations are done and dusted, so why not reward them with three days of enriching and fun-filled activities as an early Christmas gift? Tailored for two age groups (6 to 8 years old and 9 to 11 years old), kids will be introduced to various classes conducted by tenant outlets at KINEX Shopping Mall.
Whether it's to learn a new musical instrument, pick up some cool dance moves, or get inspired with some arts and crafts, it's certainly going to be a jam-packed programme to keep your kids engaged and entertained. What's more, lunch will be included for the three days!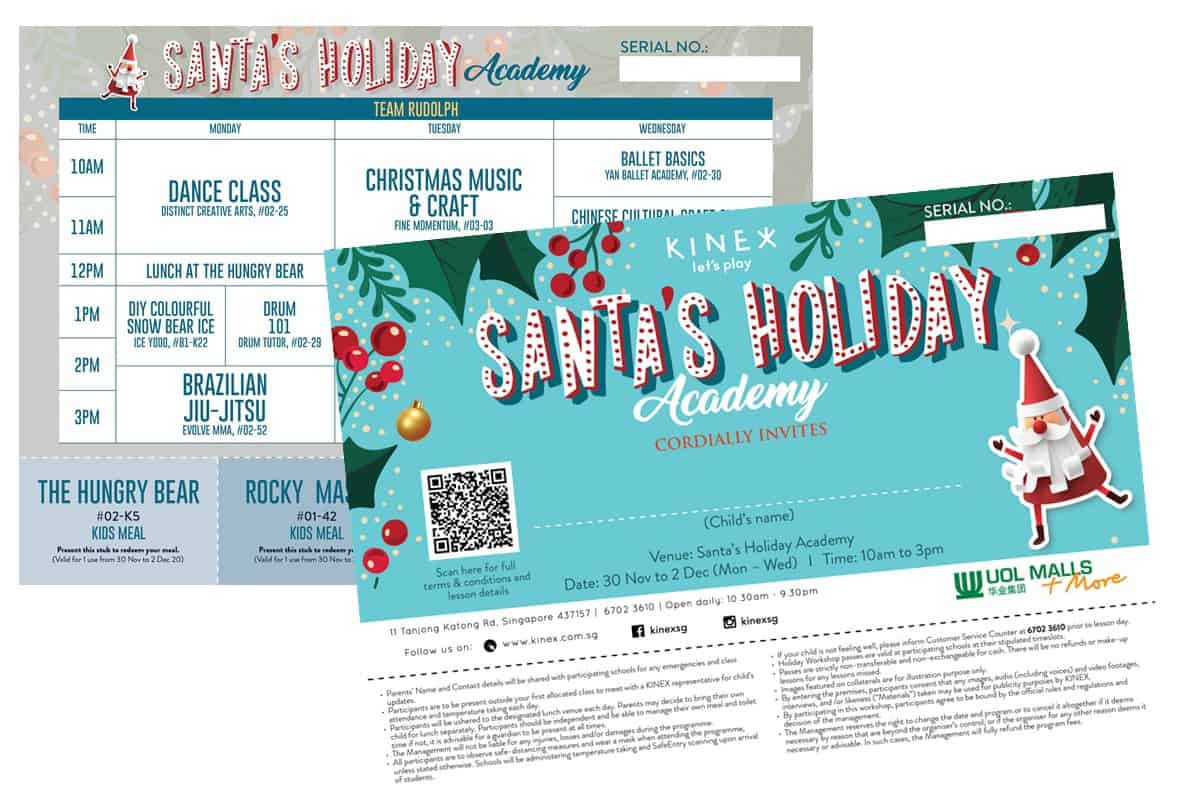 Participating enrichment outlets:
Aureus Academy • Distinct Creative Arts • Drum Tutor • Evolve MMA • First Step Education • Yan Ballet
Participating F&B outlets:
Fatburger & Buffalo's • Ice Yodo • Rocky Master • The Hungry Bear
Duration: 3 days
Time of programme: 10am – 3pm daily
Dates:
Session 1: 30 Nov – 2 Dec 2020 for 6 to 8 years old
Session 2: 14 – 16 Dec 2020 for 9 to 11 years old
Programme fee: $250 per pax (U.P. $550)
Limited to the first 30 sign-ups per category. Tickets are available for purchase via Customer Service Counter on level 2 (cash payment), www.kinex.com.sg (via PayPal).
Registration closes on 25 November for Session 1, and on 9 December for Session 2.
So, what's in store for participants during the 3-day KINEX Santa's Holiday Academy? Here's a preview.
Band Instruments @ Aureus Academy #B1-23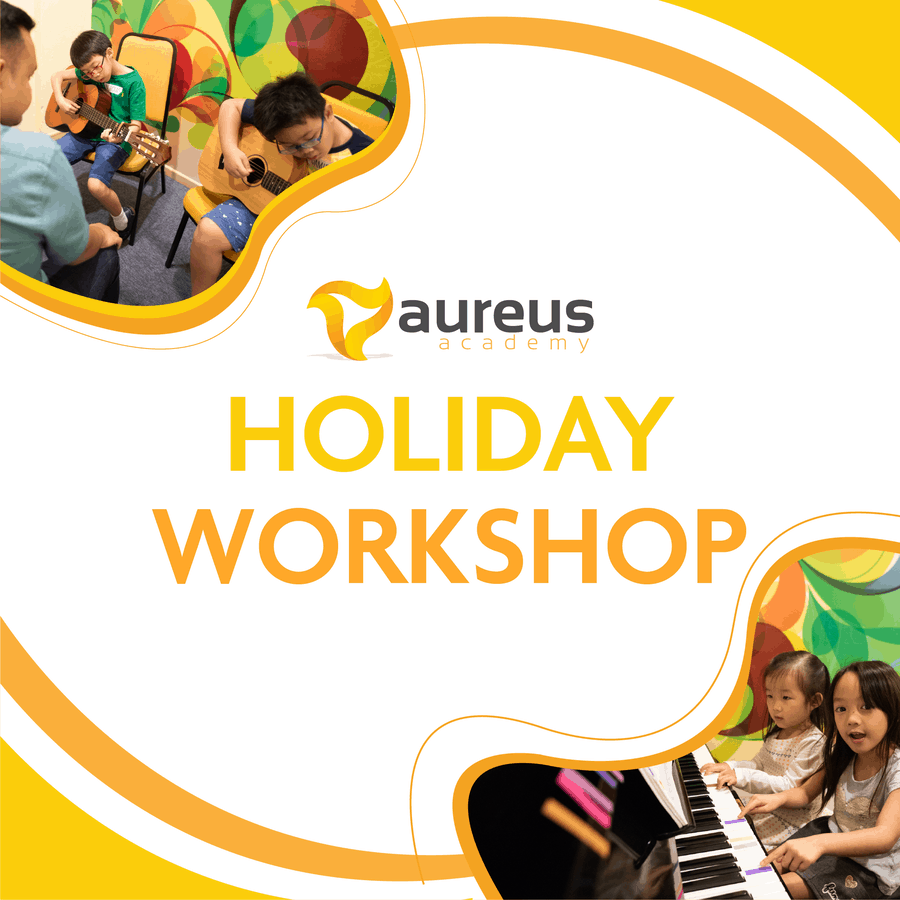 Let your child start tinkering with musical instrument from a young age. Aureus Academy will be conducting a class where participants will learn to play a tune or two on drums, ukulele, guitar, piano or keyboard.
For enquiries on other available classes at Aureus Academy:
Tel: 3165 5072
Web: https://www.aureusacademy.com/
Dance Class @ Distinct Creative Arts #02-25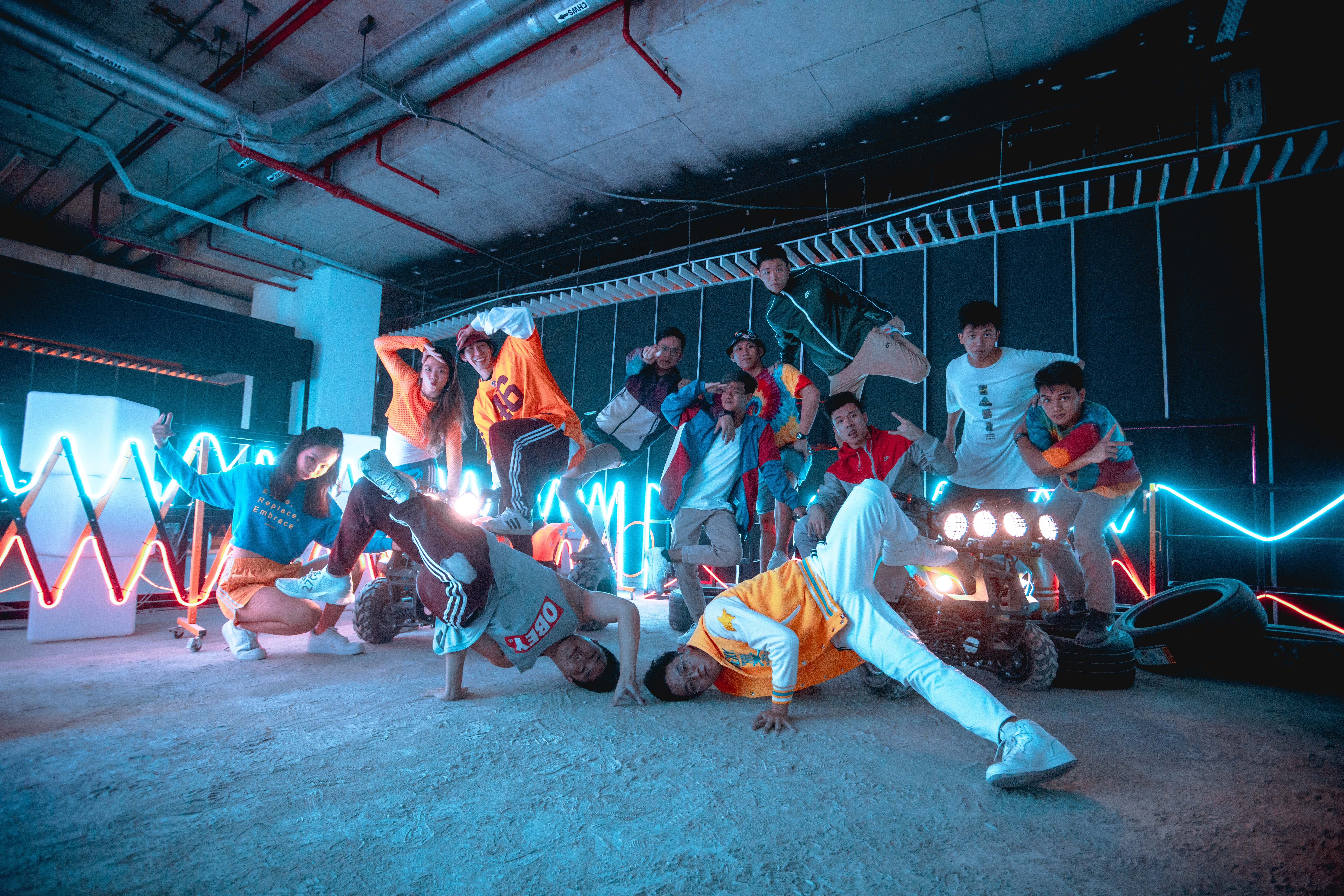 Dance can truly break all boundaries and everyone's welcome to get moving to the beat! It doesn't matter if your kids have learned to dance or not. They can have lots of fun while picking up dance techniques during the class by Distinct Creative Arts (DCA), specially tailored according to their abilities.
For enquiries on other dance classes available at DCA:
Tel: 6909 9753
Web: https://www.distinctca.com.sg/
Drum 101 @ Drum Tutor #02-29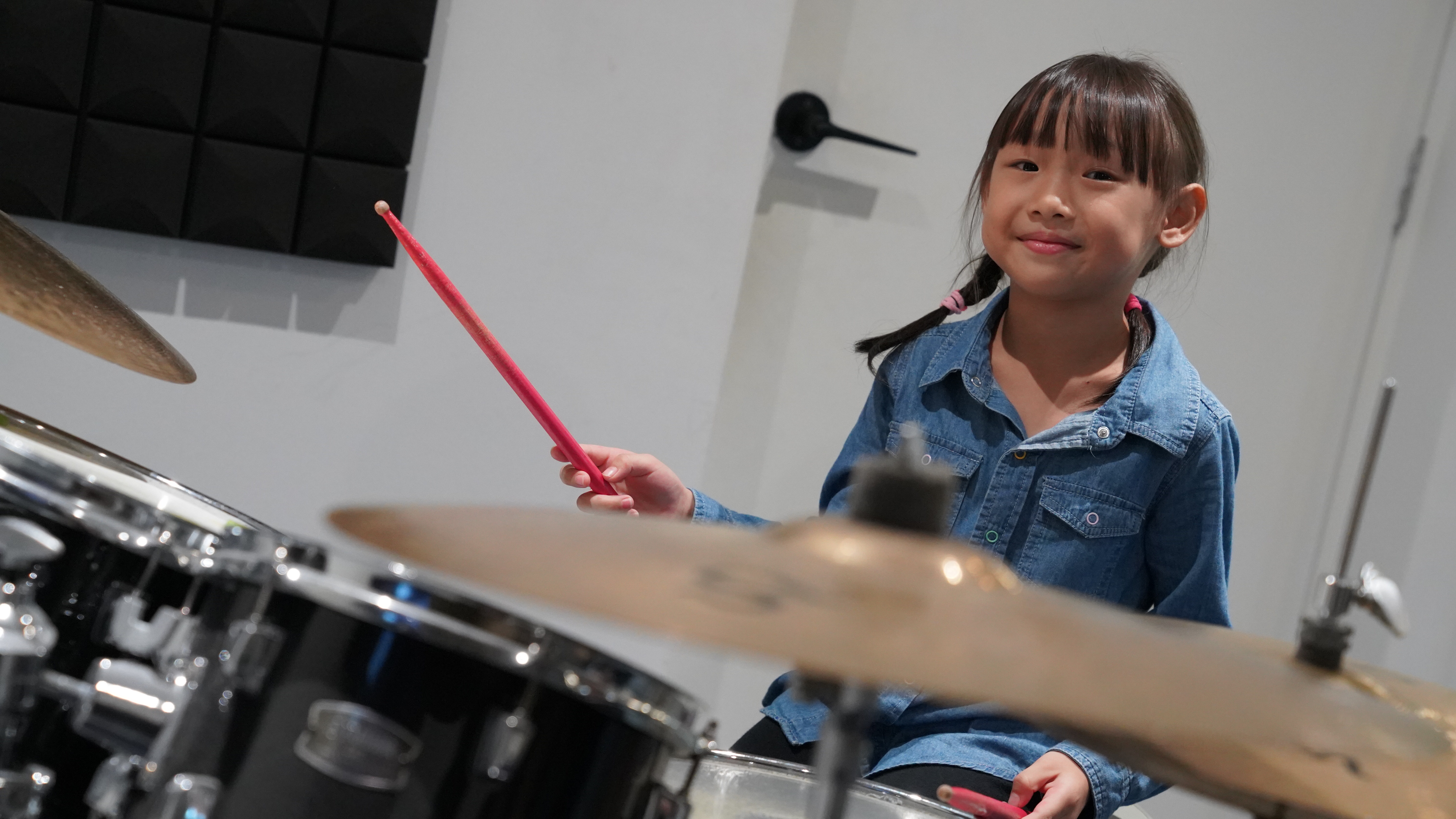 Start from the basics at Drum Tutor, with its Drum 101 class which lets participants be introduced to a drum set, learning basic grooves and jam to some popular songs. No prior experience is needed, but who knows? After the session, some may be inspired to pursue drums as a passion and follow the footsteps of Drum Tutor's founder, award-winning drummer Er Chow Kiat.
For enquiries on other classes available at Drum Tutor:
Tel: 9666 4979
Web: https://www.drumtutor.sg/
Brazillian Jiu-Jitsu @ Evolve MMA #02-52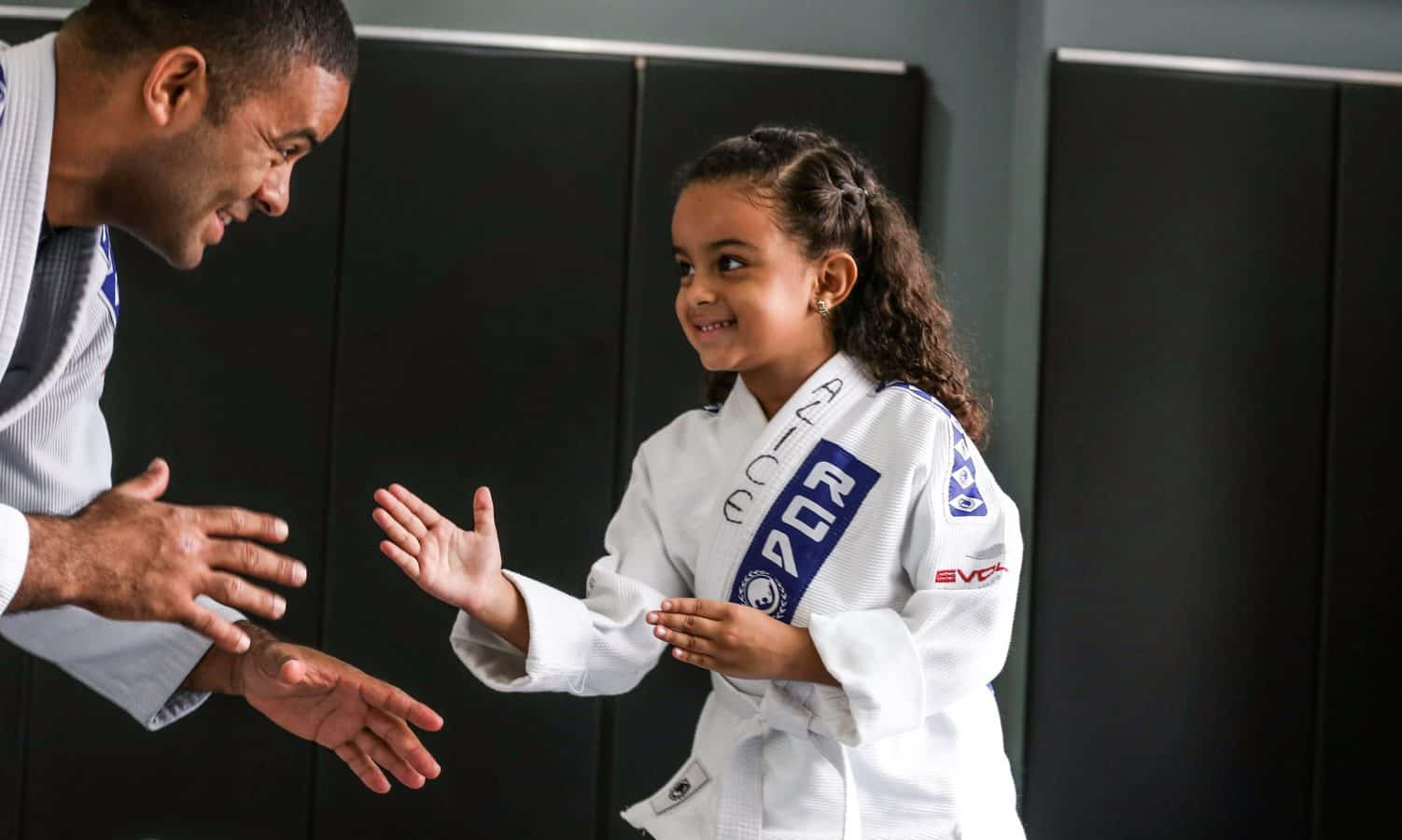 Participants of KINEX's Santa Holiday Academy will get a glimpse of how Mixed Martial Arts (MMA) World Champions train at Evolve, through their Little Samurai Children's Program, which is designed by a Harvard University graduate and taught by World Champions to help children build life skills through the power of martial arts. Main takeaways from the class would be improved confidence, mental strength, discipline, focus and self-defence techniques.
For further enquiries on the full Evolve Little Samurai Children's Program at Evolve MMA:
Tel: 6288 2293
Christmas Music & Craft by Fine Momentum Academy #03-03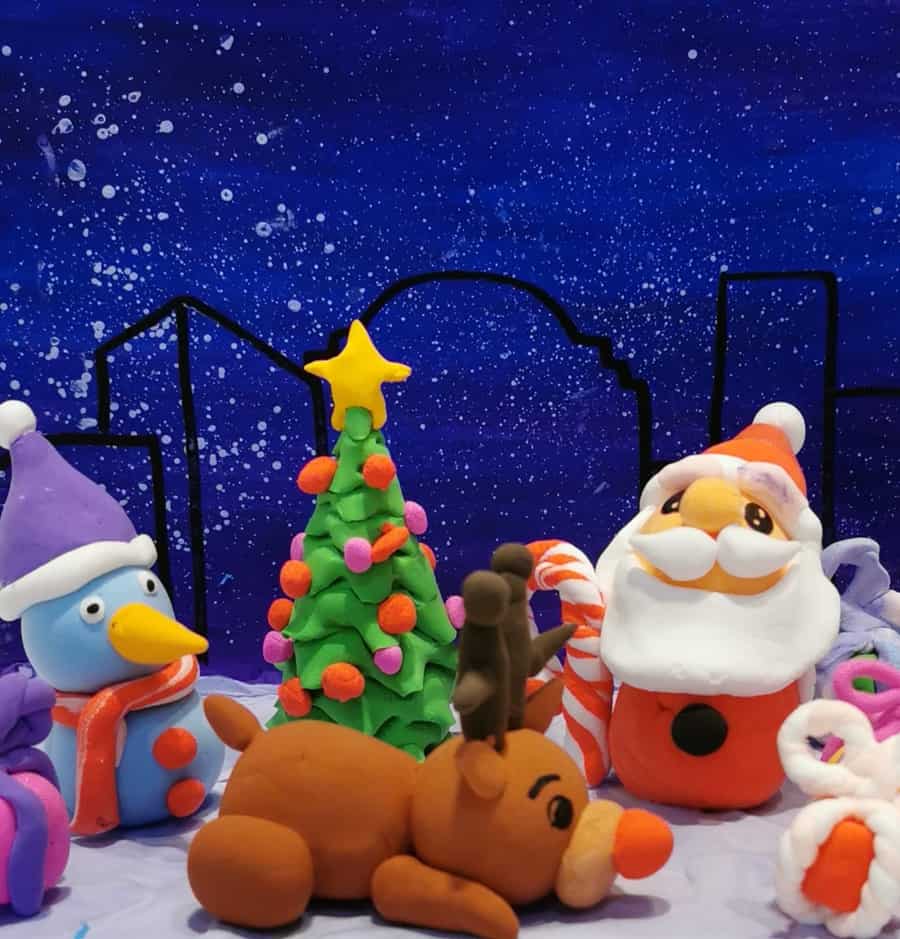 Let your child hone all-round interests for the arts, dance and music through hands-on Christmas clay modelling and music lessons that include learning to play the Ukulele, Drums or Piano at Fine Momentum.
For enquiries on other available classes at Fine Momentum:
Tel: 6341 6088
Web: http://www.finemomentum.com.sg/
Chinese Cultural Craft Class @ First-Step Education #02-05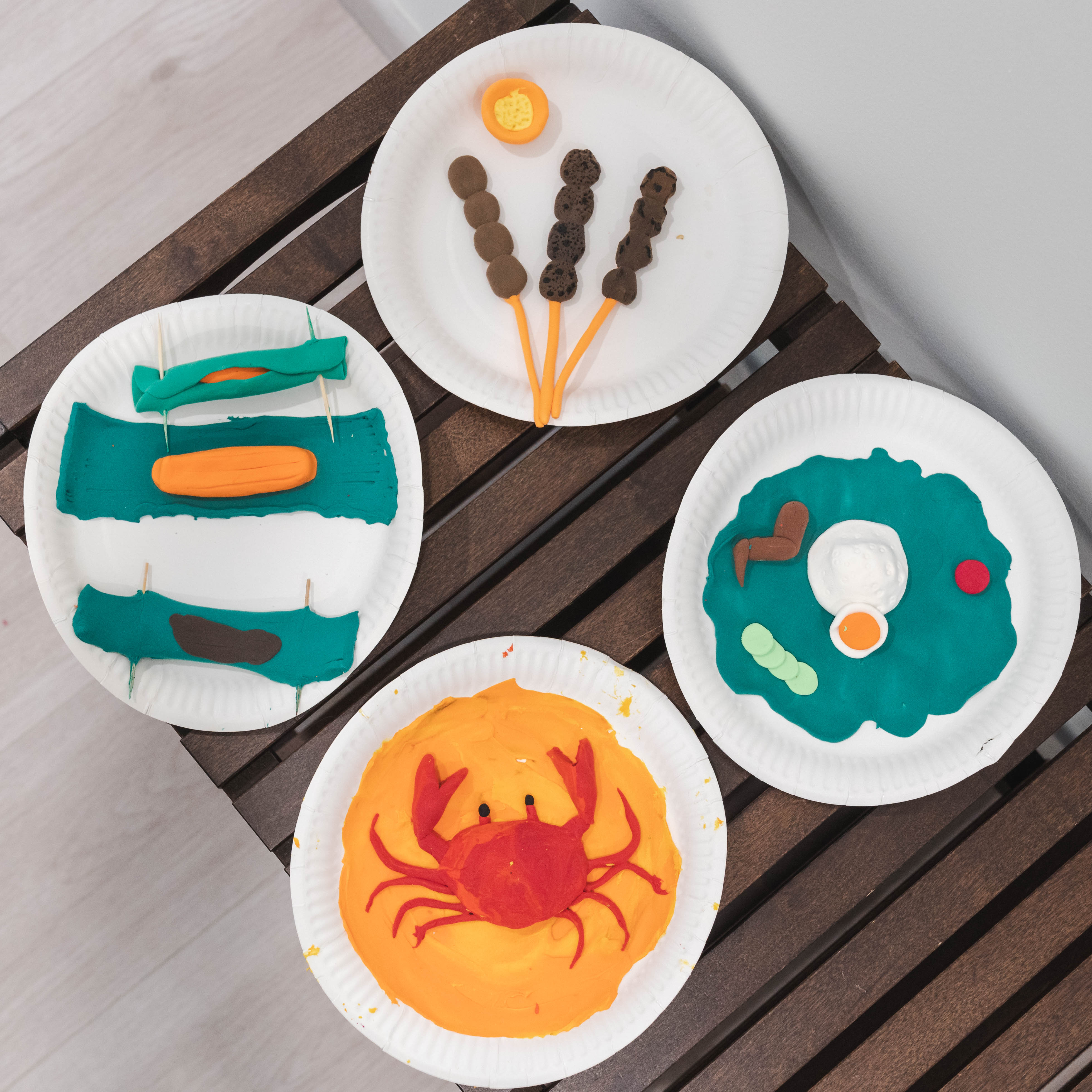 Learn more about Chinese cultures through handicraft, art and games. First Step Education, which focuses on Multiple Intelligence-based learning, will conduct a hands-on session in traditional handicrafts while enhancing students' knowledge of Chinese culture infused with Singapore's local heritage.
For enquiries on other cultural classes at First-Step Education:
Tel: 6241 5178
Web: http://firststepeducation.net/
Make Your Own Colourful Snow Bear Ice @ Ice Yodo #B1-K22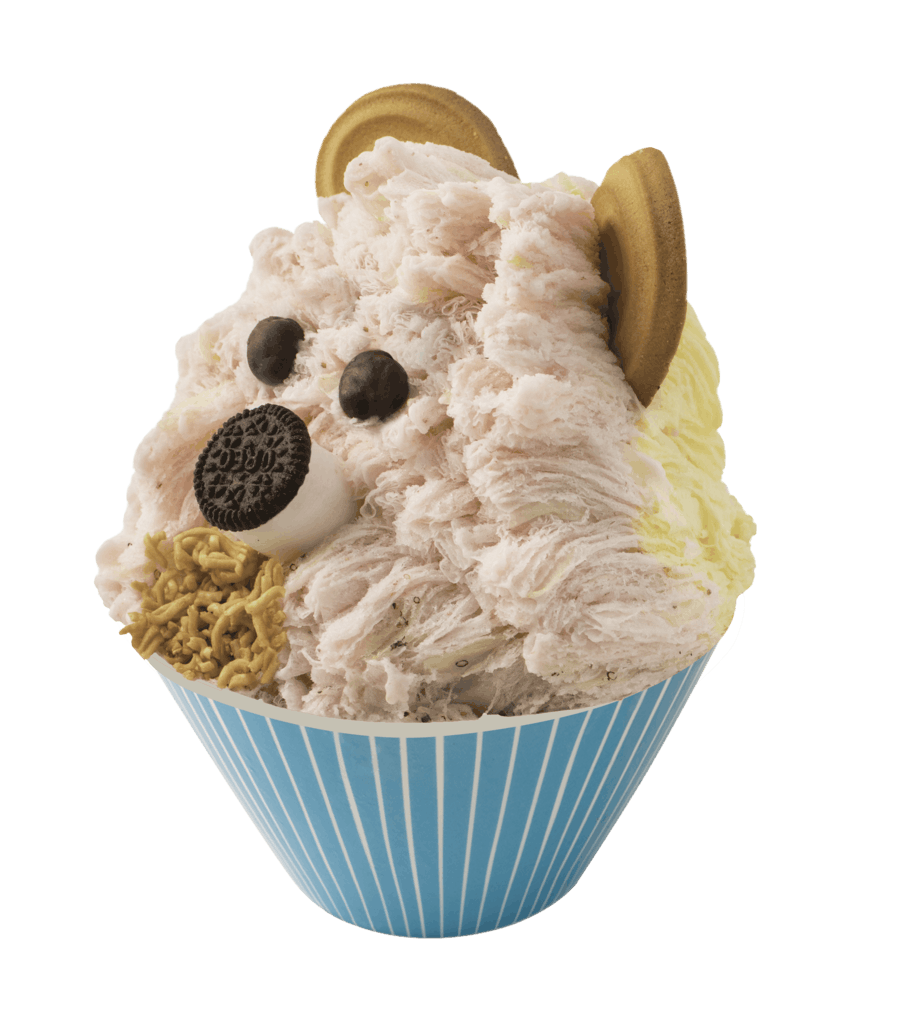 Who can resist building an edible snowman bear? Give your child a real ice-cold treat with Ice Yodo's deliciously fun session that will let participants DIY a Taiwanese-style Snow Ice dessert. Choose from 100% natural ingredients and flavours such as fresh milk, chocolate or watermelon.
Art Jamming at Tree Art #02-07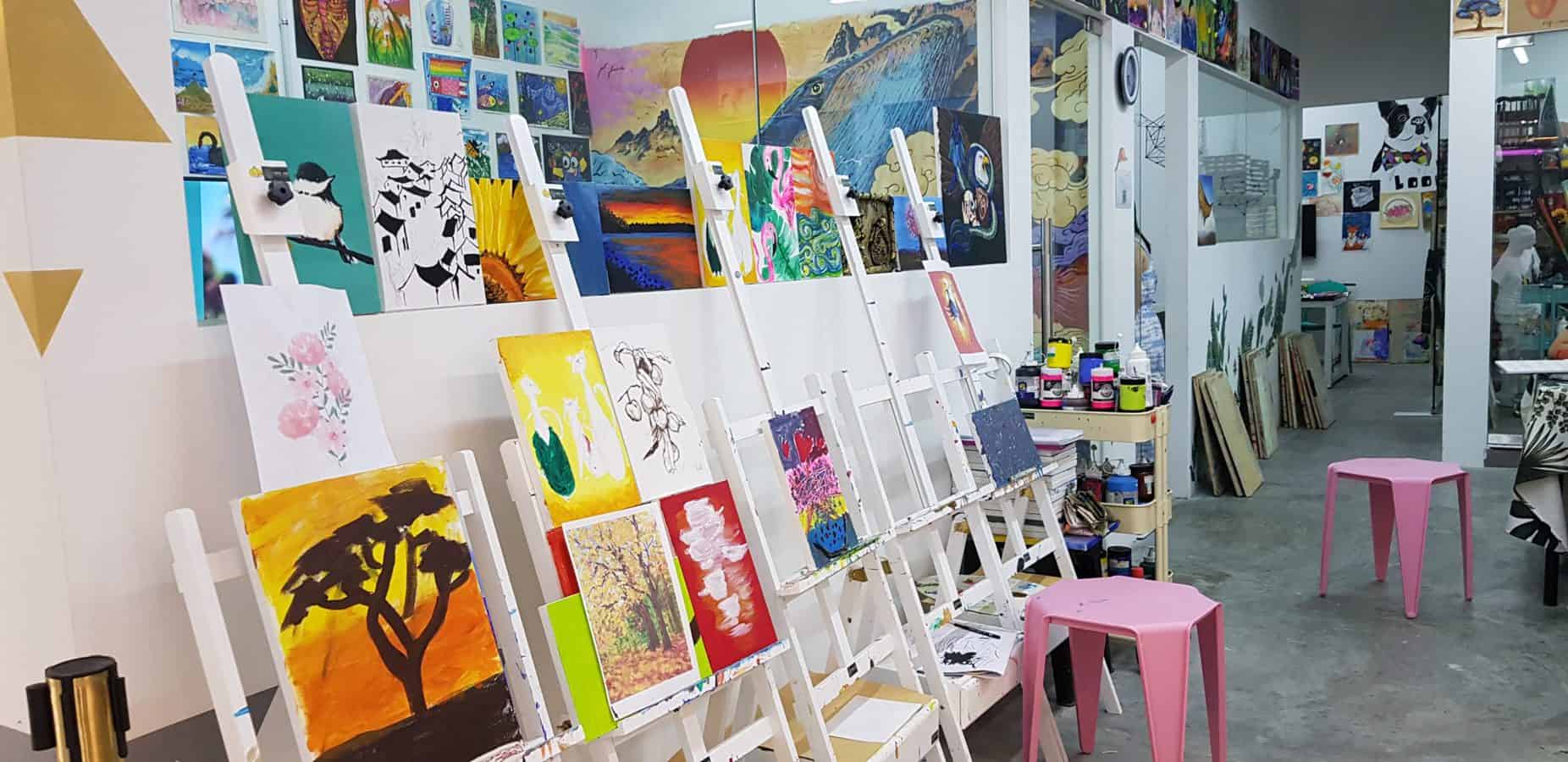 Look forward to an exclusive Christmas-themed art jamming session as children explore techniques of paint and other art mediums. Under the guidance of trained teachers, students will learn how to express themselves through Art, starting from their thought process to producing their desired masterpiece.
For enquiries on other art classes at Tree Art:
Tel: 9649 7716
Web: https://treeart.co/
Ballet Basics @ Yan Ballet Academy #02-30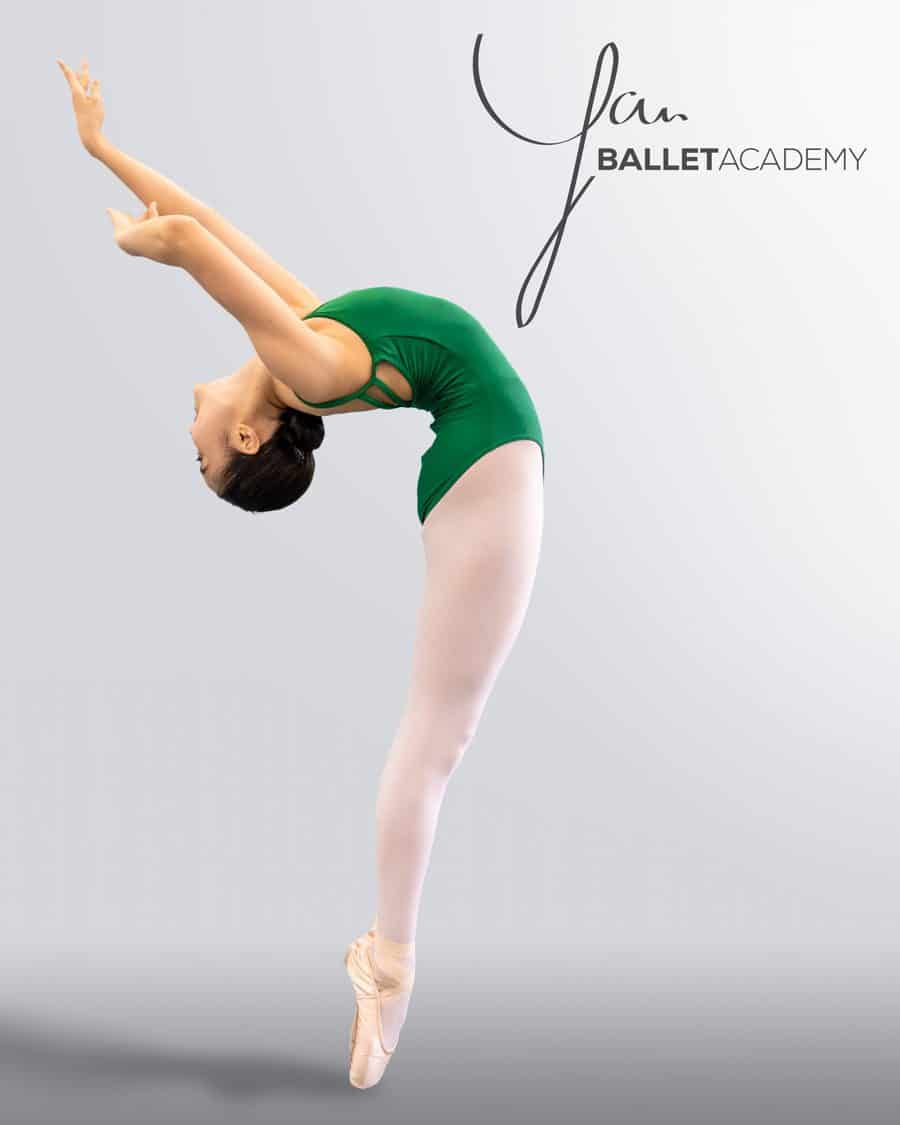 Children will be introduced to the world of classical ballet at Yan Ballet Academy, a school certified by the Royal Academy of Dance (RAD). For those 6 to 8 years old, activities focusing on basic ballet movements, fun songs to initiate them into classical music, etc. will aim to capture their attention. Then for those 9 to 11 years old, they'll delve a little deeper into learning techniques – great for building the foundation in terminology, strength, coordination and thinking.
For enquiries on other classes at Yan Ballet:
Tel: 6514 5175
Web: https://www.yanballetacademy.com/
'Tis the Season of Gifting at UOL Malls
Redeem limited edition gifts when you shop at KINEX this Christmas!
From 6 Nov,
Redeem exclusively designed Gift Wrappers with $60* spent ($50* for U-POPP members)
Max. 3 same-day combined receipts
From 20 Nov,
Redeem a Cheese Cutlery Set with $180* spent
($150* for U-POPP members)
Max. 3 same-day combined receipts
Redeem a set of Cheese Rotary & Cheeseboard with $360* spent ($250* for U-POPP members)
Max. 4 same-day combined receipts.
What's more, UOL Malls (KINEX, United Square and Velocity@Novena Square) have partnered Extra•Ordinary People – a registered charity and Institute of Public Character that supports children and youth with special needs in an inclusive festive gifting. You can redeem premiums that feature art series by trainees from GROW Sheltered Workshop by Cerebral Palsy Alliance Singapore (CPAS) when you spend. As a token of appreciation, trainees from CPAS will receive a royalty fee from UOL Malls in support of their continued learning and developmental journey.
Find Tuition/Enrichment Centres