Transitioning from Primary to Secondary School
Transitioning from Primary to Secondary School
Entering a new school is no easy thing. At the end of a long and exhausting year in Primary 6, students face the challenge of not only the PSLE but also the upheaval caused by the move to a new school for the whole of their Secondary education.
At this moment Singaporean PSLE students will be experiencing a mix of emotions that will be difficult for anyone else to comprehend. There may be elation that the exams are over, pride at their results, sadness at their results or even ambivalence. Whatever the grade the one thing that is certain is that every student will be experiencing trepidation. They are about to embark upon the next major transformation in their life, a new school, a new beginning with new teachers, new friends, new subjects and new challenges.
As parents and teachers, our goal is to assist by ensuring that students are given the easiest possible transition from Primary to Secondary school, supporting them all the way to ensure that they settle quickly and get the best possible start in their new environment. The quicker we establish new norms and help to mitigate problems through listening to concerns the faster students will settle and get the most from their new school environment.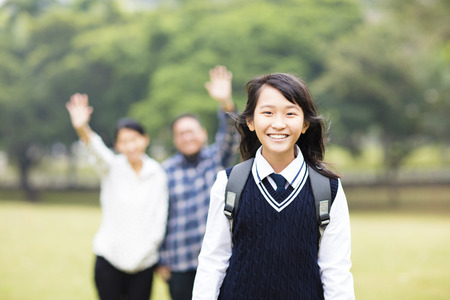 Family as an anchor of stability
Preparing for this is not easy. Parents may not understand the trauma that will come from seeing established friendship groups (built over the six years of their primary school life) broken apart. Children will have relatively few areas of stability and may seek greater solace in their family as a fixed point which hasn't changed. In these cases, listening to the child is going to be of paramount importance. The comfort of home is the one fixed point that will provide the security required to keep going.
Dealing with academic changes
However, preparing for social changes is just one part of the equation. Moving to Secondary school involves upheavals not only in the academic level but also the delivery of academic content. Students will be establishing new patterns for their academic input with individual teachers and also timetables for homework that may be more subject focussed and also more directed. Parents should try to make themselves aware of their child's new timetable to offer gentle support. Collecting your child's timetable and identifying homework that is expected on each day of the week is an easy way to encourage learner autonomy. Each night you can say 'did you do your maths and science homework' rather than 'did you do your homework'. Each morning you can ask 'what are you doing in science today'? The importance of parental interest and awareness cannot be underestimated and this kind of active engagement in the child's schooling will hopefully allow the child to know that parents are interested and engaged.
From early skill to autonomous skills development
Secondary school is a transition for students; the skills they learnt in Primary school are built upon and expanded. Students are on a learning journey and it is important to recognise the transition from the early skill development undertaken in Primary 1 to 6 to the development of autonomous skills in Secondary 1 to 4.
Getting 'career-ready'
In the 21st Century's knowledge economy, the development of basic academic skills is not enough to gain access to high value jobs in the future job market. Instead, students need to develop a range of transversal and life skills that will enable them to be 'career ready'. These skills have long term value such as media literacy, creativity and citizenship. Many of these skills are taught in Secondary school via the subjects. However, these skills don't exist in isolation and parents can help their child to develop in these areas through fostering good reading and study habits at home. Additionally, they can talk to their child to broaden their general knowledge and understanding of the world. Through encouraging engagement in CCAs that have a high relevance value for developing their speaking and thinking skills. Creative thinking and critical thinking are two highly valued skills in the modern workplace and these skills are not isolated skills they cover a broad range of subjects and have a high degree of applicability in the modern workforce. Finding ways to challenge students to think in deeper and more meaningful ways about issues, problems and concepts is the role of a good teacher and something we should strongly encourage.
In conclusion, the adjustment from Primary to Secondary can be a massive upheaval for students. However, with time, consideration and good support from home as well as parental understanding about the challenges your child is facing the transition to secondary school can be achieved in a smooth, effective and calm manner that ensures your child gets the best from the education system.
This article is contributed by Duncan Rose, Head of Schools, British Council
Find Tuition/Enrichment Centres