What Should My Child Be Able To Do Before Starting P1?
What Should My Child Be Able To Do Before Starting P1?
Now that you have secured a place for your child in a primary school next year, you might be worrying about how you can ensure your child makes a smooth transition to formal learning. 
The good news is that at this stage, the focus is not on academic knowledge but on nurturing critical numeracy and literacy skills. Hear from the experts at The Learning Lab (TLL) on how you can set your preschooler up for success.
Sue Lynn, Academic Director for the Early Years and Lower Primary Programmes at TLL, contends, "Early exposure to numeracy allows children to build numeracy skills that will set a strong Maths foundation. When children are exposed to Maths concepts earlier, they form a deeper understanding of the concepts and develop the necessary skills for these concepts."
Similarly, the importance of honing your child's early literacy skills cannot be emphasised enough.
Hazel Lee, Head of English (Early Years) at TLL, asserts, "Early literacy skills will help to pave the way for a smooth transition to primary school. By establishing a strong foundation in reading, writing, comprehension, and speaking skills, children will be able to make sense of their real-world experiences in enriching ways." 
"To develop your child's literacy and numeracy skills at home, help your child see that language and numbers are all around them. Children do not have to be seated at a desk with a pencil and paper to be able to pick up literacy and numeracy skills. They can do so at the beach while they are writing in the sand or even at the supermarket where they are counting the items in the supermarket trolley," Sue Lynn suggests.
Embracing this hands-on philosophy, The Learning Lab's Early Years Maths and English programmes expose students to the world around them, with lessons focused on active learning through activities such as manipulatives, craft, songs and games. Learning is interactive, collaborative, and fun to ensure that the key principles of language and numeracy are taught through contextual learning strategies.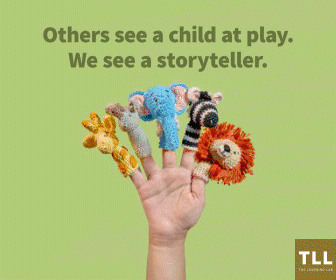 Beyond the Classroom: 3 Essential Skills for Thriving in P1
Apart from academic skills, life skills are key for your child to deal with a variety of challenges in primary school. Here are three life skills your child should pick up, and how you can help your child do so.
SKILL 1:  Asking for help
Is your child too shy to seek help away from home? This is very common, and many children need time to warm up to their new surroundings. 
"One way to prepare children is to roleplay common school scenarios at home, such as asking for directions to a classroom, or seeking permission to go to the bathroom," offers Sue Lynn. 
You can break this process into these steps for your child:
Look for someone who can help, e.g. the form teacher or a prefect.

Address the person politely, e.g. "Excuse me, Mrs X…" 

State the problem (or need), e.g. "I need to go to the bathroom."

Listen to instructions.

Thank the person offering help.
SKILL 2: Ordering food at recess
Most schools have a buddy system for the first week of Primary 1, where an older student will accompany your child at recess to show him or her how to pick a food stall, stand in line, and order food.
"Some children may be too shy to do this on their own, so when you're out together, try letting your child practise ordering — in a voice that's loud enough to be heard. Until your child gains confidence, you can always opt to pack a snack instead," suggests Hazel.
SKILL 3: Managing time
Once your child starts bringing home assignments, you may notice that he or she is taking longer than expected to complete a task. If so, ask your child's teacher for the estimated time that is needed to complete the work, and use a timer to help your child stay on track.
"If your child repeatedly struggles with finishing homework within the recommended time, it could be due to procrastination, distraction, or simply not knowing how to do the work," Sue Lynn advises. 
"One solution for procrastination is to help your child break a task into simpler parts — for example, learn half the spelling words, take a break, and continue with the other half. To remove distractions, ensure that the work desk is clear and devices are kept away before your child starts work."
Discover the Joy of Learning through a Hands-on Approach
If you're looking for ways to support your child's transition to primary school, look no further than The Learning Lab's Early Years programmes.
Designed to empower young learners like your child to take ownership of their learning, the programmes use a wide range of multisensory activities to enable students to fully grasp the abstract concepts and techniques taught in class. Lessons are carefully curated to spark your child's curiosity in the core subjects and cement his or her foundation, setting your child up for success in school and beyond.
Visit TLL's website to find out more about the Early Years programmes and enrol your child today!