UNLEASH YOUR CHILD'S MUSICAL TALENT WITH CORINNE GIBBONS
to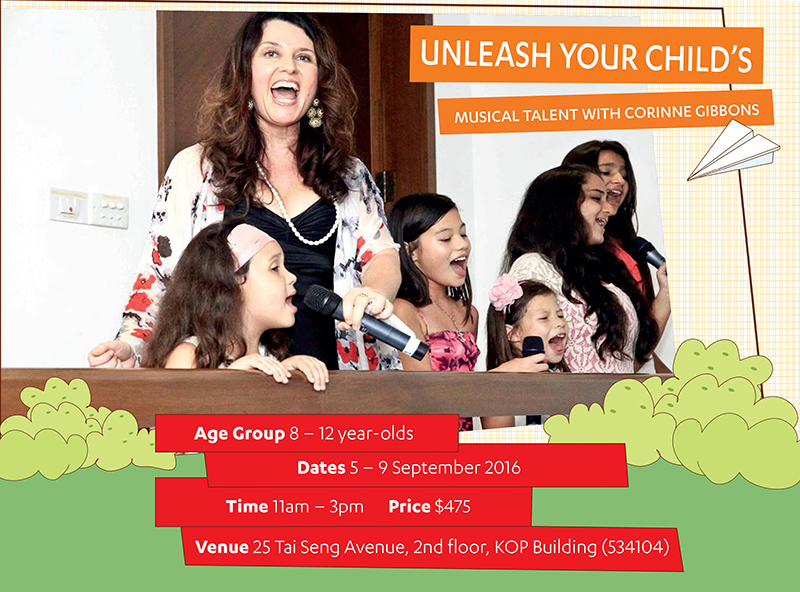 This September Holiday, 20 children will have the exclusive opportunity to work with Corinne Gibbons, a multi-award winning performing artist, to compose songs and perform in their very own musical theatre concert!
Corinne Gibbons has dedicated the past 10 years mentoring, teaching and advocating for children to develop creativity through voice. She has released four albums, composed songs for Singapore Repertory Theatre and Resorts World Sentosa and received over 1 million hits on YouTube for her song Five Good Groups composed for the children's super group Hi 5!
During the weeklong workshop, Gibbons will teach vocal techniques and performance skills to help your child become an even better singer and performer. She will also teach children how to write and compose their very own song in the style of musical theatre. The workshop will culminate in a concert performance where children can show their parents what they've learnt all week!
Join us for what will be a truly enriching and fun week of music, singing and performing!
Age group: 8 – 12 year-olds
Dates: 5 – 9 Sep 2016
Price: $475
Venue: 25 Tai Seng Avenue, 2nd floor, KOP Building (534104)
To book or for more information, please contact SRT's Education Manager,
Sheila at 67338166 or [email protected].