2013 P1 Registration (Phase 1)
to
Dates: 4 July 2013 – 5 July 2013
MOE has finally released the number of vacancies available for Primary One in 2014. There are a total of 42,580 places, which is 660 higher than the number of vacancies in 2013 (41,920). Most of these result from the opening of 3 new schools each having vacancies of 210. Except for the 30 schools listed below, the vacancies available for existing schools remain unchanged.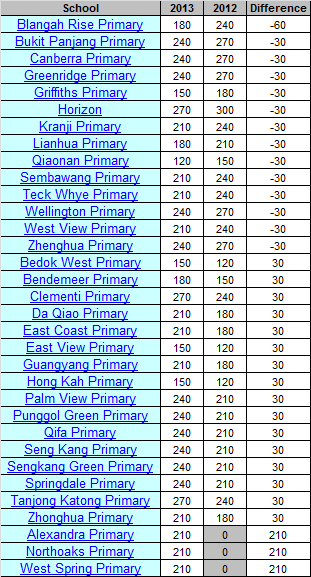 We have updated our Births vs Places chart with the new information.
For discussions on P1 Registration for 2014, please use this thread.
If you would like to review the balloting risk for specific schools based on historical data, click here.
Phase 1 will start in a couple of weeks' time. We wish all participating parents a most successful and stress-free P1 Registration exercise!
For information regarding Phase 2A(1) please click here.
Find Tuition/Enrichment Centres