2013 P1 Registration (Phase 2A2)
to
Dates: 15-16 July 2013 Results: 18 Jul 2013
For:
Children who are Singapore Citizens/Permanent Residents, and
(a) whose parent or sibling has studied in the primary school of choice, or
(b) whose parent is a staff member of the primary school of choice
Update (15 July 2013):
Day 1 of Phase 2A(2) is over, and the good news is that no schools are confirmed to require balloting yet. However, Henry Park and Ai Tong are both 95% filled. The school to watch out for is still Ai Tong, as its TUR is still below its average TUR of 24% for Phase 2A(2).
What is noticeable is the hot TUR for Red Swastika today, which brought it into the 90% territory, displacing St Nicholas as the number 3 most contested school this year. Fairfield Methodist and ACS Primary have also significantly increased their TUR, while Catholic High has eased a little. Tomorrow's numbers will finally decide if balloting will happen in any school this year for Phase 2A(2).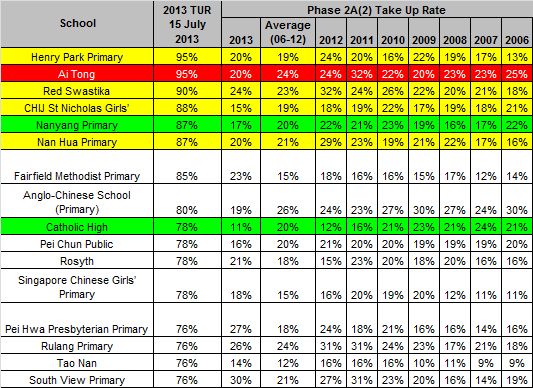 Update (10 July 2013):
In response to parent's queries, we have worked out the average take-up rates in Phase 2A(2) for the schools at risk of balloting in Phase 2A(2) this year.

If you observe the past Phase 2A(2) history of these schools, the school with the greatest risk of balloting at this year's Phase 2A(2) is Ai Tong. On the average, about 24% of vacancies are taken up in Phase 2A(2), which together with the current TUR, will take the school up to 99% by Phase 2A(2). If the Phase 2A(2) TUR is anything like that in 2011 (32%), balloting will be needed.
While high, Henry Park is only risky if the TUR at Phase 2A(2) is similar to last year's. Otherwise, it should be safe. This is similar for St Nicholas, Nan Hua and Red Swastika.
Nanyang and Catholic High should have a bit more breathing space.
However, all the above schools are very likely to have less than 10% of places left for Phase 2B/2C.
Update (9 July 2013):
Phase 2A(1) has just ended. In the past 7 years, this is mostly an uneventful phase for parents, regardless of whether they are participating in it. This year, however, many parents who qualify for Phase 2A(2) and 2B are biting their nails, watching Phase 2A(1) anxiously, despite their relatively secure placement.
Parents have cause to worry, if they are hoping for a place in the following academic powerhouses:
Henry Park (+17%)
Ai Tong (+20%)
CHIJ St Nicholas Girls' (+18%)
Nanyang Primary (+10%)
All these schools registered the highest cumulative take up rates till Phase 2A(1) in the last 8 years. If demand for these schools continue unabated in the next Phase, we could very well see the balloting in Phase 2A(2) for these schools, something that has been unthinkable for most parents in recent years.
The other top schools also run some risk of balloting at Phase 2A(2). Catholic High (+11%) continues to be very popular. However, this years' rate is still lower than last year's by 3 percentage points. There was no balloting at Phase 2A(2) for Catholic High last year.
Nan Hua (+17%), Red Swastika (+14%), Pei Chun (+13%), Tao Nan (+10%) and St. Hilda's (+7%) all exceeded 60% TUR for the first time in 8 years.
At this point, parents should really start thinking about activating their backup plans if they are eyeing these schools. Don't leave things to fate. Activate your Plan B so that you can sleep well in the coming days without worrying about having to ballot. Success in Primary school is NOT contingent on getting into elite schools.

For information regarding Phase 2B, please click here.
Find Tuition/Enrichment Centres