2014 P1 Registration Phase 2A(2)
to
Phase 2A(2)
(a) For a child whose parent or sibling has studied in the primary school of choice
(b) For a child whose parent is a staff member of the primary school of choice
Announcement of Results:
By Thursday, 17 July 2014
KiasuParents.com Analysis (Updated 15 July 2014)
Phase 2A(2) has just ended. Five schools: Nan Hua, Henry Park, Radin Mas, CHIJ SNGS and Yu Neng exceeded their quota.
With the exception of Yu Neng Primary, the rest of these schools will require balloting for children who are Singapore Citizens staying beyond 2km. At Yu Neng, as the number of Singapore Citizens meet the quota exactly, no balloting is required.
Good luck to parents going for the ballot, and for parents who have managed to get a place for their children, congratulations!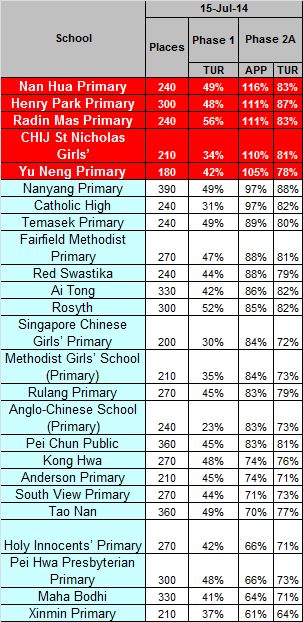 KiasuParents.com Analysis (Updated 14 July 2014)
Just after the 1st day of Phase 2A(2), some parents' worst fears of balloting in Phase 2A(2) have become a reality. The 3 schools we highlighted earlier: Henry Park, Nan Hua and CHIJ SNGS have indeed exceeded their quota for Phase 2A(2) and will most likely require balloting for the first time, unless some applicants pull out on their own volition.
3 other schools: Radin Mas, Yu Neng and Catholic High are flirting with less than 3% vacancies left for Phase 2A. Hopefully, most parents who are interested in these schools have already registered today. Otherwise, they may join balloting as well.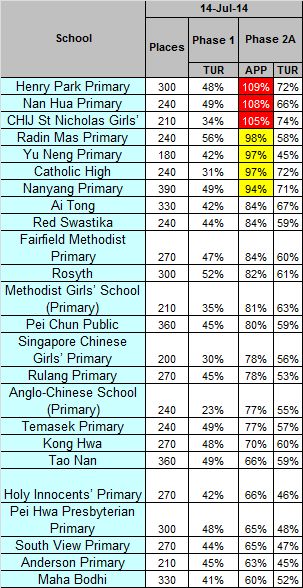 KiasuParents.com Analysis (Updated 13 July 2014)
After having gone through two priority Phases, it is clear that the recent move by MOE to reserve 40 places for Phases after Phase 2A is making an impact on schools which traditionally have very high competition for places early in the Exercise.
Many parents have moved themselves up the ladder by taking advantage of their eligibility for Phase 1 and Phase 2A(1) (eg. by joining the school's Alumni). We have seen a significant increase in the Take Up Rate (TUR) this year for many schools versus the last 8 years. While this is normal for newer schools such as Horizon and Frontier, which are beginning to have students eligible for Phase 1 and 2A, we also see schools such as Maris Stella High and CHIJ St Nicholas Girls' (SNGS) increasing their TUR by 18% over the average. Given that the new MOE ruling reserves 19% of its places for Phases 2B and beyond, it would seem that the change will not make very much difference to the actual make-up of the 2015 SNGS cohort versus earlier years. What the new ruling has achieved is to arrest the trend of increasing Phase 1 and 2A TUR in these schools and retain at least a fifth of the schools' vacancies for non-affiliated students.
The next question on everyone's minds is, of course, whether we will see any balloting for Phase 2A(2) for the first time in history. From the table below, CHIJ SNGS, Catholic High, Henry Park, Nan Hua, Nanyang and Ai Tong have 21% or less of their vacancies left for Phase 2A(2). If the 2014 Phase 2A(2) applications at these schools are at least as healthy as last years', then these schools will have the highest threat of balloting at Phase 2A(2). Even Red Swastika may not be spared from balloting this year, despite having 25% of its places left for Phase 2A(2).
Chances are, however, that some parents who would have had to register at Phase 2A(2) have already "upgraded" themselves by registering at Phase 2A(1) at these schools, so hopefully, we might all be looking at a non-event this year 🙂
Good luck to all parents!
Notes:
1. For the table below, note that all percentages are baselined against the total number of places available for the particular year/period. So the sum of the 2014 Phase 1 to 2A(1) TUR, 2014 P2A(2) Vacancies and 2014 Reserved for P2B/P2C numbers should make up the full 100% of the vacancies offered in this year's exercise.
2. The table is sorted in ascending order based on the difference between the number of vacancies left for P2A(2) this year, and the number taken up in P2A(2) last year. Based on this, the first 3 schools have deficits should the rate of P2A(2) applicants be similar to that last year, thereby requiring balloting.

Find Tuition/Enrichment Centres