2014 P1 Registration Phase 2B
to
Phase 2B
(a) For a child whose parent has joined the primary school as a parent volunteer not later than 1 July 2013 and has given at least 40 hours of voluntary service to the school by 30 June 2014
(b) For a child whose parent is a member endorsed by the church/clan directly connected with the primary school
(c) For a child whose parent is endorsed as an active community leader
Announcement of Results:
By Friday, 25 July 2014
KiasuParents.com Analysis (Updated 23 July 2014):
Phase 2B has ended. 31 schools are oversubscribed, with 2 schools meeting the quota exactly.
The competition at Phase 2B this year is much lower compared to previous years. The highest application rate of 176% is registered at Fairfield Methodist, and it actually dropped as some parents actually withdrew their successful applications in earlier Phases. In comparison, last year, the highest application rate was 313% at Ai Tong, and a number of over-subscribed schools had application rates of 200% or more. This reduction of competition is most likely due to the reservation of 20 seats for Phase 2B from the earlier phases.
So this is good news for parents going into balloting for Phase 2B this year. It generally means that a smaller number of parents will be disappointed. Kudos to the schools and the Ministry for controlling Phase 2B applications and preventing it from overheating.
And as for Henry Park and Pei Hwa Presbyterian, the good news is that there is exactly enough places for applicants. No stress there for parents at all!
Good luck to parents going for balloting on this coming Friday. Remember that there is still a chance for you to try again in Phase 2C, even if you get balloted out, so don't be overly worried. We will be updating our analysis on Phase 2C very soon.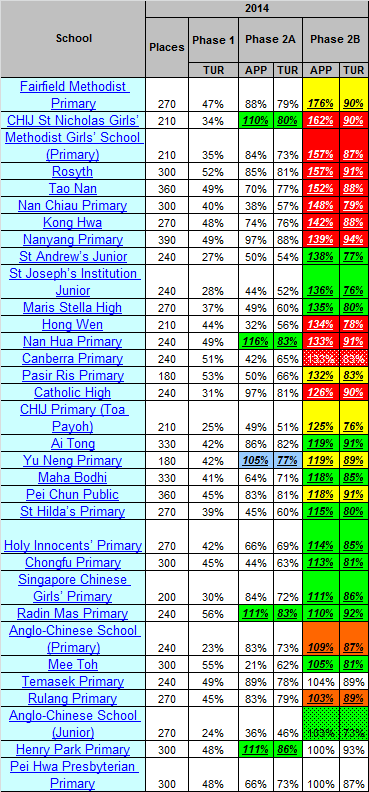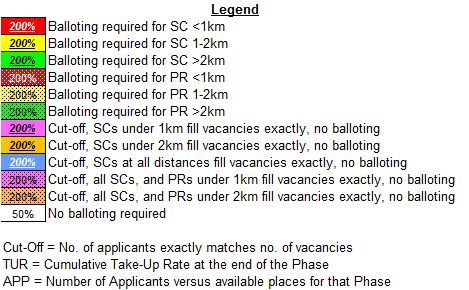 KiasuParents.com Analysis (Updated 21 July 2014):
After the first day of the Phase 2B exercise, 19 schools are over-subscribed. Fairfield Methodist leads the pack with almost 2 applicants to 1 seat. CHIJ SNGS, Nan Hua, and Yu Neng, all of which had balloting at Phase 2A(2), are also over-subscribed as expected.
The odd one out is Henry Park, which only saw 65% of its 20 seats taken up. Hopefully it will remain so tomorrow, but that is a highly unlikely event. Don't count on Henry Park having any places remaining in Phase 2B this year.
The table below shows schools which have an application (APP) rate above 50% for Phase 2B.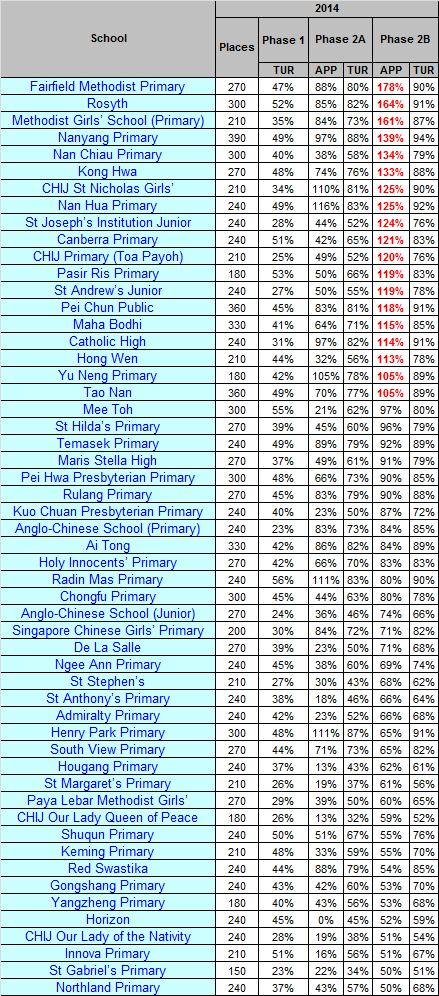 KiasuParents.com Analysis (Updated 16 July 2014):
With Phase 2A(2) almost complete pending balloting at only 4 schools, it is time to look at the developing scenario for Phase 2B.
Given the new ruling, Phase 2B now has at least 20 places for qualifying children at all schools, which is good news for parents vying for popular schools with strong alumni connections.
For our analysis this year, we will look at the number of places available at each school for Phase 2B, and compare that against the number of applicants for the same Phase last year. This will allow us to identify schools with the highest risk of over-subscription should the take up rate in Phase 2B this year be similar to 2013.
25 schools are identified to have deficits ranging from 1 place to 29 places (1 whole class). These schools are marked red in the table, and will most likely face over-subscription in Phase 2B this year.
For the 5 schools over-subscribed in Phase 2A(2) this year, parents who did not succeed in that Phase will likely try again in Phase 2B or 2C if they qualify. Along with the perception that popular schools have more places available in Phase 2B and 2C now, it is our belief that this will actually generate greater competition in the later Phases, especially Phase 2C.

Find Tuition/Enrichment Centres