2016 P1 Registration Phase 2A(1)
Phase 2A(1): (Updated 5 July 2016)
(a) For a child whose parent is a former student of the primary school and who has joined the alumni association as a member not later than 30 June 2015.
(b) For a child whose parent is a member of the School Advisory / Management Committee
Analysis: (5 July 2016)
At the end of Phase 2A(1), we are getting some indication of which schools would likely face the most intense competition in the coming Phases of this year's P1 Registration exercise.
The chart below shows application rate and the cumulative take-up rate of each school, together with the actual difference in registrants in Phase 2A(1) between 2016 and 2015.  The chart is sorted in decreasing order of TUR.
Nanyang is clearly the hottest school this year, with 82% of the places already taken at the early Phases of the exercise, followed closely by ACS Primary and Henry Park.  If we look at the difference between this and last year's P2A(1) registrations, we can see another picture.  Nanyang has increased its P2A(1) registrants by 35 students – that's more than 1 class!  Henry Park, on the other hand, has reduced its registrants by 12 students.
The other schools with a much greater increase in P2A(1) are ACS Primary, Fairfield Methodist, Rosyth, Radin Mas and Raffles Girls'.   Parents vying for these schools should expect more intense competition in the coming Phases.
On the other hand, parents who are going for Henry Park and Red Swastika can be comforted that these schools have a reduced P2A(1) in-take this year.

Prediction: (2 July 2016)
Due to the relatively muted take up rate in Phase 1 this year, parents going for Phase 2A(1) can breathe a cautious sigh of relief as it is unlikely that any school would be oversubscribed in Phase 2A(1) this year, assuming that the Phase 2A(1) take up rate is similar to last year's.
The chart below shows the most heavily subscribed schools in 2015.  Ai Tong leads the pack, but it was CHIJ SNGS that went into a balloting situation in 2015.  This year, SNGS benefited from a lower Phase 1 in-take, which means there is a extra 11 places for parents to vie for in Phase 2A(1).
The only only other school to watch out for in Phase 2A(1) this year would be Henry Park, which had an larger Phase 1 in-take this year, leaving it only with an extra 8 places should the same number of parents apply this year.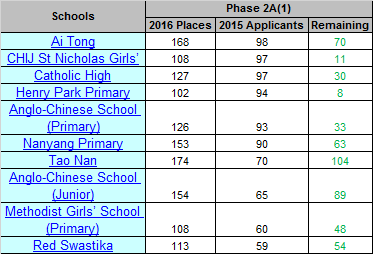 Analysis:
To be updated.
ANNOUNCEMENT OF RESULTS:
By Friday, 8 July 2016
Registration is conducted at the primary school that you wish your child to be admitted into. The hours of registration are from 8.00 am to 11.00 am and from 2.30 pm to 4.30 pm on each scheduled registration day. Parent is to submit the registration form and required documents at the school of choice.
Alternatively, parents can authorise a person to register their child on their behalf. An original letter of authorisation is required from the parent.
Singapore Citizens (SCs) will be given absolute priority over Singapore Permanent Residents (PRs) when balloting is necessary in a specific phase. SCs and PRs will continue to be eligible for the same phases, and all applicants will be admitted if the total number of applications in any phase does not exceed the number of vacancies. However, if the number of applications exceeds the number of vacancies in a specific phase, SCs will be admitted first ahead of PRs, before home-school distance is considered.
Other useful links:
Primary Schools Balloting History
2016 P1 Registration Oversubscription Risk
Find Tuition/Enrichment Centres