2016 P1 Registration Phase 2A(2)
to
Phase 2A(2): (Updated 13 July 2016)
(a) For a child whose parent or sibling has studied in the primary school of choice
(b) For a child whose parent is a staff member of the primary school of choice
Analysis: (13 July 2016, End of Phase 2A(2))
Phase 2A(2) has ended with only minor changes in the states for most schools.  As predicted, only 3 schools are oversubscribed, with the rest of the schools comfortably completing the Phase with several places remaining.
All 3 schools increased their oversubscription rate from Day 1.  ACS Primary is now oversubscribed by 4 times (28 competing for 7 places), while both Henry Park and Nanyang are moderately oversubscribed by less than 50%.  Depending on the number of parents who are staying within 1km and 2km of the schools, these 3 schools may or may not require balloting this Friday.
Congratulations to parents who managed to get places for their children today!  For those who may face balloting, best wishes to you all!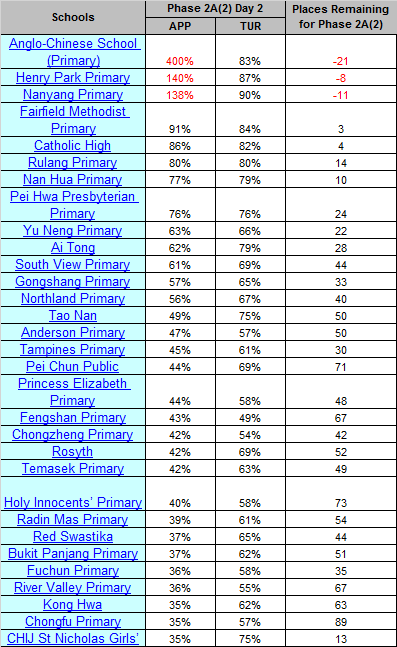 Analysis: (12 July 2016, Day 1)
As expected, the top 3 schools in the list that we predicted will face oversubscription in Phase 2A(2) this year are indeed oversubscribed by the end of the first day of the Phase 2A(2) registration.
Parents applying for Nanyang, ACS Primary and Henry Park will be facing balloting or cut-off this Friday.  At the moment, ACS Primary is already oversubscribed by almost 4 times with 26 applicants fighting for just 7 places.  The situation may even get worse by the end of tomorrow, unless some parents pull out to go for their spouse's alma mater instead.
For most of the other schools, parents can probably relax a little as the demand this year has indeed been much lower.  Only Fairfield Methodist and Catholic High is tethering on the brink with less than 10 places left.  Rulang and Nan Hua have in excess of 15 places remaining, and even CHIJ St Nicholas as 12 places remaining on the back of only 7 applicants in Day 1.
So keep your fingers cross, and hang tight!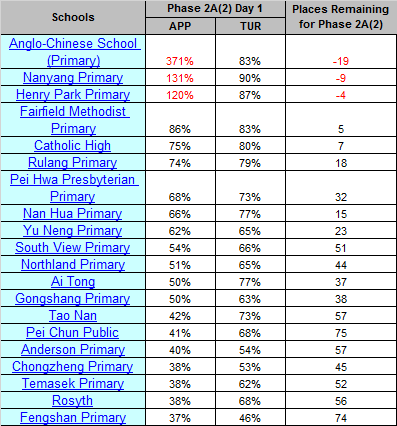 Prediction: (6 July 2016)
While the overall competition for places up to Phase 2A(1) has been muted compared to the last 3 years, a small handful of schools are likely to require balloting in Phase 2A(2).
By mapping this year's 2016 vacancies for Phase 2A(2) against last year's Phase 2A(2) registration rates for each school, we see that the following are the top 10 schools which are in danger of oversubscription if the demand for Phase 2A(2) places this year is anything similar to last year's.
At the top of the list is Nanyang Primary, which could be oversubscribed by as many as 29 applicants.  Henry Park and ACS Primary are also quite likely to be oversubscribed too.  These schools have seen very high take-up rates in Phase 2A(1).
Parents targeting Catholic High and CHIJ SNGS should also be mentally prepared for oversubscription in Phase 2A(2).  CHIJ SNGS did not have any applicants in 2015, because all available Phase 2A places were taken up by Phase 2A(1).  There are 20 places this year for Phase 2A applicants, which isn't much relative to other schools.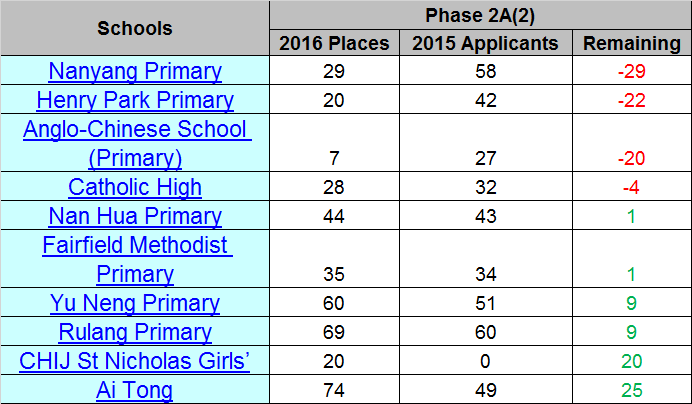 ANNOUNCEMENT OF RESULTS:
By Friday, 15 July 2016
Registration is conducted at the primary school that you wish your child to be admitted into. The hours of registration are from 8.00 am to 11.00 am and from 2.30 pm to 4.30 pm on each scheduled registration day. Parent is to submit the registration form and required documents at the school of choice.
Alternatively, parents can authorise a person to register their child on their behalf. An original letter of authorisation is required from the parent.
Singapore Citizens (SCs) will be given absolute priority over Singapore Permanent Residents (PRs) when balloting is necessary in a specific phase. SCs and PRs will continue to be eligible for the same phases, and all applicants will be admitted if the total number of applications in any phase does not exceed the number of vacancies. However, if the number of applications exceeds the number of vacancies in a specific phase, SCs will be admitted first ahead of PRs, before home-school distance is considered.
Other useful links:
Primary Schools Balloting History
2016 P1 Registration Oversubscription Risk
Find Tuition/Enrichment Centres