Animal Frenzy Exhibition & Plushie Workshop
to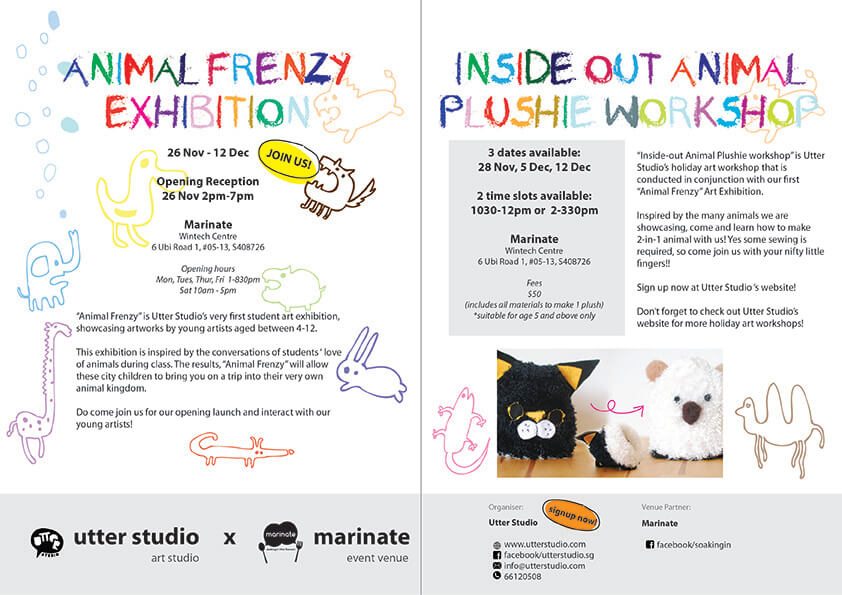 "Animal Frenzy" Children Art Exhibition on 26 Nov 2017, 2-7pm;
Exhibition Opening Hours Mon, Tues, Thurs, Fri 1-8.30pm; Sat 10am-5pm
RSVP via SMS/Whatsapp to 93829488.
"Animal Frenzy" is Utter Studio's first student Art exhibition. We are showcasing artworks by our young artists aged between 4-12 years old. This exhibition is a celebration of our students' freedom in the studio and their love of animals. Students choose their own subjects and art mediums of expressions. The result is a diverse spread of mediums, as well as individual stories. Come join these city kids as they bring you on a journey into their own animal kingdom.
In conjunction to the exhibition, we are also running a series of "Inside-Out Animal Plushie Workshop", inspired by the animals that we are showcasing. Come and learn how to sew 2-in-1 animal plushies with us! Yes, we will be sewing, so remember to bring along your nifty fingers!
Visit our website https://www.utterstudio.com/december-holiday-workshop, or Whatsapp 93829488 to sign up now.
"Inside-Out Animal Plushie Workshop" on 28 Nov, 5 Dec or 12 Dec 2017
(2 available timings: 10.30am-12noon or 2-3.30pm)
Suitable for aged 5 and above
$50/pax, includes all materials to make 1 plush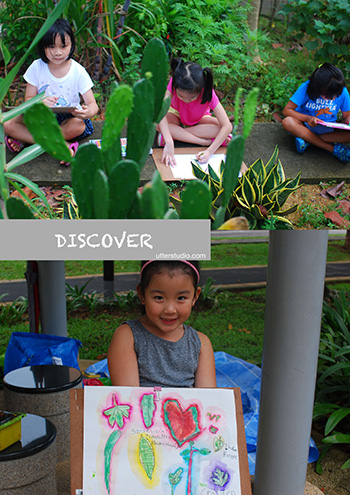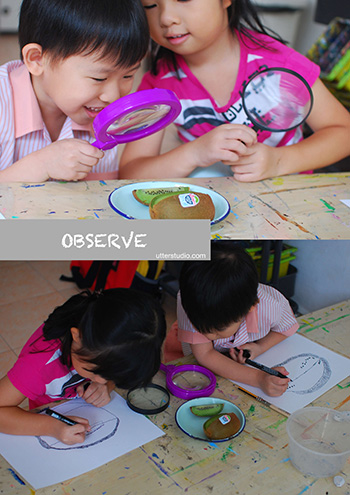 At Utter Studio, we empower children through Art-making. No more cookie-cutter methods where children are pigeon-holed according to age group. No longer is age a quantifier of the types of art mediums they can use. At Utter Studio, we adopt a student centric teaching method. Art becomes a powerful tool for children to learn. We introduce various art mediums across age groups to refresh children's senses and pique their curiosity. (Think 5-year-olds experimenting with charcoal drawing. 4-year-olds handling acrylic paints.) Children learn best when they are having fun and experimenting. Making discoveries on their own allow children to own their learning. Beyond creativity, Art-making helps children get important values such as resilience, perseverance, resourcefulness and mindfulness… Utter Studio's philosophy is best seen in the art works produced in our weekly regular art class. No two child's work is ever the same.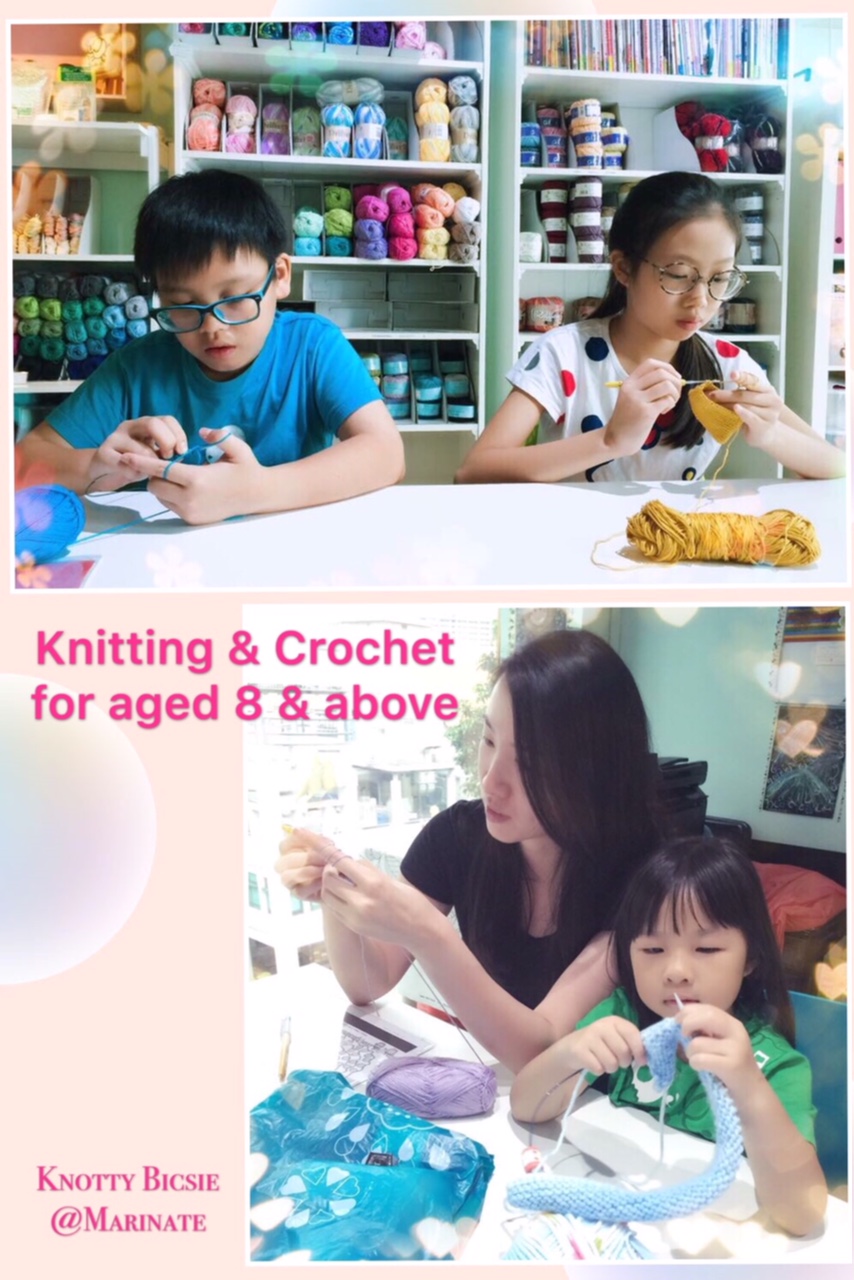 Marinate is a new concept by husband-and-wife team who founded Knotty Bicsie 11 years ago. Marinate is a soaking pot for therapeutic lifestyle experiences like knitting, crochet, weaving, embroidery, cross-stitch, painting, decoupage, cooking, and many more. Marinate is also the originator of an exclusive pop-up culinary-plus series, pushing the boundaries of memorable experiences. This school holiday, Marinate collaborates with a youthful and vibrant Art studio, Utter Studio, in putting together a children's Art exhibition & plush-making workshop.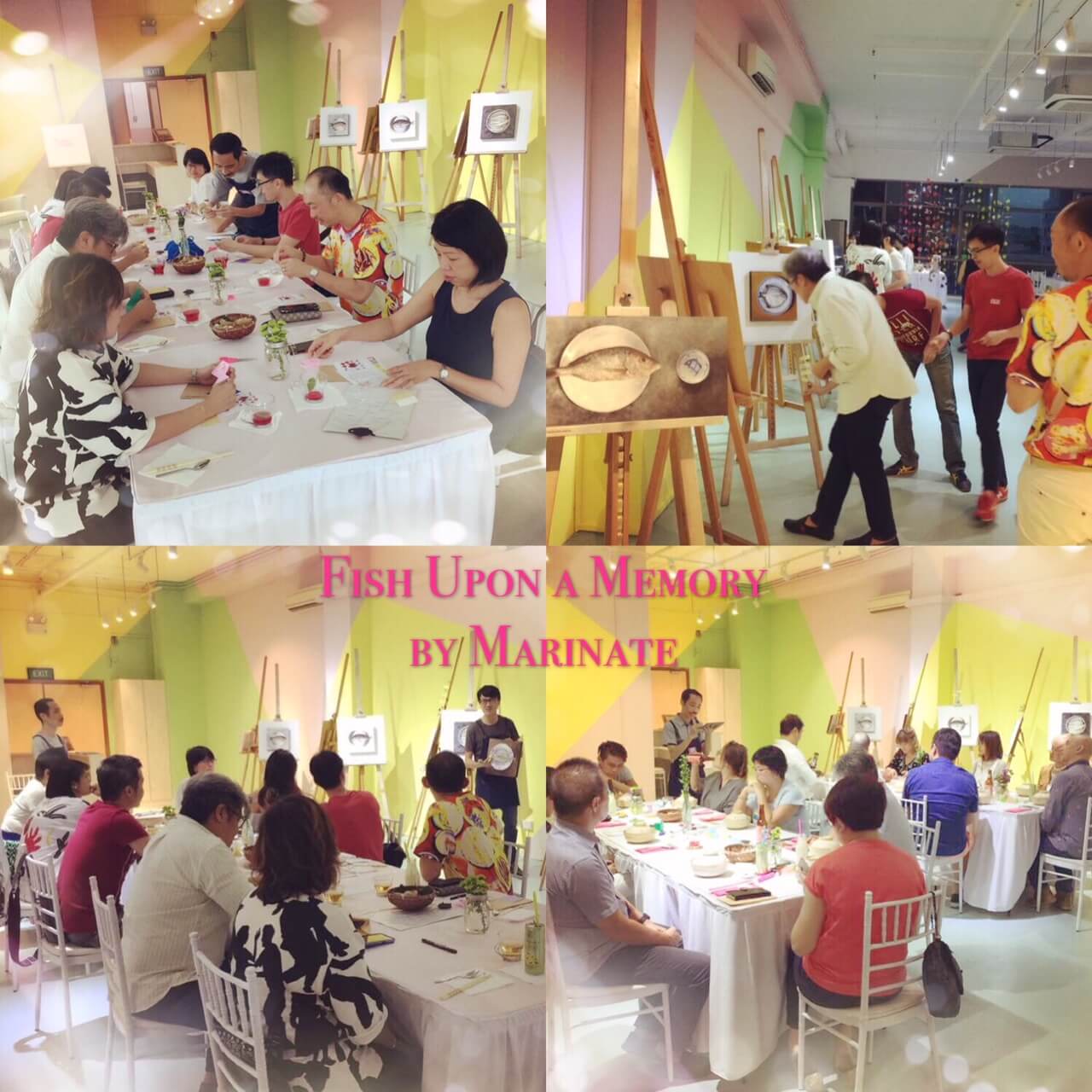 Marinate (6 Ubi Road 1 Wintech Centre #05-13 Singapore 408726.)
RSVP &/or sign up at www.utterstudio.com, email Marinate at soakingin@gmail.com, or Whatsapp Marinate at 93829488
Marinate
www.marinate.weebly.com
www.facebook.com/soakingin
soakingin@gmail.com
+65 93829488                                             

Utter Studio
www.utterstudio.com
www.facebook.com/utterstudio.sg
info@utterstudio.com
+65 66120508

Wintech Centre
6 Ubi Rd 1 , Singapore 408726
Find Tuition/Enrichment Centres