Bake With MiniMe
to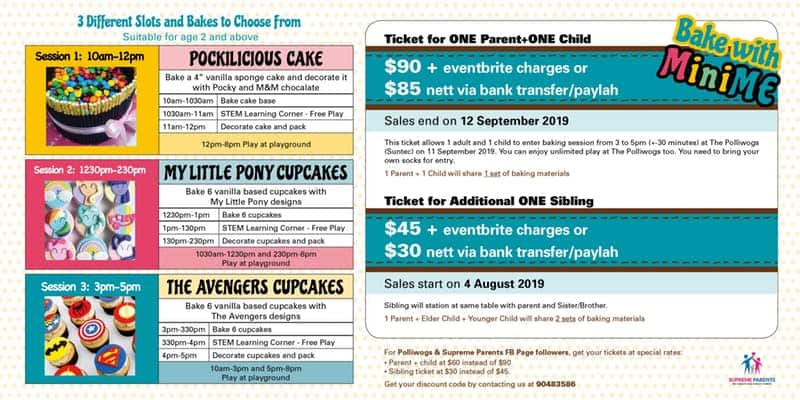 It's September school holidays soon, let us bond with our MINIME through baking and playing together.
What's the plan?
Bake together with your toddler (age 2 onwards)

Free play at STEM learning corner

Unlimited play at Polliwogs
We have 3 different slots and bakes to pick from.
Your ticket allows you and your child to go in the selected baking session that you booked only (I.e 1 session only not all 3 sessions)
Every child (&sibling) + parent will be assigned randomly to 1 table together.
Each cosy session cap at 10 tables.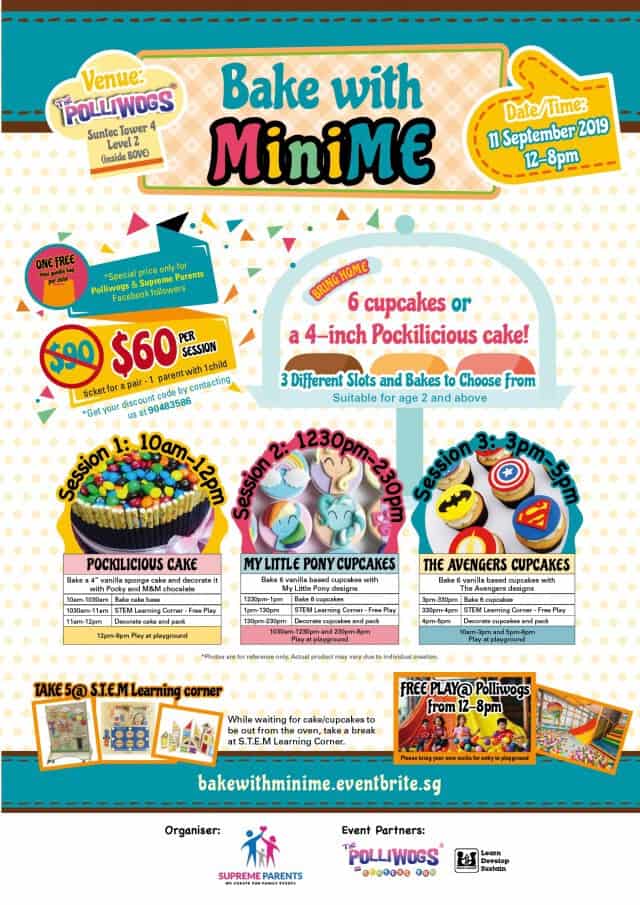 Ingredients:
Cake:
Vanilla sponge cake is made of egg, flour, sugar, water, butter, whipping cream, chocolate, m&m, pocky
Cupcakes:
Vanilla based Cupcakes are made of
egg, flour, sugar, water, butter , fondant
How do we do this?
We will first Bake the cake / cupcake in ROOM 1
While waiting for cake/cupcake to be out from the oven, head over to ROOM 2 to play educational STEM Toys!
Return back to ROOM 1 to decorate and pack your bake home
You also get to Enjoy unlimited playtime at Polliwogs on this day!
Receive 1 mini goodie bag per child.

For Polliwogs & Supreme Parents Fb Page followers:
get your tickets at special rates:
• Parent + child at $60 instead of $90
• Sibling ticket at $10 for KiasuParents readers instead of $45
  
Get your discount code by contacting us at 90483586 and book your tickets here

The Polliwogs
3 Temasek Blvd, Singapore 038983
Find Tuition/Enrichment Centres