Beating the PSLE Stress Test
to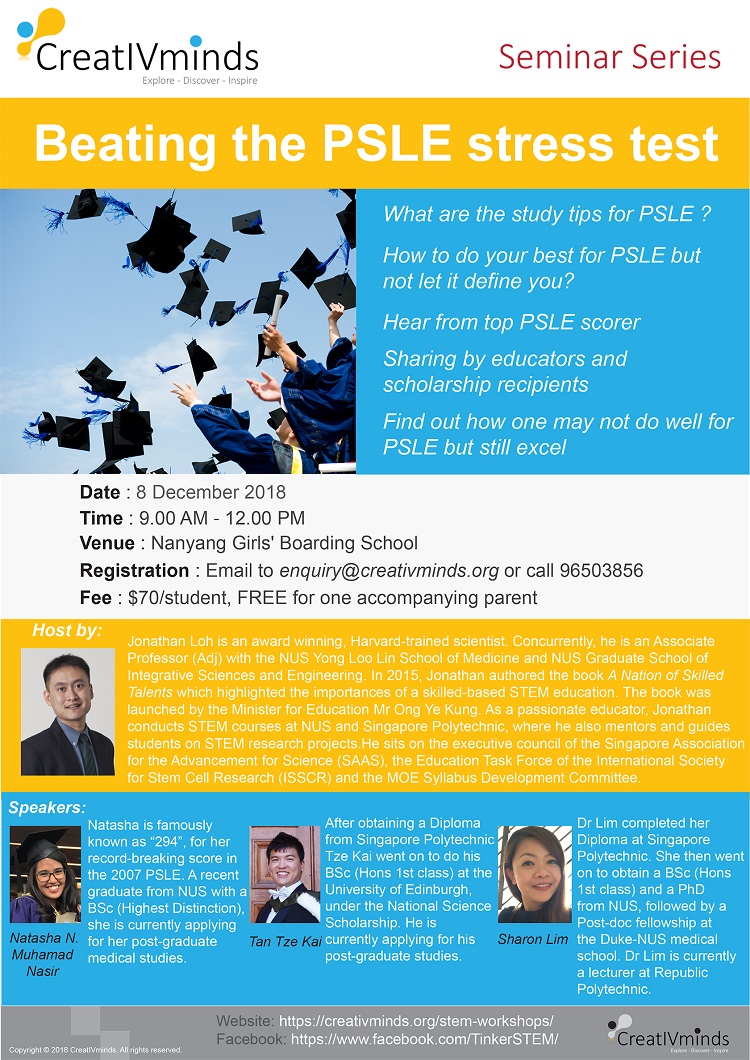 Join us for a half-day seminar on "Beating the PSLE stress test" to be held on the 8th Dec 2018, 9am at Nanyang Girls' Boarding School.
Hear from record PSLE scorer Ms Natasha Muhamad Nasir, school educator Dr Sharon Lim, STEM scientist A/P Jonathan Loh and A*STAR scholar Mr Tan Tze Kai.
Learn the tips to prepare for PSLE and other exams, and yet not let the score define you.
Get to know how one may not do well for PSLE, yet defied the odds to do well in their studies and career.
Registration for the "Beating the PSLE stress test" seminar is $70 for each student
(Free for one accompanying parent). The fee is inclusive of food and beverages.
Register by 15 Nov to enjoy $7 rebate for future CreatiVminds events.
Email to [email protected] or call 96503856 to find out more.
Visit us at https://creativminds.org/stem-workshops/ and
 https://www.facebook.com/TinkerSTEM/.
Nanyang Girls' Boarding School
21 Linden Dr, Singapore 288735