Beautyful Minds Roadshow May, June 2013
to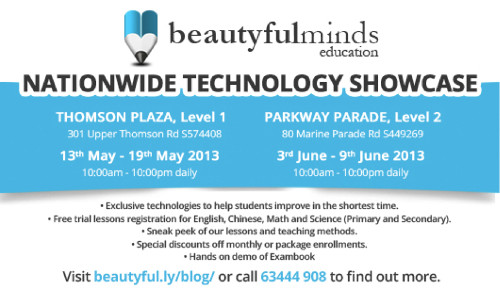 Come one come all!
Beautyful Minds will be organizing another two showcases in May and June.
Join us for
A showcase of the 3 exclusive technologies developed in-house by Beautyful Minds.

Our Bubbly-gifted reward system that motivates and encourages our students to enjoy learning.

Our Exambook, an online assessment book containing over 50'000 questions available in both web and mobile versions, allowing students to practise on-the-go. You can now try using it yourself at the showcase.

Our Geniebook, an online assessment tool that provides parents with the ease of testing their children's tutors.

Free trial lesson registrations for English, Chinese, Math and Science (Primary and Secondary).

Our usual trial lessons are bundled as the first lesson of the course when students proceed to enroll with us after preview.
Register through the showcase, however, and the trial lesson will be additional to the course you enroll for.
This promotion is exclusively applicable to all new students who apply through the showcase only.

Sneak previews of the classes.

We have prepared a special video to give you a sneak into our classrooms.

Special discounts for new students who enroll through the showcase.

On top of the usual privileges, there will be a 10% off monthly enrolments and additional 3% off our usual package discounts.
With no obligations involved, feel free to simply visit us and explore firsthand these technological tools specially designed to cater to Singapore's education system and find out how these technologies enhance learning efficiency. With a 1:1 ratio of iPad to student, every student at Beautyful Minds will have a chance to benefit from them and learn how to improve their results within a span of 3 to 4 months as have many of our students.
We aspire to better education with technology, join us.
To find out more about our centre, visit our website.