Blast off into an intergalactic Christmas season at City Square Mall
to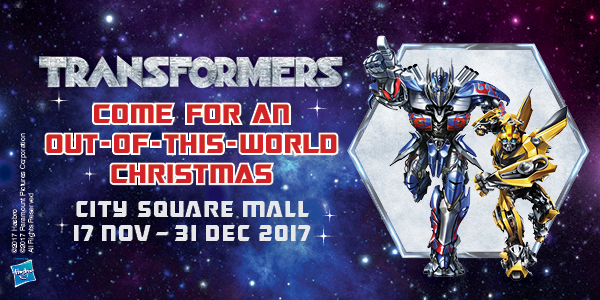 Get on the Christmas Comet and prepare to take flight, as City Square Mall transforms into a starry universe, with Singapore-firsts that are truly out of this world!
Explore this new galaxy through a musical tunnel of stars spanning over 50 metres and featuring 24,000 LED lights for the light show of your dreams, amidst a wintry backdrop of falling snow.
Space explorers young and old will be transported to Cybertron to witness Transformers 'LIVE' on stage for a show just under 20-minutes. This is your chance to come up close and personal with fan favourites Optimus Prime and Bumblebee . Meet the Autobots pass holders will also be entitled to mask-making workshops to turn the children into their favourite Autobots.
At City Green Park, galactic carnival games at the Cyber Galaxy allows shoppers to reach for the stars, under the watch of life-sized Transformers character statues brought in exclusively from overseas.
Alien beings meet terrestrial treats at over 60 restaurants, cafes and food stands, that will ensure your belly is ready for this epic trip, while our retail outlets will provide any last-minute Christmas shopping solutions for friends and family, to rocket you back onto their 'Nice' lists.
So prepare for orbit this Yuletide season, and blast off to City Square Mall!
Details for an Out-of-this-World Christmas at City Square Mall's Activities:
1. Transformers on Stage
Join the Transformers in their bid to save humanity in the first ever Transformers 'LIVE' on stage in Singapore! Featuring fan-favourites Optimus Prime and Bumblebee , and introducing delightful new characters, this will be a show just under 20-minutes you would not want to miss!
Date: 2 – 17 December 2017, daily except Monday
Time: Tuesday – Friday: 2pm & 7pm
Saturday and Sunday: 1pm, 4pm, and 7pm
Venue: Level 1 Stage
2. Meet the Autobots and Mask Making Workshop
Experience the ultimate Transformers Meet and Greet at City Square Mall this December! Spend a minimum of $50 to redeem a Meet The Autobots pass 1 hour prior to each show, and get up close and personal with your favourite Transformers action heroes after every stage show in their first public outing. Limited to 50 passes per show.
Transform into your favourite Cybertronian heroes by decorating your own Transformers mask! Don't miss out on a photo opportunity in Optimus Prime and Bumblebee children's costumes with a Transformers photo station framing the shot!
Date: 2 – 17 December 2017, daily except Monday
Time: After every Transformers on Stage show
Venue: Level 1 Stage ( Meet The Autobots ) & Basement 2, beside the travellator (Mask
Making Workshop)
3. Transformers Photo Station
City Square Mall brings reel to reality with life-sized Transformers statues brought in from overseas for visitors to snap memorable photos with and join their Facebook photo contest to win attractive shopping vouchers! Be immersed in a unique galaxy-like Christmas experience like no other for the entire family, as the set comes to life with smoke and laser.
Date: 17 November – 31 December 2017
Venue: Level 1 City Green Park
4. Cyber Galaxy
Gather your friends and family and come down to City Green Park for an exhilarating Christmas carnival! With carnival classics like bumper cars, inflatable slides, and obstacle courses to choose from, it will be tons of fun for all! Redeem a Cyber Galaxy activity pass at the Level 2 Customer Service Counter with a minimum spend of $40 at the mall to enjoy all the fun and games.
Date: 17 November – 31 December 2017
Time: 1pm – 10pm
Venue: Level 1 City Green Park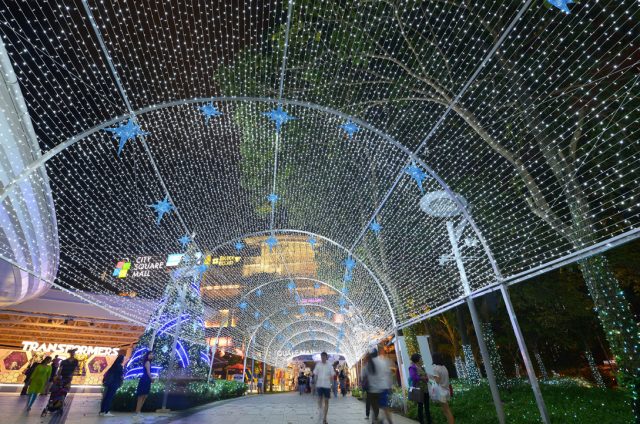 5. Stellar Light Show
City Square Mall transports you into a starry universe this festive season, a very first in Singapore. Explore a musical tunnel of stars and spanning over 50 metres and featuring 24,000 LED lights. Gather under the action-packed visual display of lights and music with your loved ones and witness the stunning 10-minute light show of your dreams!
Date: 17 November – 31 December 2017
Time: Every 30 minutes, 7pm – 10pm
Venue: Level 1 City Green Park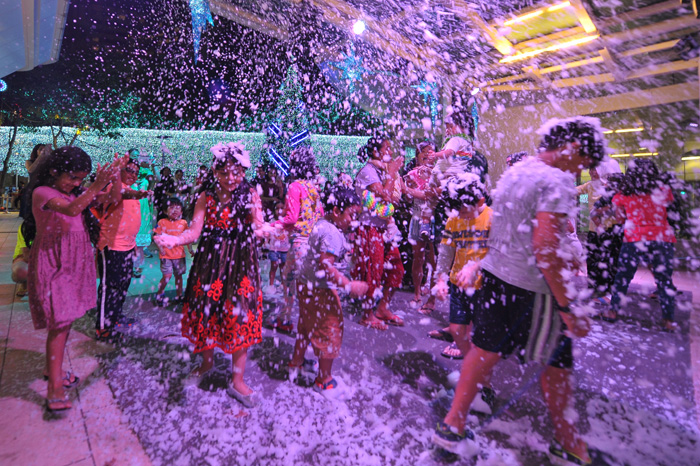 6. Snowy Playtime
Feel the magic of Christmas when you head down to City Square Mall to have a blast in falling snow with the kiddos. Be transported into a new universe both familiar and new, as you take in the sights and sounds of the season.
Date: 17 November – 31 December 2017
Time: 8.10pm
Venue: Level 1 City Green Park
7. Christmas Carolling by Emmanuel Choir
Christmas simply is not Christmas without carols! Join the Emmanuel Choir as they share season's greetings with the gift of music. Fala-lalala-lala-lala!
Date: 16 & 17 December 2017
Time: 8pm – 8.45pm
Venue: Level 1 Stage
Find Tuition/Enrichment Centres