Bully-Free Forum 2013
to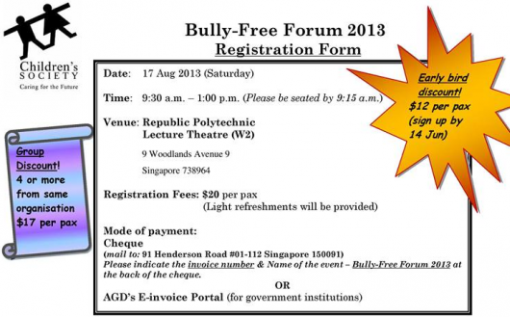 Every year, the Children's Society conducts Bully-Free programmes reaching out to schools as well as the general public. Since 2004, our society has been involved in numerous efforts in promoting awareness about school bullying.
In our annual upcoming Bully-Free forum titled Covert Bullying – What Goes On Behind The Scenes? on 17 Aug (Sat), we are extending the invitation to parents who may be concerned about school bullying. We believe that it may be possible for children to be involved in bullying either as a bully, victim or bystander in their school and often, they may look towards their parents for support.
This forum will allow parents to gain insight on the mentality of the covert bullies and the effective intervention strategies to handle them. Our guest speaker, Dr. Barbara Spears, is the Co-Director of the Citizenship and Wellbeing Research Group of the Centre from Research in Education, Senior Lecturer from the Division of Education, Arts and Social Sciences at the University of South Australia.
Please click here to download and print out the registration form.
Find Tuition/Enrichment Centres