Children's Season at National Museum
to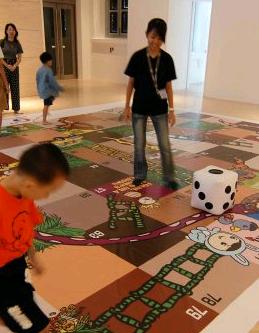 Fun-filled activities for children from 1 May – 6 July 2008
Welcome to the first Children's Season at the National Museum – a celebration of the power of imagination and creativity. This dedicated season is the Museum's testament to our passion in bringing yet again more quality, fun and educational programmes to young audiences.
More than just a children's festival, the Museum's programmers have carefully curate the season to stimulate the intellect and refine the senses of children from as young as 30 months. More so than other platforms, the Museum is able to use object-based learning as a key tool to support child development. As parents, educators and caregivers, you play a crucial role in your child's development. With this in mind, the Children's Season handbook has been created as a guide to help you maximise the learning experiences that can be derived from the programmes.
As a start for this self-discovery process through play, we highly recommend that your child visit the Mozart – A Child Prodigy exhibition. Conceived by the world renowned Da Pointe Institute and ZOOM Children's Museum, this award-winning exhibition uses the child prodigy, Mozart, as a character to speak to young visitors. Completely interactive, the exhibition builds confidence in children, of their own abilities; it drives home the message that all children are creative and have the potential to be geniuses on their own right, like the young Mozart. Children will explore 11 themed rooms, where facilitators will help them discover the differences and similarities of everyday life in 18th Century and our present time. Your child will be challenged by the various tasks they can perform in each room, similar to what young Mozart did as a gifted child growing up.
Other highlights in this Season include The Murmurs Playground- a special installation for toddlers using the senses of sound, sight and touch to stimulate their early language and motor skills; Young Cinema, the Museum's popular series of Short films curated for 6 to 12 year olds: and performances like Men of Steel and Matrioska, two innovative pieces that build on the power of imagination using minimal, simple 'props", which will surprise you.
There is a plenty to do at Children's Season and we encourage you to spend the day at the Museum with your child. We hope you will share our excitement and enjoy what we have in store. I am sure even adults will not be able to resist these programmes.
See your whole family at the Children's Season!
Tan Boon Hui
Festival Programmer
Venue: National Museum
Date THU 1 MAY 2008 – SUN 6 JUL 2008 10:00am – 6:00pm