Discover the Story of Spring at ELFA Chinese Kindergarten Open House
to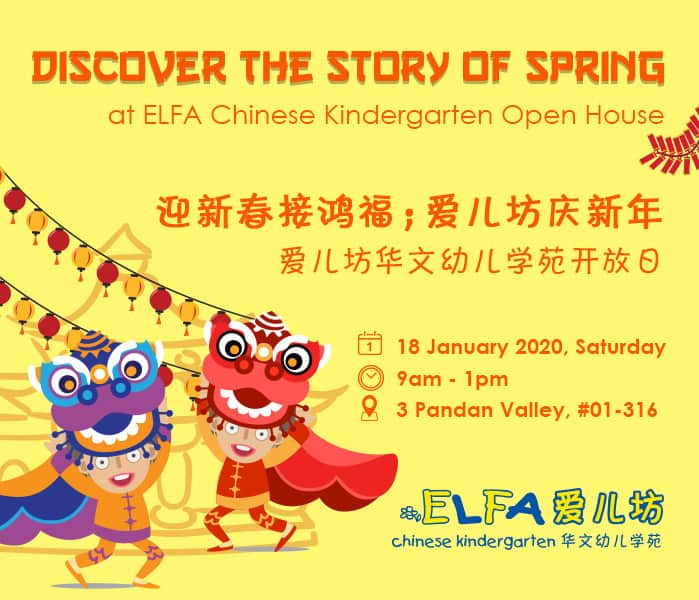 ELFA Chinese Kindergarten Open House on 18 January @ Pandan Valley!
Celebrate Chinese New Year with us with festive activities arranged for your child.
Are you looking for a holistic bilingual Chinese-English kindergarten programme that develops your child's Mandarin skills and deepen their understanding of the Chinese culture?
At ELFA, we place great emphasis on the acquisition of Chinese oral language and reading. We strive to nurture our children's interest and build a strong foundation in Mandarin with early immersion in the Chinese language and culture.
In 2020, ELFA has operated Chinese preschools for two decades. With a network of more than 30 preschool centres in Singapore and China, we are the most awarded Singapore preschool brand in China, attaining excellence in curriculum quality and school management.
⭐ Suitable for children between the ages of 18 months and six years, your child can learn more about the award-winning bilingual programme on 18 January 2020 at our Open House.
⭐ Discover the story of Spring with Chinese New Year-themed activities such as Chinese calligraphy and painting, story-telling and lion dance dramatisation, and photo-taking in traditional Chinese costumes
⭐ Furthermore, tour our inspiring learning spaces, such as our Chinese Culture-Infused Classrooms, Chinese-inspired Art Studio, Outdoor Play Area and Spice Garden, and speak to our principal/teachers to learn the philosophy of ELFA!
Register for our open house today!
ELFA Chinese Kindergarten
3 Pandan Valley, Singapore 597627
Find Tuition/Enrichment Centres