Easter Egg Hunt At Fern & Kiwi
to
It's an extra special brunch this upcoming Easter Sunday!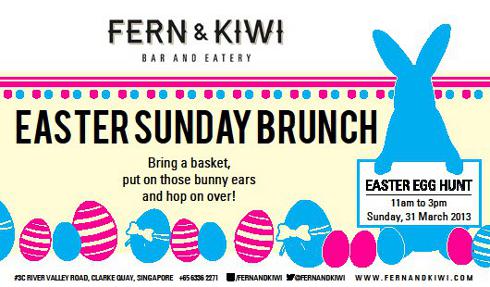 Nothing says Easter Sunday like an Easter Egg Hunt! For some family fun, make a date with Fern & Kiwi this coming Sunday for brunch. While mom and dad enjoy a lovely afternoon of brunch delights, kiddos can go on an Easter Egg Hunt at our restaurant.
So put on those bunny ears, and be sure to hop on by!
Event Description
Easter Sunday Brunch & Easter Egg Hunt
Location: Fern & Kiwi, beside the Clarke Quay taxi stand, #3C River Valley Road, Clarke Quay, Singapore
Date: 31 March 2013 (Sunday)
Time: 11am to 3pm
Sunday Brunch
End off the week in a laidback fashion with our ala carte brunch menu! Have your pick of classic brunch favorites, such as free range scrambled eggs on toast with your choice of smoked salmon or bacon, and of course, the ultimate big breakfast: eggs your way, sausages, field mushrooms, tomatoes, bacon and toast. Mmm.
We have a cool selection for kids as well! We highly recommend the bacon and egg doonas.
Reservations are highly recommended, book through now at:
Email: info@fernandkiwi.com
Hotline: 6336 2271
Website: www.fernandkiwi.com
To be up-to-date on our offerings, be sure to like us on Facebook.com/FernandKiwi.
Find Tuition/Enrichment Centres