Effective Parenting in the Primary Years
to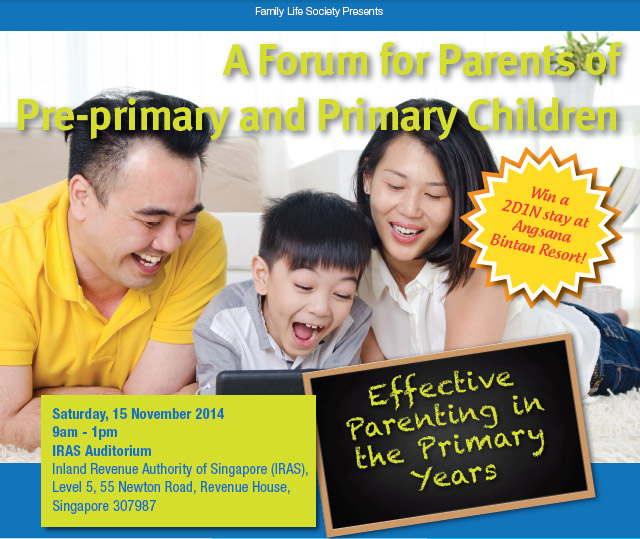 Be at this forum for a head start towards better understanding and managing your children for primary school.
A panel of family advocators will be sharing on:
How your home can help your child to flourish
Understand a child's stage of development and how the right nurturing can set the right environment for your child to flourish. Listen in and get pointers on what's good and what's not for your child at home.




The role of mom & dad in nurturing kids in their primary school years
Find out more about the role you play in inspiring your child to take up new challenges. Also learn the difference in approach to apply to sons and daughters.




Helping your child succeed in primary school
Understand the success factors that surround your child during his/her primary school years. Learn tips that will be crucial in guiding your child through his/her learning and discover how good communication between teachers and other parents can also contribute to your child's holistic development.
Register now for this forum at http://bit.ly/effectiveparenting and stand a chance to win a family holiday at Angsana Hotel & Resorts in Bintan! Contest open only for early registration received and paid by 31 Oct 2014.
More details on http://www.familylife.sg/
KiasuParents is proud to be the official parenting website for this event, organised by Family Life Society.
We're giving away 10 pairs of tickets to this event
Simply LIKE our Facebook, then share with us what you hope to learn from an event like this on our corresponding Facebook post about the event.
The best 10 comments posted will win a pair of tickets each!