General Paper (GP) Master Class with Mr Irwin See
to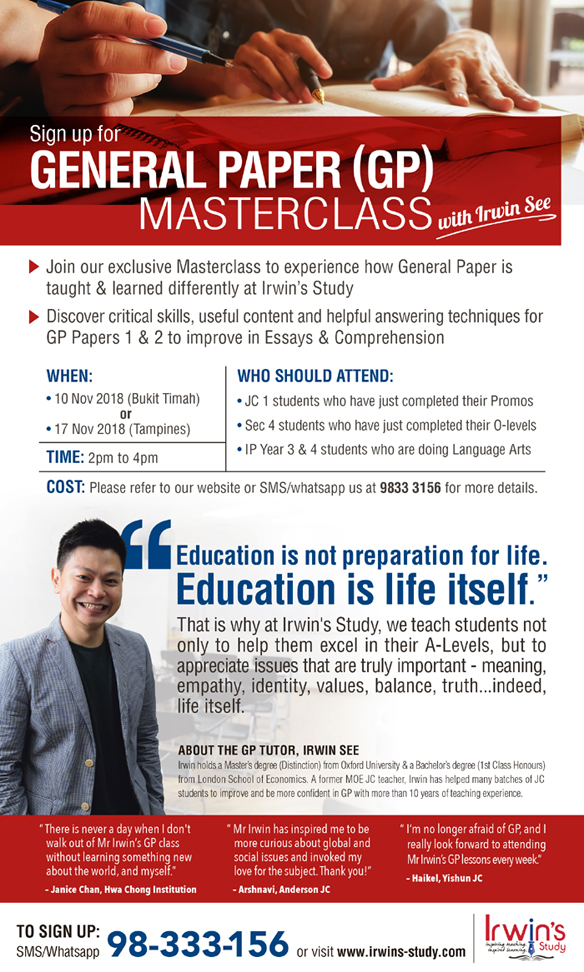 Sign Up for an Exclusive General Paper (GP) Masterclass with Mr Irwin See
For the first time, we will be holding a special GP Masterclass for new students who wish to experience how GP is taught and learned different at Irwin's Study! During this 2-hour session, students will discover useful content, critical skills and answering techniques for both Paper 1 & Paper 2. Details are below:
Date: 10 Nov 2018 (Bukit Timah) or 17 Nov 2018 (Tampines)
Time: 2pm-4pm
Cost: $120 (which includes the latest GP resource book published by Mr Irwin)
Who should attend:
JC 1 students who just finished their Promos exams
Sec 4 students who just finished their O-Level exams
IP Year 3 & 4 students who are doing Language Arts
To sign up, please SMS or whatsapp us at 98-333-156 to reserve a place!
Find Tuition/Enrichment Centres