You're Invited: Growing Up Gifted Tampines Preschool Open House!
to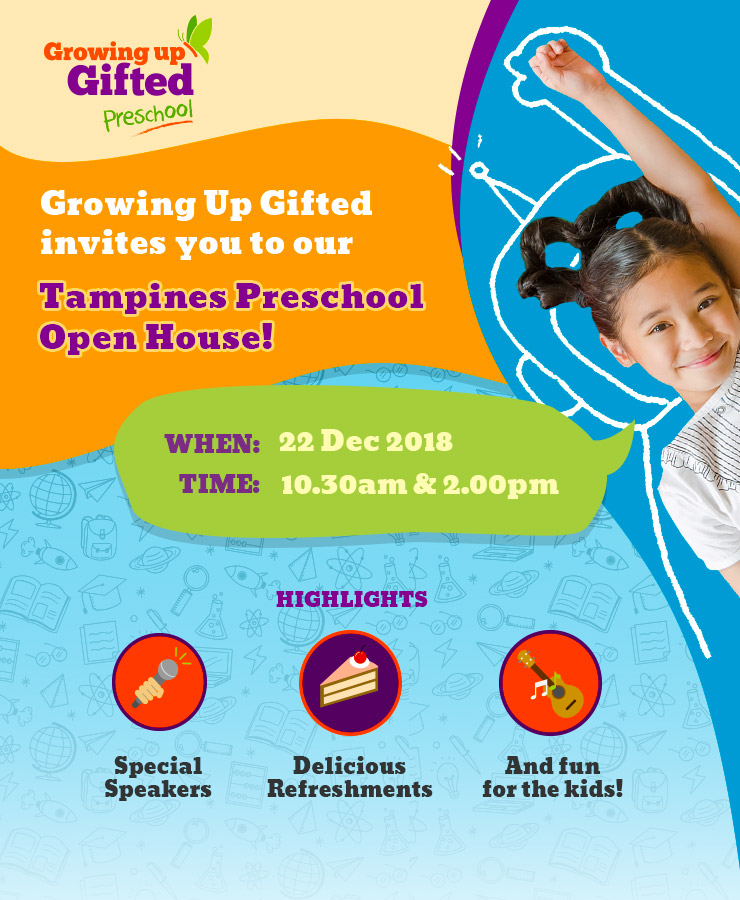 In celebration of our new Tampines preschool campus, GUG invites you to join us at our Open House and meet the Growing Up Gifted team! Discover what makes our preschool the perfect fit for your child.
Date: Saturday, 22 December 2018
First session: 10.30am to 12.30pm
Second session: 2.00pm to 4.00pm
Venue: GUG Tampines, 300 Tampines Ave 5, Tampines Junction #07-01/07, Singapore 529653
To register your interest, click here.
Event Highlights
Meet and greet with our Founder, Principal and staff
Special talks with our team of experts
Delicious refreshments
Activities and games for the kids!
Growing Up Gifted is recognised as a multiple award-winning brand, and ranked as one of the best preschools in Singapore.
Applying quality teaching and learning strategies, with exclusive GUG workbooks and phonics readers at every level, our programmes are designed to help prepare your child for formal schooling. Just as importantly, we groom students into confident, caring and well-balanced individuals.
We offer full and half-day preschool as well as enrichment classes (including the premium reading and writing programme, Book + Pen Masters) for children from 6 months to 8 years.
Find out more here.
GUG
300 Tampines Ave 5, Singapore 529653