Have Some Fun With Science This June Holiday!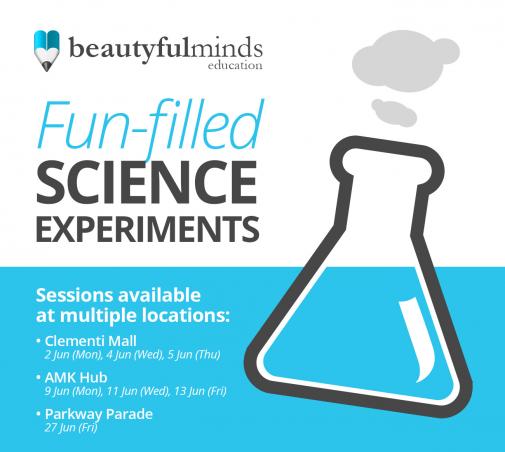 Never done before in school
Questions are tailored to MOE syllabus
Hands-on experience with laboratory apparatus
Stimulates scientific and critical thinking
Open to all Primary 1 – 6 students
Dates and locations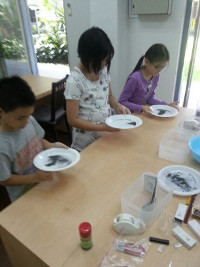 Clementi Mall
Dates: 2/6 (Mon), 4/6 (Wed), 5/6 (Thurs)
Time: 7 to 9pm
Fees: $75/day, $220/3 days
AMK Hub
Dates: 9/6 (Mon), 11/6 (Wed), 13/6 (Fri)
Time: 7 to 9pm
Fees: $75/day, $220/3 days
Parkway Parade
Date: 27/6 (Fri)
Time: 5 to 7pm
Fees: $75
List of experiments
Alchemy class: Clouds in water
What do solid dry ice and our warm breath have in common? Make use of a special solution to find out what is produced when dry ice turns into gas!
Making your own electromagnet
Transform a mere iron nail to a magnet with the aid of some batteries and wires!
Magnetic Separator
Supernatural or not? Discover the wonders of this invisible magnetic force exerted by a magnet!
Colour explosion
It's an explosion of colour! Some very unusual things happen when you mix a little milk, food colouring and a drop of liquid soap. Uncover the scientific secrets of soap and amaze your friends with it!
Lemon battery
Besides making lemonade, what can you do with lemons? Let's investigate and find out the concealed prowess of this sour fruit!
Acids and Bases
With the help of some red cabbages, create magical colour-changing liquids using 2 simple kitchen ingredients!
The dry coin
Magically retrieve a wet coin from a filled basin without dipping your fingers in the water or using a tool to scoop the coin out!
Call 6735 8907 or SMS 9099 9331 for enquiries and registration
Alternatively, email us at admin.newton@beautyfulminds.com.sg
Find Tuition/Enrichment Centres