Learning Chinese should ALWAYS BE FUN!
to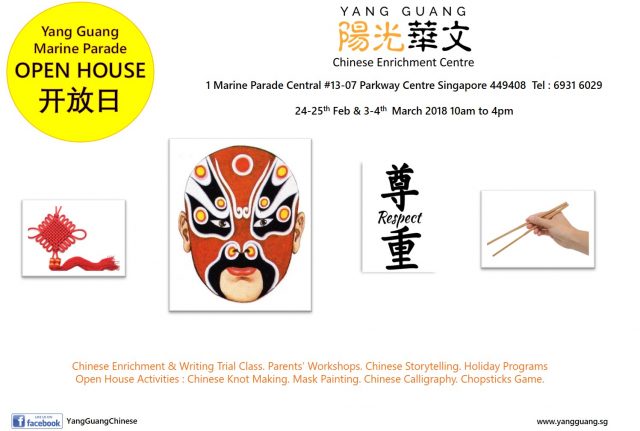 Join us for a day of engaging activities at our new YANG GUANG Parkway Centre Open House – 24th, 25th Feb & 3rd, 4th March (Saturdays and Sundays). 10am-4pm.
Highlights include Free Parents' Workshop – How To Prepare Your Child For Chinese Exams (24th & 25th Feb, 3:30pm), Chinese Calligraphy, Chinese Face Mask Colouring, Traditional Chinese Arts & Crafts, Opening Discounts & Trial Classes and more.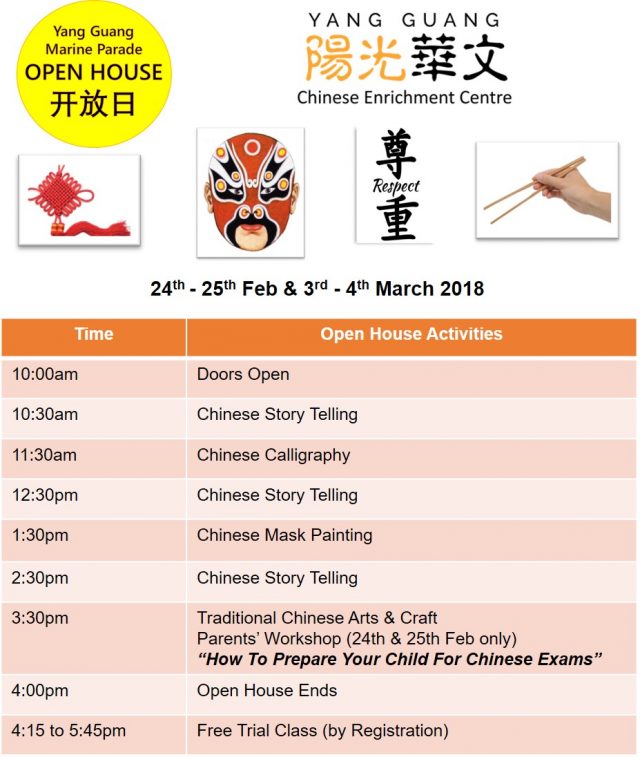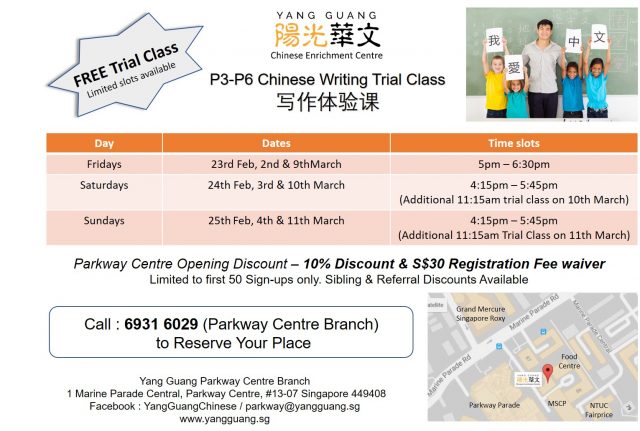 For more info : www.fb.com/yangguangchinese
You can also sign up your child for our March School Holiday Programs to improve their Chinese or Composition Writing.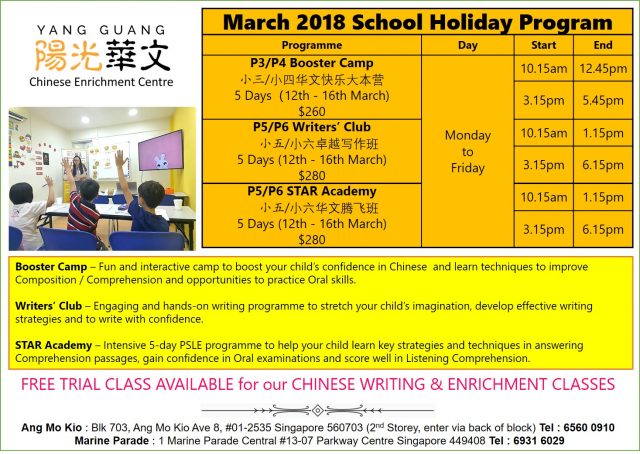 Yang Guang Parkway Centre Branch
1 Marine Parade Central, #13-07, Parkway Centre, Singapore 449408
Tel : 6931 6029
Email : parkway@yangguang.sg
About YANG GUANG
YANG GUANG supports children in Building Character through Values & help Build Confidence in speaking and writing Chinese. We offer highly-interactive Primary School Chinese Composition Writing classes & Chinese Enrichment classes that are fun and engaging, in-line with MOE's Curriculum.
YANG GUANG is curated, designed and managed by Singaporeans who are familiar with the Education and Economy landscape globally and in Singapore. Most of us are parents with school-going children. We design and present Yang Guang programs with love; quality programs which we would send our own children to. We understand the frustrations and the limitations, and why many children have a fear of Mandarin. We strive to change that.
Yang Guang goes beyond helping children academically.
Our classes are designed to weave in values through the students' learning. We help to Build Character in them, such as resilience, respect and integrity – values that will help them in their future.
Yang Guang Branches
Yang Guang AMK Branch
Blk 703, Ang Mo Kio Ave 8,
#01-2535, Singapore 560703
(2nd Storey, enter via back of block)
Tel : 6560 0910
Email : angmokio@yangguang.sg
Yang Guang Parkway Centre Branch
1 Marine Parade Central,
#13-07, Parkway Centre
Singapore 449408
Tel : 6931 6029
Email : parkway@yangguang.sg
Find Tuition/Enrichment Centres