Mompreneurship Workshop- A Lifetime Career Development Opportunity
to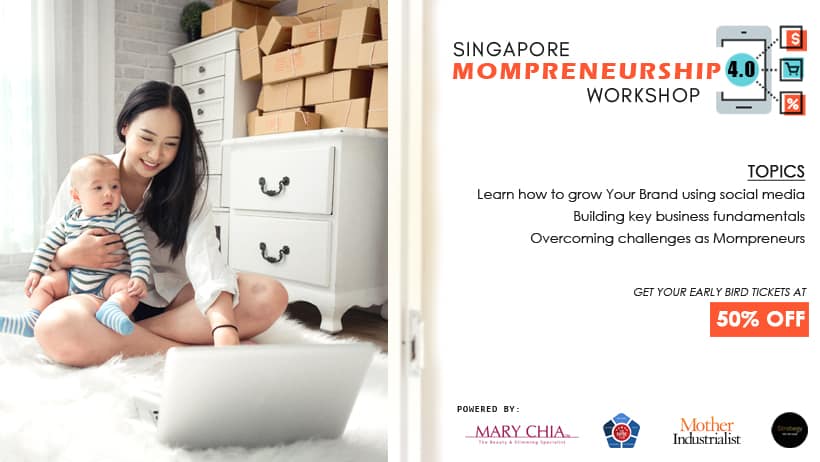 Are you a stay at home mom? Want to be a financially independent person? Want to manage your living and expenses? With the increasing digitisation, now you have the chance to be the boss of your own. Start a business today and get control of your income and finances.
Wondering as for how you can start a full-fledged business while sitting at home managing all the bills? Well, you certainly can, all you need is a little exposure and the right mentorship to do so. That's why we're here with our exclusive and highly informative Singapore Mompreneurship 4.0 Workshop.
Date: 30th March 2019 (Sat)
Time: 9am – 5pm
Venue: 26 Tai Seng Street #07-02 Singapore 534057
Registration fee: $40 per pax (Regular rate), $20 per pax (Early Bird rate ends on 16th March 2019)
*Note: Lunch and light refreshments will be provided.
REGISTER HERE NOW.
TOPICS TO BE COVERED IN THE WORKSHOP
How to Grow Your Brand using Social Media
How to build your key business fundamentals
How to overcome challenges as Mompreneurs
Come and join us to learn how you can be the next economy mover, have a strong business foundation, buy & sell online and how to brand yourself and market your business to market online.
We will have a panel of successful mothers who had built their business while juggling motherhood. They will be sharing what are their struggles and challenges balancing both motherhood and business, their tips on how to overcome all these.
WHO SHOULD ATTEND THIS WORKSHOP?
Startups by home-based mothers
Mompreneurs at the growth stage
Mompreneurs working and running businesses with teams and infrastructure
Mothers with babies or school going kids who want to pursue their passion and monetize from it.
Mothers who are the sandwich generation between kids and elderly who want to build a legacy for their children
Mothers who want to balance both their business and motherhood
Single mums who are struggling in their day job and parenting their children
The sky is the limit!
With the increasing dependence of the clients on social media, it has become pertinent for the businesses to enhance their online world. The ever amazing world of internet has not only offered the customers a wide knowledge hub, but it also gives the businesses the right platform for business.
With the help of online media, now you can not only make money but can be an entrepreneur while staying at home. There are a plethora of business ideas you can tap to get yourself a suitable business.
Why choose Mompreneurship 4.0 Workshop?
Being a mom is a full-time job as you get a very little time for yourself. That's why we've arranged a highly informative and edifying workshop to give you the right information. You can have plenty of benefit from attending this workshop, and some of them are as follows.
Learn online marketing for business promotions:
As we've mentioned earlier that the online world is huge and is equally open for every single person to gain as much as he or she can. One of the biggest perks of being an online business is exposure. With a little effort, you can get massive exposure to enhance your customer base and also to increase your brand loyalty. Another advantage of being a digital entrepreneur is that you can decide your business timings and routine. As we have mentioned earlier that through a digital business you can not only get the hold on your job timings, but you can also control your profits.
Learn business fundamentals:
Mompreneurship 4.0 Workshop is all about assisting and help the mothers who are struggling with their careers and family life. If you're a naïve and want to excel in the professional field, then we offer the right individuals with extensive experience to equip you with the basic business fundamentals. We welcome to all our lovely participants to learn the most prudent and crucial business techniques, tips and rules from the renowned business personnel.
Learn to over the challenges being a mompreneur:
Handling your family life and your career could an overwhelming experience. We've seen a lot of mothers quitting their careers to give their family a preference. However, with the right help from the Mompreneurship 4.0 Workshop now you do not have to be a quitter. You can start a business of your own and can work while staying at home effortlessly.
Discover the perks of being a mom:
Being a mother is the holiest tag anyone can ever have however, you do not get to enjoy this beautiful time while pursuing your 9 to 5 desk job. Why not stay at home watching your kids growing big while pursuing your career through the digital platform? Well, it will be a win-win situation for you.
An opportunity for a lifetime:
Mompreneurship 4.0 Workshop is your sole chance to get the required assistance from the right people with proven skills. We are offering this opportunity to all our lovely mother out there at the highly reasonable rates. You can never lose such an opportunity to be a wonderful homemaker and an economy shaker business person at the same time. Get your ticket through online registration and give your career a wonderful start. So, all you marvelous homemakers, it's the time to get up and be marvellous business icons as well.
So why wait more? Don't miss to mark this event, you're going to learn how to grow your brand, how to build your business, and how to overcome online challenges with the experts.
Speaker Profiles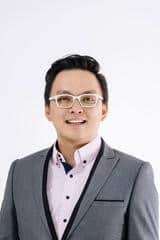 Kenneth Choo (Mr)
Author of Mother Industrialist | Founder of KC Creative Marketing Pte. Ltd.
Kenneth Choo is the author of the book, Mother Industrialist: Perfecting the balance between Motherhood and Business Success. He is an entrepreneur, business/marketing consultant, and Speaker. He founded KC Creative Marketing Pte. Ltd. in 2015, after working in the media sales & marketing industry since 2004. He is very experienced in sales and marketing, especially in the parenting industry.
Kenneth's past experiences have enabled him to help his clients craft marketing strategies to outshine their competitors. His extensive network has also helped his clients reach out to more customers. Kenneth is best known for his out-of-the-box thinking and offers creative and beneficial solutions for his clients' marketing campaigns.
His book, Mother Industrialist, share with parents how to perfectly balance both parenting and work so that they can have more time to spend with their children and their loved ones. He also shares with parents how they can craft a better future for their children's children. He helps parents to discover more about themselves and have this self-awareness which will help them to be a better person. He hopes that with Mother Industrialist, he will be able to inspire and empower more mothers with the skills and knowledge to become a better happier parent.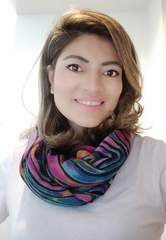 Carol Zurita (Ms)
Marketing and Branding Expert | Founder of Strategy-Branding, Mr.Licks Pets & Get Powerful Now
Strategy-Branding.com, headed by Carol Zurita, is unarguably the best brand marketers in south-east Asia and Asia as a whole. Carol who's also a speaker, author, and a business coach, has run training for young entrepreneurs China-wide for the last five years.
Her events are about branding, personal finances, and promotion. With an Engineering in Commerce and Marketing and seven years of experience in marketing and branding, Carol Zurita has built three successful companies in China. Besides her brands, she has supported more than fifteen brands among them; Coco&Ray,  ABNET, Global From Asia, and Fulfillmen.
Also, her passion for helping women in business motivated her to publish her book Get Powerful Now! Your guide to moving on. Her book will be published by Morgan James Publishing, New York on April 26th, 2019.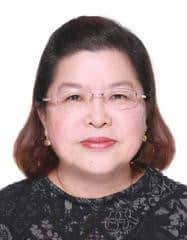 Christine Sim (Ms)
CEO of The Entre Club Pte Ltd | ASME Woman Entrepreneur of the Year | ASEAN Business Advisor
Christine is the Chief Executive Officer of The Entre Club. Christine is also the Singapore Chair for Tomorrow's Company – www.tomorrowscompany.com ( a premier CSR think-tank in Europe/EMEA/Asia Pacific.
With over 25 years of senior corporate leadership and entrepreneurship experience, Christine has been extensively engaged in key entrepreneurship and senior corporate leadership roles overseeing projects both locally and regionally in Asia Pacific. Christine has also founded/co-founded/incubate businesses in human capital and business outsourcing. She is a frequent contributor on HR insights in ASIA.
An advocate of life-long learning, Christine is pursuing her Masters in Business Administration with University of Adelaide (Ngee Ann Kongsi). She also holds a Diploma in HRM from the Singapore Human Resource Institute (Bronze Medalist). Christine is an accredited DISC profiling and assessment consultant. She is also an alumnus of the Haggai Leadership Institute, Maui – Hawaii. In 2013, Christine achieved her ACTA WSQ qualifications. She mentors and coaches aspiring entrepreneurs as part of her portfolio as a Master Coach/Mentor.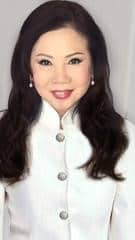 Christine Chiok (Ms)
Image & Grooming Consultant & Beauty Trainer of Mary Chia Holdings Limited
Christine Chiok has more than 20 years of experience in conducting Wellness, Beauty, Image, Grooming and Make-up workshops at Singapore government schools, MNCs, clubs, hotels, banks and other established institutions. Christine was previously a fashion & photography model, model instructor and judge for many beauty pageants. She is also very experienced in consultations and designs for the working wardrobe.
26 Tai Seng St, Singapore
Find Tuition/Enrichment Centres