#MyVRGoggle: Explore the virtual reality dimension and be awed together!
to
School's out, and your child is restless? Worried that your child is not spending time productively? Why not try something new and pick up a skill at it! If you have a child aged 7 – 14 years old, try this fun workshop will keep you actively engaged.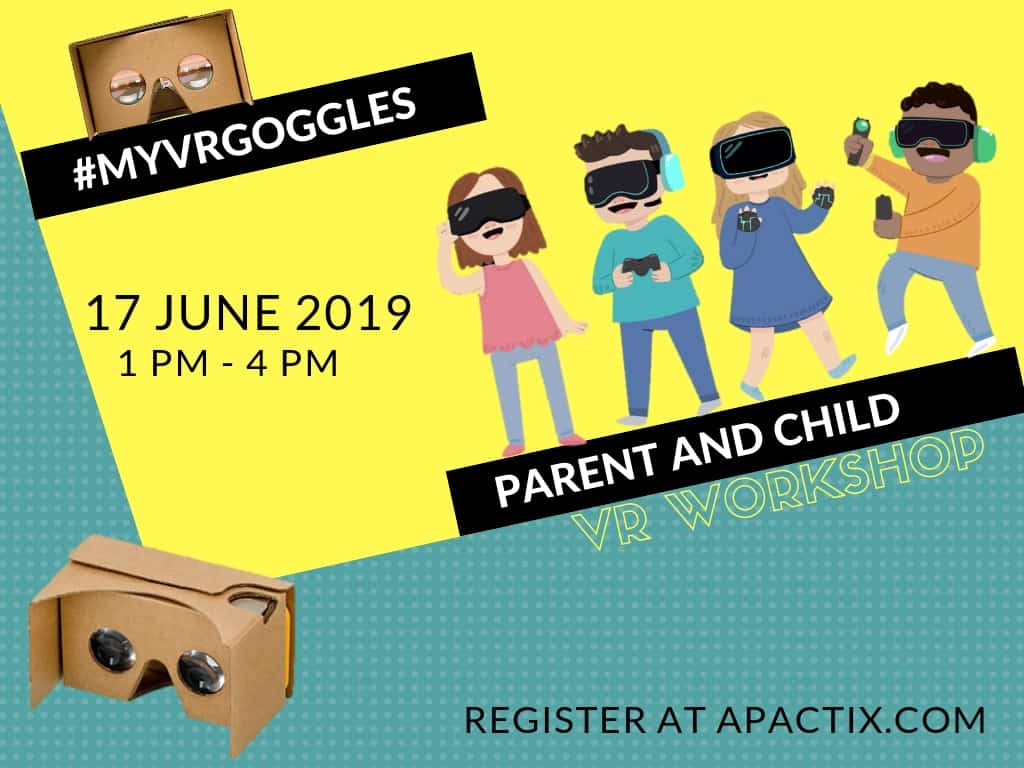 #MyVRGoggle!
The Art & Science of Virtual Reality!

Enter into the Virtual Reality dimension and explore spaces you've never been to before, while seated right in the comfort of your own home! Parents and Children will get to build your own VR cardboard goggles, and learn about the science behind this exciting invention, inspired by the original Google VR cardboard.In addition, test out the goggles with exciting VR content! Get the chance to construct, decorate and BRING HOME your very own VR goggles!
Dads and Mums, its BONDING time!  Register NOW and spend a meaningful, fun afternoon together with your child!
Date: Mon, 17 June 2019
Time: 1pm – 4pm (3 hours)
Venue: ITE College Central, Design Excellence Centre, BlkK Level 2, Room B205
Price: $74.90 (bring home your very own VR Goggle!)
For age group: 7 – 14 yrs
What's covered in the 3 hours?
Introduction to Virtual Reality (VR) and its applications.
Learn the science behind how VR works – how does the lens allow us to see in virtual reality?
Construct your very own VR Goggles
Test your goggles with provided VR content
Put your creativity to practice and decorate your VR goggle
REGISTER BEFORE SLOTS GET SOLD OUT!
Register at Apactix. For any enquiries, pls email us at training@ite.edu.sg
ITE College Central
2 Ang Mo Kio Dr, Singapore 567720
Find Tuition/Enrichment Centres