New Holiday Programme – THE LOST ISLAND
to
Looking for a fun activity this holiday season for your kids?
Look no further! Boys' Town Adventure Centre (BTAC) is proud to announce our new holiday programme – THE LOST ISLAND.
Join us on an adventure where your children will get a chance to hone their outdoor survival skills, have opportunities for personal growth, and also learn more about the bio-diversity here in Singapore.
The Lost Island comes in two different packages!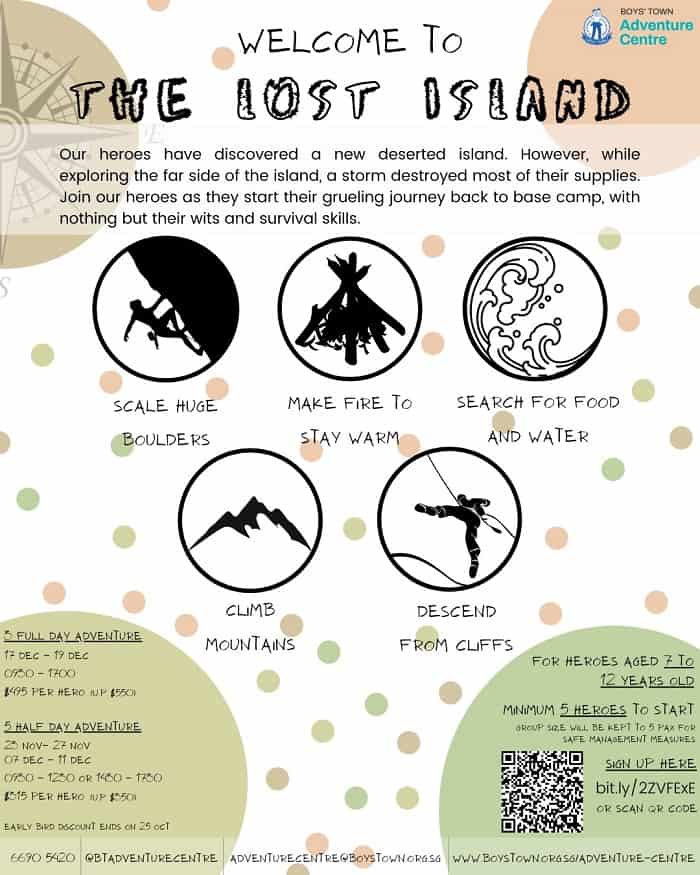 PACKAGE 1
5 Half-Day Adventure
23 Nov 2020 – 27 Nov 2020
07 Dec 2020 – 11 Dec 2020
Option for either
MORNING HALF (0930 – 1230) or
AFTERNOON HALF (1430 – 1730)
Early Bird Discounted Price: $315 per pax (U.P $350)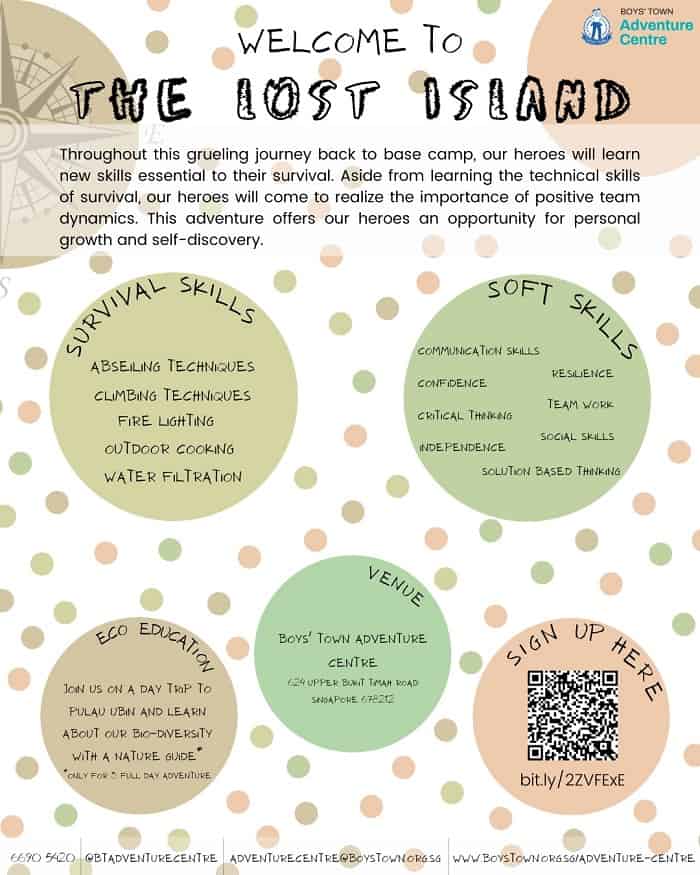 PACKAGE 2
3 Full-Day Adventure
17 Dec 2020 – 19 Dec 2020
0930 – 1700
Early Bird Discounted Price: $495 per pax (U.P $550)
Choose the package that best suits your schedule!
And let's not forget about the early bird discount, which will end on the 25th October 2020!
Ready for an adventure of a lifetime?
Sign up with us at bit.ly/2ZVFExE or simply scan the QR code!

For more information regarding the camp, click on the link in our bio (for Instagram) or www.boystown.org.sg/adventure-centre/
All activities are conducted will have COVID-19 Safe Management practices in place so that participants can learn and have fun in a safe environment.
*Do note that a minimum of 5 registered participants are required to begin for either package. BTAC reserves the right to cancel any session should the minimum quota not be met.