NIEC's Virtual Parents' Talk 2021 (6 Jan)
to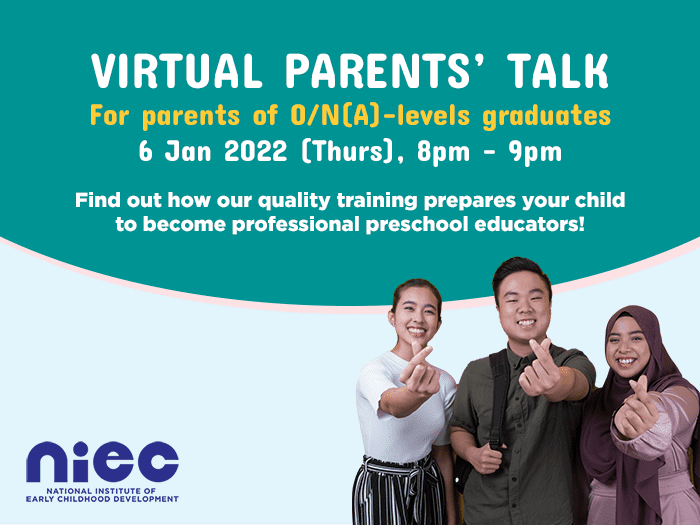 Calling all parents of O/N(A)-levels graduates – hear from the National Institute of Early Childhood Development (NIEC) on why your child should consider an early childhood (EC) course!
Find out more about life as an EC student and the Joint Admissions Exercise (JAE) process at NIEC's Virtual Parents' Talk from their Director Mrs Loke-Yeo Teck Yong, Campus Heads Ms Dorcas Tang and Ms Tham Foong Chue, and Registrar/Dean of Student & Academic Services Ms Wong Thim Chun.
Get a glimpse into your child's future career paths as an EC educator with special guest Ms Heng Jin Hui from the Early Childhood Development Agency (ECDA).
The panel will address some of your questions during the live Q&A!
Virtual Parents' Talk
6 Jan 2022, Thurs
8pm – 9pm
Zoom Webinars
For more about NIEC's early childhood training for post-secondary students, visit their website here.
About NIEC
NIEC is the national training institute set up by the Ministry of Education to deliver quality training to Singapore's early childhood (EC) educators at every stage of their career. NIEC provides a full range of certificates and diplomas for post-secondary students and mid-careerists embarking on their EC journey. In-service educators may also take up Post-diplomas and Continuing Professional Development (CPD) courses with NIEC to deepen their EC skills. For more information, head on to: www.niec.edu.sg
Take a sneak peek into what early childhood training is like:
Find Tuition/Enrichment Centres