OWN Future Fair (OFF)
to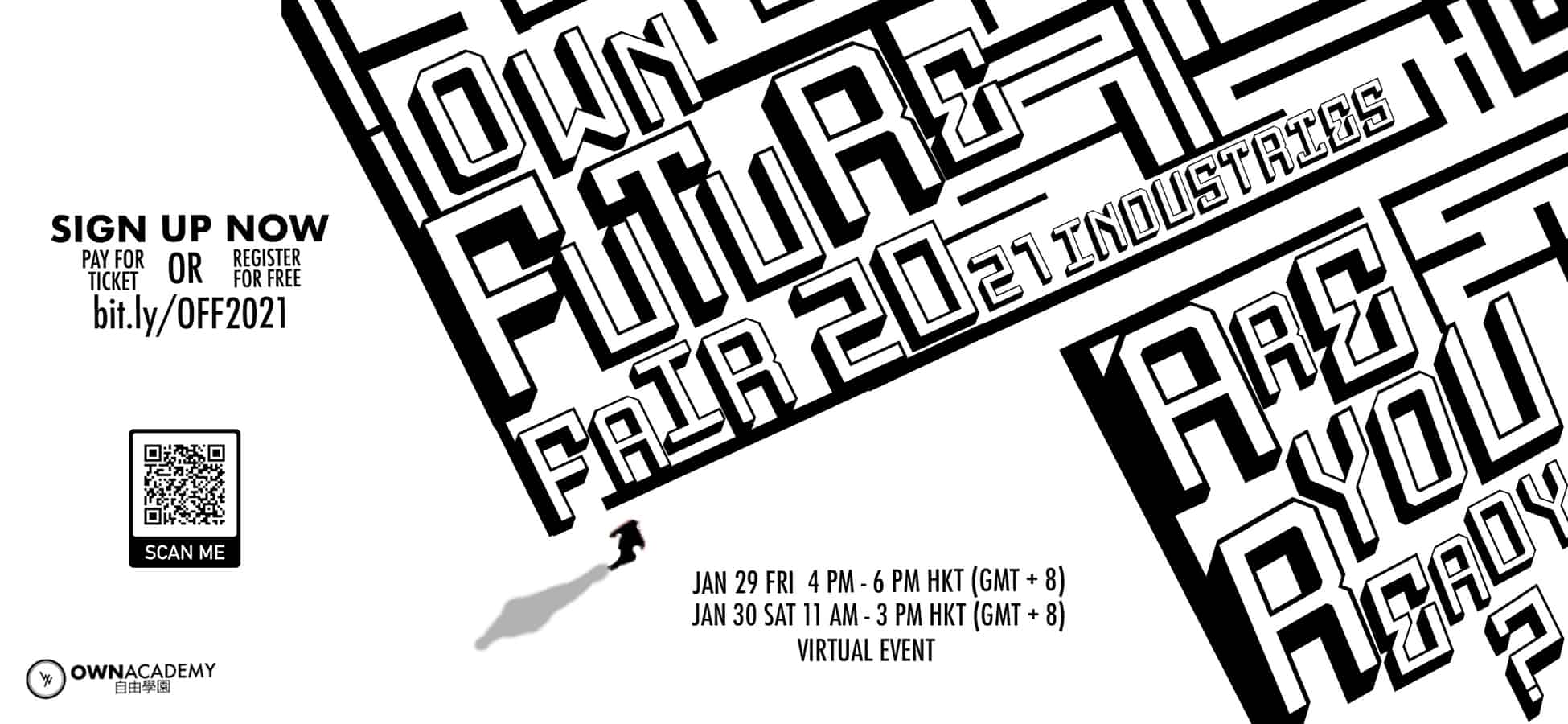 Secondary school students, university students, post graduates, parents, and educators are invited to attend OWN Future Fair to help students discover their passion and design their future.
OWN Academy, a career exploration and experiences platform, will host a virtual OWN Future Fair on January 29, 4 – 6 pm & January 30, 2021 from 11 am – 3 pm Hong Kong Time (GMT+8). The event will feature professionals from top companies representing over 21 different industries.
OWN Future Fair (OFF) aims to inspire secondary school and university students and learn about different industries with a focus on creativity, entrepreneurship, and innovation. OWN Future Fair also connects students to top industry professionals from 21 industries in Asia Pacific. What makes the virtual event special is that each speaker will be offering a follow up career experience so students can continue to explore post OFF. The event is also open to parents and educators to expose them to different industry trends and to help motivate students and prepare them for their future.
Confirmed speakers are from Google, Spotify, UBER, Lanecrawford Group, YouTuber with 2 million followers, Influencers with 330k followers, Facebook, Shopify, Microsoft, Wonderfruit, Cathay Pacific, South China Morning Post, Christie's Education, Rosewood, WeLab, Standard Chartered and many more.
"With the 4th industrial revolution and the pandemic, the landscape of work has changed rapidly in front of our eyes, and it's important for students and parents to learn about the real world now and future proof themselves. There's a limitation to what students are exposed to in an academic environment and we are here to enhance the learning and discovery." – Natalie Chan, Founder and CEO of OWN Academy
Event Date and Time:
January 29, 2021 | Friday, 4 – 6 pm Hong Kong Time (GMT+8)
January 30, 2021 | Saturday, 11 am – 3 pm Hong Kong Time (GMT+8)
Format: Virtual
Sign Up Link: bit.ly/OFF2021
OFF 2021 Promo Video: https://youtu.be/B9ChuiI5F0I
KSP readers can sign up for free admission with code "KSP".