PlayLAH! Let's Celebrate Chinese New Year 2017
to

PlayLAH! is a series of thematic events organized by SingEx Venues Pte Ltd, a wholly-owned subsidiary of Temasek Holdings and venue manager for Singapore EXPO and MAX Atria. PlayLAH! first made its first appearance during SG50, and was quickly followed up by PlayLAH! Mid-Autumn Festival in September 2015, followed by PlayLAH! Chinese New Year 2016 and NDP 2016, with each festival better and larger than before.
Themed into 4 dedicated activity zones – Play, Learn, Eat and Bond, the event is targeted at Singapore families and provides a full range of activities, workshops and game booths for the ultimate day out. PlayLAH! Chinese New Year 2017 will be at Singapore EXPO Hall 5 from 19 to 22 January 2017 (Thursday – Sunday), and has an even more exciting line-up of activities lined up, complete with New Year themed rides, hands-on sessions and education booths for the biggest PlayLAH! yet. PlayLAH! Chinese New Year 2017 will see new stage performances and on-site family-oriented competitions.
Find out more at www.playlah.sg.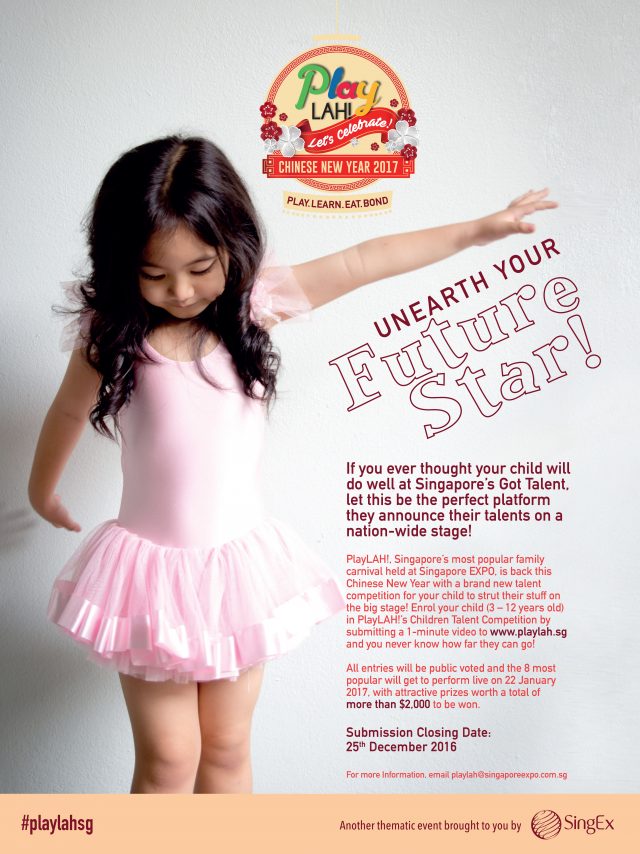 Singapore EXPO Hall 5
1 Expo Drive, Singapore 486150
Find Tuition/Enrichment Centres