Project IsLand-A-Hand
to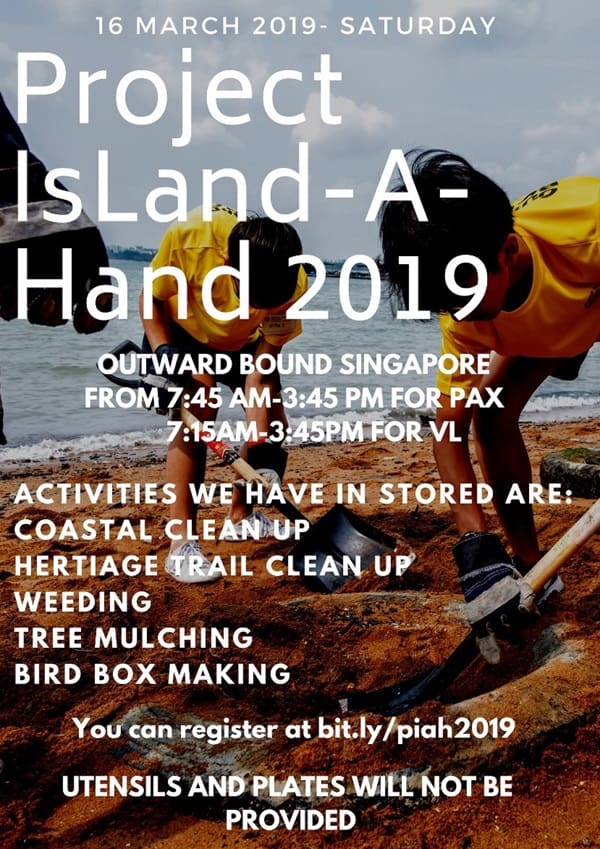 Outward Bound Singapore's signature event, Project IsLand-A-Hand (PIAH) is back with its 6th edition! Parents and kids can enjoy a meaningful time learning about the environmental impact of our actions, such as improper trash disposal.
Look forward to the following activities:
1. Coastal Clean-up
2. Heritage Clean-up
3. Tree Mulching
4. Weeding
5. Bird Box Making
REGISTRATION IS FREE! Sign up at http://bit.ly/piah2019
Minimum age for PIAH is 13 years old.
Participants below 13 years old must be accompanied by adults above 21 years old.
Registration will have to be done individually, group registration will not be open.
Event: Project IsLand-A-Hand
Date: Saturday, 16 March 2019
Time: 7:45am to 3:45 pm
Cost: FREE!
Reporting Locations:
Outward Bound Reception and Activity Centre
22 Punggol Road, Track 19, Singapore 828871
(Transport will be provided from Punggol MRT)
or
Outward Bound Singapore Changi Campsite
285 Nicholl Drive, Singapore 498988
Dismissal Location: Punggol Point Jetty for EVERYONE
Breakfast and lunch will also be provided. In line with OBS's environmental conservation efforts, please do bring your own utensils, plates/bowls and drinking cups as none will be provided. It is also OBS's hope that NO plastic utensils, plates/bowls and cups will be used on that day to ensure that the event remains a PLASTIC-FREE one.
Find Tuition/Enrichment Centres