PSLE Problem Sums Bootcamp (March Holidays) For P5/P6 Students
to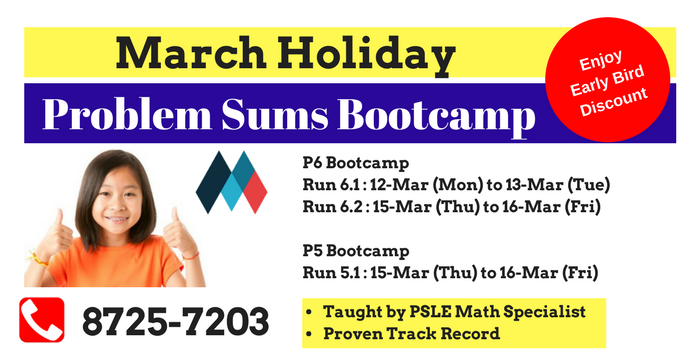 This March school holidays, equip your child for PSLE Maths with a proven learning system and effective strategies for solving problem sums. A 2-day Bootcamp that is specifically designed for Pri 5 and Pri 6 students. Learn to tackle non-routine problem sums effectively in a fun and engaging manner.
Students will learn how to :
Master 8 must-know problem sums strategies that are commonly tested at major exams like the upcoming SA1 and PSLE.
Identify keywords in problem sums quickly and connect the keywords to relevant problem sums strategies
Apply our "secret strategy" to solve problem sums effectively with improved accuracy.
Bootcamp Details :
P6 Bootcamp
Revision of major topics (incl. Whole Numbers/Fractions/Ratio)
Headstart Topics (incl. Circles and Speed)
Must-know problem solving heuristics
PSLE Exam skills and answering techniques
Schedule (2 Days x 3 hrs)
Run 6.1 : 12-Mar (Mon) to 13-Mar (Tue), 10am to 1pm
Run 6.2 : 15-Mar (Thu) to 16-Mar (Fri), 2pm to 5pm
P5 Bootcamp
Revision of major topics (incl. Whole Numbers/Fractions)
Headstart Topics (incl. Ratio/ Volume/Triangles)
Tips on how to reduce careless mistakes during SA1
SA1 Exam skills and answering techniques
Schedule (2 Days x 3 hrs)
Run 5.1 : 15-Mar (Thu) to 16-Mar (Fri), 10am to 1pm
Venue
Maths Accelerator Centre
1 Marine Parade Central, #12-03  Parkway Centre, S 449408
Tel : 8725-7203 (Call/SMS)
1 Marine Parade Central, Singapore 449408
Find Tuition/Enrichment Centres