Registration for 2011 P1 – Phase 2C Supplementary
to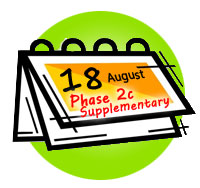 For a child who is unsuccessful in gaining a place in a school of choice at Phase 2C.
Registration: Wednesday 18th August 2010
Announcement of Result: By Monday 23rd August 2010
Updated 10 Aug 2010. The 2010 P1 Registration Exercise is drawing to a close. Phase 2C Supplementary will start soon. Below is the list of schools still with vacancies sorted in descending order of TUR up to Phase 2C.
Those at the top of the list (TUR above 90%) are quite likely to require balloting. We have also included the ballot history indicator derived from the balloting history of schools from 2006-2009 to give parents a sense of the risk of balloting for a school. The indicator ranges from 0.00 – 1.00; the higher the reading, the higher the risk of balloting for that particular school.
Find Tuition/Enrichment Centres